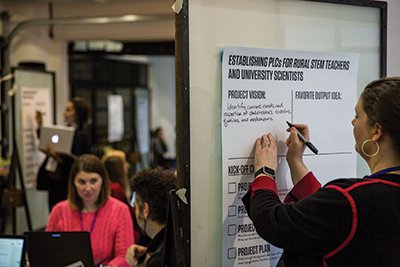 Math and science educators are a close second to special education when it comes to shortages nationwide, according to a 2016 report by the Economic Policy Institute. While more than half of U.S. school districts report difficulties in recruiting and retaining qualified STEM teachers, the situation is exacerbated for schools serving primarily Black and Brown students. More than 90 percent of districts with large African American and Hispanic and Latinx populations report significant struggles with hiring and keeping high-quality STEM teachers, according to The74, an education news site. 
[Above: 100kin10 members tackle unique problems in the STEM teacher pipeline, such as establishing professional learning communities (PLCs) for rural teachers, by dividing into project teams responsible for researching causes and possible solutions to each challenge.]
Expanding and diversifying the STEM education pipeline would transform outcomes for children from disadvantaged backgrounds. As Talia Milgrom-Elcott, JD, co-founder and executive director of the education nonprofit 100Kin10, recently wrote in Forbes: 
"[Underserved] students could cure cancer and dementia, desalinate water and renew our energy resources, and figure out how to predict weather and mitigate natural disasters. They are already sitting in classrooms in America, and whether they become the people who lead those breakthroughs could very well depend on their excellent STEM teachers."
100kin10 aims to produce 100,000 highly skilled STEM teachers within 10 years. Launched in 2011, the organization has recruited or trained 68,000 teachers in K-12 classrooms across the U.S. thus far. 
The group focuses on bringing together stakeholders from multiple sectors to remedy a challenge that "no one [group] could do on its own," Milgrom-Elcott says. Its 280 partner organizations include NASA, Google, Baltimore City Schools, the Thurgood Marshall College Fund, and a myriad of universities and university-sponsored programs. 
"We really believe [teacher training] is a matter of equity because so much economic growth comes from STEM," Milgrom-Elcott says. "And if we do this right, it means that kids from all backgrounds will have access to the kind of skills and knowledge that will allow for financially supportive, high-growth jobs." 
A diversity-focused research team at 100kin10 determined that a major obstacle to becoming a STEM teacher is a lack of communication between the many schools, programs, and researchers striving towards this goal.
Researchers often focus on either STEM teacher recruitment or diversifying the K-12 teacher workforce rather than seeing these issues as interconnected, according to the team's website. Furthermore, those who have actually published evidence-driven results for diversifying the STEM teacher pipeline fail to share their best practices and strategies. Others who have created successful programs fail to research and disseminate evidence showing why their approach works.
100Kin10's mission to provide connections aligns with these challenges, Milgrom-Elcott says. 
While still in development, the project team's website offers solutions and program models for diversifying the pipeline beginning in middle and high school. One strategy is "Grow-Your-Own," a model in which colleges and universities partner with K-12 schools and organizations, particularly those with diverse and underserved populations. College professors "might want to think about themselves as having some leverage and persuasive power" when it comes to improving teaching and learning environments in local schools, Milgrom-Elcott says.
Strategies to recruit underrepresented college students focus on persuading STEM majors to consider careers in education.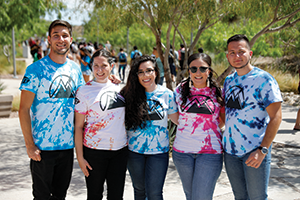 Research consistently shows that having strong content knowledge is essential for effective STEM teaching, so recruiting these students and providing STEM training for practicing teachers is a major priority for 100kin10.
Specific methods for engaging with underrepresented STEM majors include offering teaching pathways for those in community colleges, undergraduates opportunities to work with K-12 students, and scholarships or loan forgiveness, which are especially important for STEM students from underserved backgrounds, according to the research team's website. 
"This problem, the STEM teacher shortage, it's solvable," Milgrom-Elcott says. "We've built the [education] system this way but we can rebuild it."
One university working to "rebuild" the system on a local scale is the University of Texas at El Paso (UTEP). Its success in growing the STEM teacher pipeline demonstrates how research and strategies for solving this problem can be tailored to a specific community. 
Eight in 10 UTEP students identify as Hispanic or Latinx, a proportion nearly equivalent to the demographics of the surrounding county, while 83 percent of UTEP's enrollment is local, giving the university the unique ability to produce a teacher workforce whose identity matches that of the K-12 student population.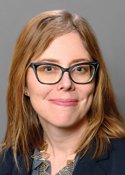 Much of the surrounding region, however, still faces a shortage of qualified STEM teachers, says Amy Wagler, PhD, associate chair in UTEP's mathematical sciences department. Often this challenge means educators end up teaching STEM courses for which they aren't trained, such as a biology teacher having to teach a physics course. This arrangement serves neither student learning nor teacher job satisfaction, contributing to the cycle of subpar STEM education and poor teacher retention rates, she says. 
But the university saw a way to improve the problem when Wagler received a grant in 2010 from the Robert Noyce Scholarship program, a National Science Foundation fund that supports innovative efforts to grow the STEM teacher pipeline nationwide. The funding enabled UTEP to award $10,000 annual scholarships to junior and senior STEM majors who participated in a two-year program that included teacher preparation workshops, mentoring, and both formal and informal teaching experiences. 
The Noyce Scholars program gave students a "low-stakes" opportunity because it allowed them to finish their STEM degrees, leaving open the possibility of pursuing a career outside of teaching. Participants were required to spend a certain amount of time teaching in high-needs schools after graduation. If they decided to leave early, their scholarship funds were simply transferred to repayable loans. The important result was that it placed STEM students in K-12 classrooms, experiencing for themselves what it is like to actually teach, Wagler says. 
Such an opportunity can be imperative. Granting pre-service teachers more time in classrooms and learning directly from a master teacher mentor are some of the most effective ways to recruit and retain STEM educators, according to 100kin10's research. 
Wagler recently co-authored a study that looks at the UTEP Noyce Scholars program through a sociocultural lens. The authors give suggestions for how similar programs can support underrepresented preservice teachers, such as language support for those who speak English as a second language. The study also explores how underrepresentation can be an advantage when trying to build an inclusive curriculum and shared identity in K-12 teaching.
UTEP recently received another grant to build upon the program. This time, Wagler says a particular focus will be boosting the prestige of STEM teaching careers. UTEP's Noyce scholars will work with a local school district to implement new project-based learning curricula that support research-driven approaches to teaching and STEM. "STEM [majors] like to think, to analyze; they want something that's intellectually challenging," she says. "By approaching teaching this way, it is all of the above."
Mariah Bohanon is the associate editor of INSIGHT Into Diversity. This article ran in the September 2019 issue.