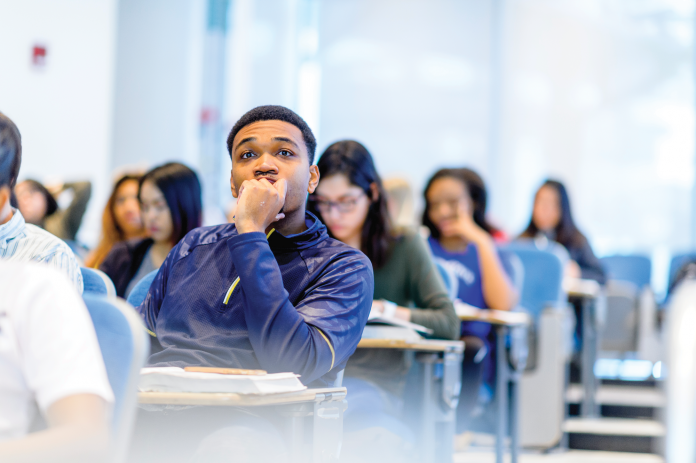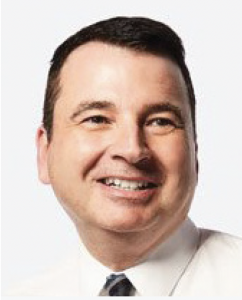 Over the past decade, Georgia State University (GSU) has achieved the remarkable feat of increasing its graduation rate by more than 60 percent. It has also closed equity gaps, as Black, Latinx, and Pell Grant-eligible students are now graduating at the same or higher rates than the overall student body, according to Timothy Renick, PhD, executive director of GSU's new National Institute for Student Success (NISS) and a professor of religious studies. 
The university's progress in this area is credited to several innovative strategies, including a data-driven approach to academic advising and other areas of student support. It launched the NISS in fall 2021 to help other colleges and universities analyze institutional barriers to graduation and eliminate disparities based on race, ethnicity, and socioeconomic levels.
"We can not only raise graduation rates, but we can disproportionately help students from underserved backgrounds," Renick explains.
As one of the nation's largest Minority-Serving Institutions, GSU has earned a reputation as a forerunner of innovation and equity in higher education because of its success in reversing declining completion rates. Renick, who has served as an administrator in enrollment and student success at the university since 2014, was named to Fortune magazine's 2021 list of the World's 50 Greatest Leaders.
In recent years, as news of its data-informed methods has spread, more than 500 colleges and universities have sought GSU's assistance with closing achievement gaps and improving retention. On any given day, administrative teams from dozens of colleges would visit campus to learn about the university's proactive support methods, such as microgrants for students in need, according to Renick. 
"It got to be exhausting, because it turned out that we were spending seemingly as much time hosting other campuses as we were doing our jobs, which is trying to support the students at Georgia State," he explains.
The university decided to launch the NISS so that Renick and his team could dedicate more time to helping other institutions and create a more lasting impact on their retention policies. The institute is funded through grants and operates as a mostly independent entity within the larger infrastructure of the university. It is currently working with a cohort of 40 higher education institutions and plans to assist more than 100 colleges and universities over the next decade.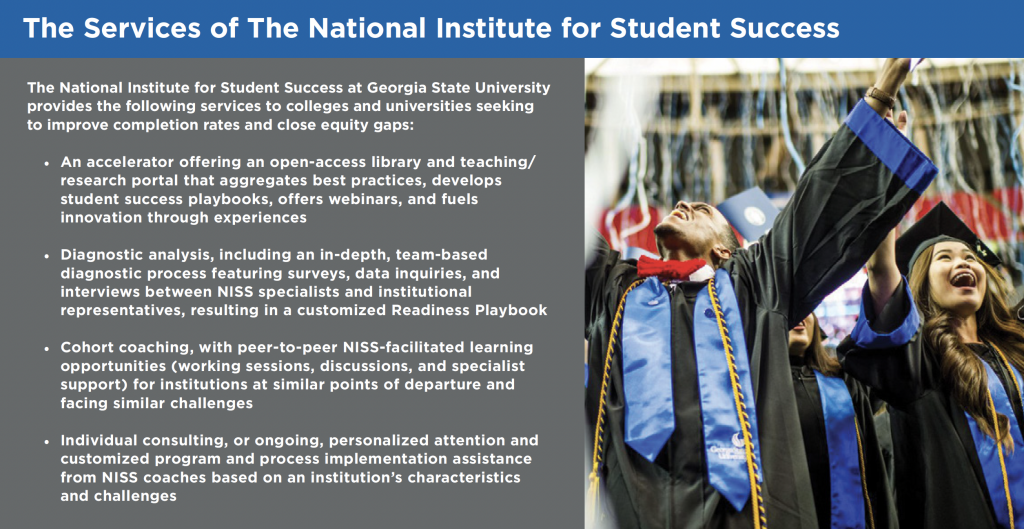 "If we can only get 100 more institutions to adopt these practices over the next few years, we would be talking about graduating over half a million students, the majority of whom come from low-income and underserved backgrounds," Renick says.
The institute typically works with colleges for three to five months, first performing a diagnostic analysis that includes surveying campus stakeholders and conducting interviews to try to identify obstacles. NISS officials then create a playbook that offers specific recommendations geared toward administrative functions that benefit students, such as admissions, financial aid, registration, and advising.
A common challenge that the NISS addresses is decentralized or uncoordinated academic advising, Renick says. Some institutions, for example, have multiple offices for advising, including one for first-year students and others categorized by academic majors.
"In many cases, those efforts are not coordinated appropriately," he explains.
Instead, the NISS recommends a proactive method known as GPS advising that uses predictive analytics software to determine early on if a student is at risk of falling behind or dropping out. GSU became one of the first universities to adopt this approach in 2012. Advisers receive an alert as soon as a student earns a grade of C or below or displays other risk factors, such as regularly missing class. They can then schedule a meeting with the student to discuss any issues and explore what resources may be available to help them succeed.  
Last year, GSU had more than 100,000 interventions with students because of these early alerts, Renick says. He compares this proactive approach with preventive medicine. 
"The earlier you identify a problem, the more likely you are to come up with a cure or a solution," he explains. "The problem gets worse over time if unattended to, so there is great benefit in academic advising to identifying problems quickly."
He adds that the institutions that work with NISS do not necessarily have to invest in new software to implement this strategy. Rather, they learn to use their existing data collection software more productively. 
 "Most campuses don't have data deficiencies," says Renick. "They have data that indicate important information about students, but they're deficient in finding ways to systematically use the data to help and support their students."
One institution to adopt GPS advising is Morgan State University (MSU), a historically Black research university that has been working with GSU — and now with the NISS — since 2016 to raise graduation rates. 
"We called on Tim Renick because Georgia State has certainly been the national standard," says Kara Turner, PhD, vice president for enrollment management and student success at MSU. "They have really just set the bar for what is possible." 
MSU first turned to Renick and his team for guidance when it decided to launch its "50 by 25" campaign in 2016, with the goal of raising degree completion rates to 50 percent by the year 2025. In addition to the GPS advising model, MSU has instituted a microgrants program first adopted by GSU in 2011. Sometimes called completion grants, these provide small payments for students who are at risk of dropping out due to financial hardship. 
"What we find is that keeping students enrolled sometimes only takes a couple of hundred dollars," Renick explains. Schools such as Florida Atlantic University and the University of Texas at San Antonio have introduced similar programs with GSU's assistance. 
Turner credits these simple yet innovative supports as being instrumental to MSU's successfully raising its graduation rate. In 2011, only 29 percent of students completed their degrees; by May 2021, that number had risen to 44 percent. 
"I really do consider them a mentor institution in helping us further strengthen and hone the things that we're doing," Turner says of GSU. "And we've been seeing really great results."
 For more information about the NISS and its services, visit niss.gsu.edu.●
Mariah Stewart is a senior staff writer for INSIGHT Into Diversity.
Georgia State University is a 2012, 2014, and 2016-2021 recipient of the INSIGHT Into Diversity Higher Education Excellence in Diversity (HEED) Award.
This article was published in our June 2022 issue.