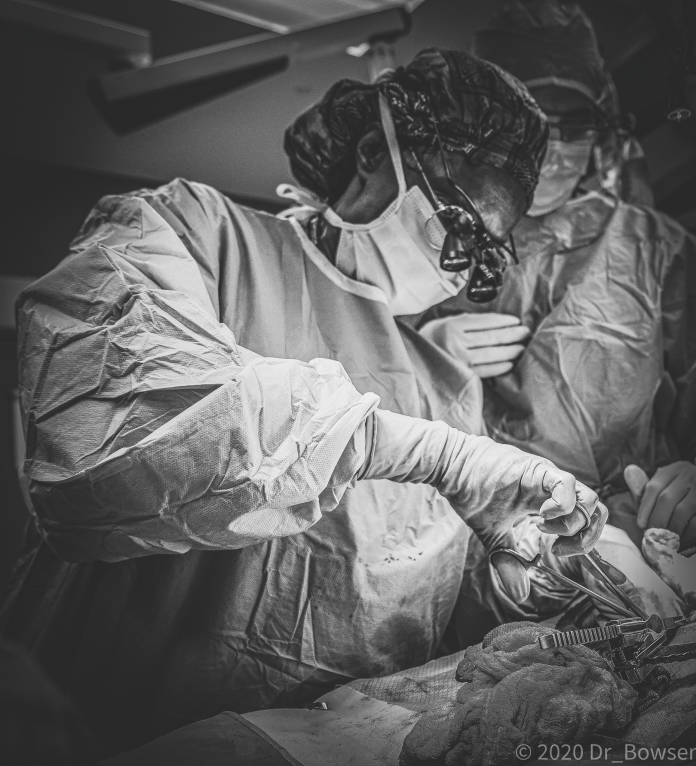 Velma Scantlebury-White, MD, is known as a trailblazer in her profession, most notably for becoming the first Black woman transplant surgeon in the U.S. in 1989. On October 7 of this year, the Delaware Historical Society (DHS) paid homage to her illustrious career as a physician, educator, and activist by honoring her with the 2021 Delaware History Makers Award. 
The award "recognizes individuals who have made extraordinary and lasting contributions to the quality of life" in Delaware and beyond. Past recipients include President Joe Biden and social justice advocate and civil rights lawyer Bryan Stevenson.
"For [the DHS] to recognize me as one of their Delaware History Makers is truly outstanding," Scantlebury-White says. "To be the first Black female to be honored by [this award] is also a tremendous privilege and hopefully will allow others to be recognized."
Scantlebury-White was born in Barbados and has lived in Delaware for several years. After moving to the U.S. at the age of 15, she went on to earn a medical degree at Columbia University Vagelos College of Physicians and Surgeons. Throughout her career, she has made it her mission to increase the number of kidney transplants for Black patients and educate people of color about donating organs and tissue for transplantation. She has performed more than 2,000 transplants, primarily for kidneys. Her previous roles include professor of surgery at the University of Pittsburgh School of Medicine and assistant dean for community education at the University of South Alabama Gulf Coast Regional Transplant Center.
Scantlebury-White also served as the associate director of the Kidney Transplant Program at ChristianaCare in Delaware from 2008 until 2020 before announcing her retirement. Early in her career, she had stated that her personal mission was not to retire until there were at least 10 Black women in transplantation in the U.S.; there are now 12 Black women transplant surgeons nationwide, according to Newsweek.
Scantlebury-White's retirement, however, did not last long. In October 2020, she joined the faculty of the TCU and UNTHSC School of Medicine as a professor of surgery. 
"I'm not the type of person to sit around," she explained during a virtual panel in May called Realities From The Frontlines. "I wasn't on the front lines [of the COVID-19 response], but I wanted to get involved because the disparities of those affected in terms of the Black and Brown community was hard to [witness]."
In addition to her role as a professor, she works remotely for vaccination efforts in Delaware and as a medical director for the Black Doctors COVID Consortium (BDCC) in Philadelphia, which advocates for the health of African Americans surrounding the coronavirus. She has been a public speaker and advocate for educating people about COVID-19, including its link to kidney complications. In March 2021, she joined the National Kidney Foundation Health Equity Advisory Committee to implement strategies and programs that promote kidney health for all communities.
Additionally, Scantlebury-White has co-authored dozens of research articles and written an autobiography titled Beyond Every Wall: Becoming the 1st Black Female Transplant Surgeon, which explores the gender and race discrimination she faced while pursuing a medical career. 
Her future goals include building more pipelines for Black physicians. Teaching and mentoring the next generation of medical students is one of her passions, she says. 
"I'm still amazed, as we near the close of 2021, how often I see young people who have never had an encounter with a Black physician," she says. "There are students working with us [at the BDCC], and even though they are in college, they have not had an opportunity to see or work with Black doctors before. Those are things that really make a difference in the lives of our young people."●
Mariah Stewart is a senior staff writer for INSIGHT Into Diversity.
This article was published in our December 2021 issue.