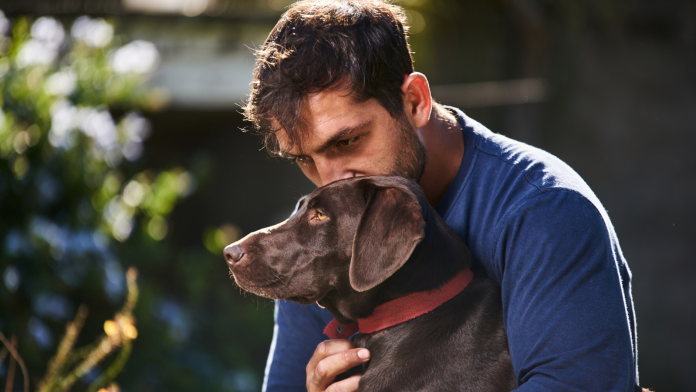 A new program at Florida Atlantic University (FAU) is being praised for supporting veteran students, advancing mental health research, and providing rescue animals with good homes. 
Created in early 2022, the FAU Veteran Canine Rescue Mission matches trained shelter dogs with members of the campus community who previously served in the military.
The primary goal of the program is to provide veteran students and alumni with companionship, emotional support, and assistance with disabilities — factors that are especially crucial for those suffering from post-traumatic stress disorder (PTSD).
The new project operates in partnership with the Humane Society of Broward County and Happy with Dogs, a veteran-owned dog training center, and is part of the FAU Christine E. Lynn College of Nursing's Canines Providing Assistance to Wounded Warriors (C-P.A.W.W.) initiative. The mission of C-P.A.W.W. is to advance interdisciplinary research, education, and practices that support veteran health by developing canine-assisted therapeutic interventions. The FAU Veteran Canine Rescue Mission includes a research component that examines the emotional bond between humans and dogs and the impact of this relationship on mental health. 
Preliminary findings have revealed reduced PTSD symptoms in veterans who have canine companions, according to Cheryl Krause-Parello, C-P.A.W.W. director and interim associate dean for nursing research and scholarship.
"Having a dog can be a lifeline for veterans struggling with reintegration into civilian life and living with psychological and cognitive wounds," she said in a press release. "We have shown that just walking with a dog can decrease the severity of veterans' [PTSD] symptoms and reduce stress … , making this work all the more vital."
Lenny Polidor, a U.S. Marine Corps veteran and third-year FAU student, was the first person to sign up for the FAU Veteran Canine Rescue Mission. He was matched with Lena, a three-month-old Labrador-bulldog mix, to help him better manage the stressors that come with being a student, veteran, and security worker. In a press release, Polidor said he hopes his joining the program will encourage other veterans to do the same and to seek mental health services if they are struggling.
"This program is designed to address my stress and mental well-being, and Lena is going to help me manage my life more effectively," he said. "More importantly, I hope that my participation in the Veteran Canine Rescue Mission program will bring awareness to other FAU veteran students who may need help."●
This article was published in our July/August 2022 issue.