In 2017, Serena Williams almost died due to complications surrounding the birth of her daughter. The tennis star has been very vocal about her experience, telling Vogue in 2018 that a nurse originally dismissed her concerns about being short of breath as simply being confused due to pain medication. After Williams demanded her doctor perform a CT scan, it was revealed that she had several blood clots in her lungs.
Williams expressed how grateful she is to have had access to state-of-the-art equipment and a medical team who knew how to handle her situation. For many other African American women, that's not the case.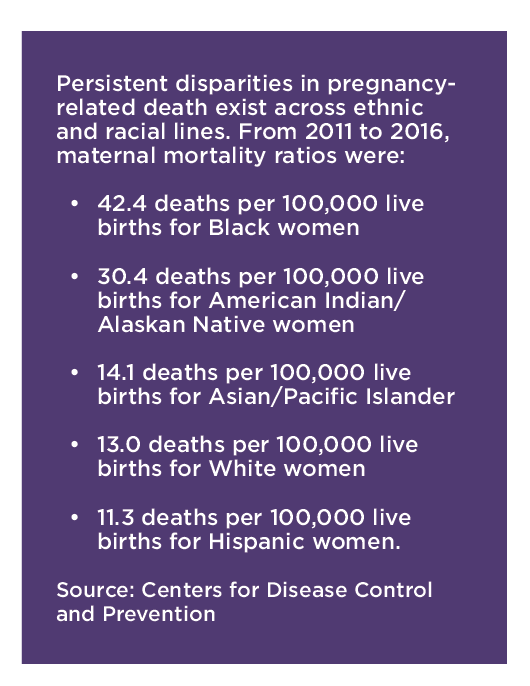 The U.S. has the highest overall maternal mortality rate of any developed nation, at 17.4 deaths per 100,000 live births. For Black women, the rate is three to four times as high, according to 2018 data from the Centers for Disease Control and Prevention (CDC).
A pregnancy-related death can happen during pregnancy, during delivery, or within one year after giving birth. Three out of five in the U.S. are preventable, the CDC states.
Researchers and obstetrician-gynecologist (OB-GYN) experts say this disparity is a multi-faceted issue, but some of the solutions to this problem can be addressed in medical school.
Kiarra King, MD, an OB-GYN and health advocate for women of color, suggests that diversifying medical school leadership and, in turn, medical students, is one step toward providing better care.
"Any ethnicity can treat any Black or Brown person very well," she says. "I just think that if we have more inclusion and diversity from the onset of training, we can help to mitigate some of these outcomes." This approach also applies to the field of nursing, King adds.
In King's experience, effective pregnancy and postpartum care comes down to creating an open doctor-patient relationship. "I try to make sure that my patients are aware that the mortality rate is higher for them," she says, noting that these frank discussions encourage patients to advocate for themselves.
Jocelyn Mitchell-Williams, MD, PhD, associate dean for diversity and community affairs and associate professor of obstetrics and gynecology at Cooper Medical School of Rowan University (CMSRU), argues for the importance of implicit bias training to improve maternal mortality rates for Black women.
"Some people say [the disparity] has to do with insurance and maybe with barriers that patients face, but it could also have to do with racism. It could relate to unconscious bias that people aren't even aware of," Mitchell-Williams says.
She encourages medical schools to "look outside of the box" in finding ways that they can be helpful in this matter. At CMSRU, for example, the Camden Prenatal Collaborative allows students to volunteer as health coaches for underserved pregnant women and new mothers, helping them connect to community resources and even accompanying them to doctors visits.
Mitchell-Williams also encourages medical schools to push for more research to develop evidence-based practices that improve treatment for mothers of color.
Thanks to Serena Williams and other advocates, the public has started taking notice of this issue. In 2019, USA Today published an extensive investigation into preventable maternity deaths in the U.S. that included examining dozens of cases in which women of color died or were injured due to hospital negligence during pregnancy, childbirth, or postpartum care. The newspaper also created a database for users to search maternal mortality and complication rates by hospital and region. Several months later, the Centers for Disease Control and Prevention published a report confirming the vast disparities in maternal deaths for women in the U.S.
Some states have begun taking action in this area. In 2019, 13 states signed legislation outlining plans to create task forces around maternal and infant mortalities and direct public health offices to seek federal grants that would combat the problem. Rep. Alma Adams, D-N.C., recently introduced the Maternal Care Access and Reducing Emergencies (CARE) Act to the U.S. House of Representatives; it addresses Black pregnancy-related deaths by providing grants to fund implicit bias training programs for health professionals. To date, no action has been taken on the legislation.●
Mariah Stewart is a senior staff writer for INSIGHT Into Diversity. This article was published in our September 2020 issue.