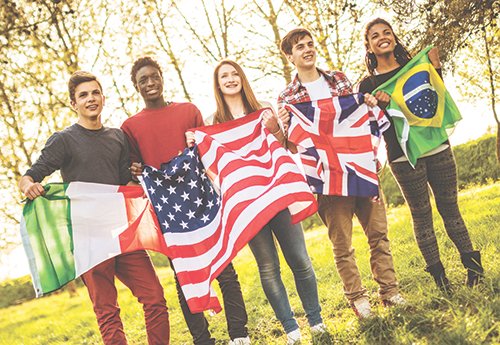 Declines in international student enrollment are a growing concern at American institutions of higher education. Since the start of the fall 2019 semester, data released by colleges and universities across the United States show that institutions of all types, from small private colleges in the Northeast to flagship research universities in the Midwest, are continuing to attract fewer foreign students than in previous years.
The conversation around declining enrollment has focused in large part on the effects the Trump administration's anti-immigrant sentiment has had on international students. Visa processing delays and the racial profiling of STEM students and scholars, for example, have contributed to a significant drop in Chinese students, who account for nearly a third of international enrollment and generate billions of dollars for the U.S. economy, according to the International Institute of Education (IIE).
Almost half of U.S. institutions experienced declines in Chinese student enrollment last year. Nearly 42 percent saw drops in new students from India, according to a fall 2018 IIE report.
The exact size of these declines depends on the type of institution and its geographic location. However, several major public research universities have reported more than a 20 percent decrease in Chinese student enrollment this fall compared with their enrollment in 2018, according to Madelyn Ross, associate director of the Chinese Studies program at Johns Hopkins University and executive director of the School of Advanced International Studies (SAIS) China, an international relations graduate program.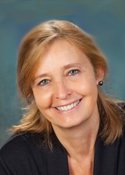 While alleged racial profiling of Chinese students has been a frequent topic in the news, including in INSIGHT 's September 2019 coverage of international STEM scholars, Ross says the reasons behind these steep declines are "not all about politics."
For one, the size of China's traditional college age population — those aged 18 to 24 — is shrinking, she says. This demographic is slated to decrease by more than 40 percent between 2010 and 2025, according to multiple data sources.
Furthermore, fewer Chinese students are choosing to study in the U.S. because other countries — including Canada, Australia, and the Netherlands — offer high-quality degree programs for lower costs, Ross says. These countries have instituted national strategies to recruit international students that are paying off, says Rachel Banks, director of public policy at NAFSA: Association of International Educators, an organization consisting of nearly 10,000 international education advocates at college campuses across the world.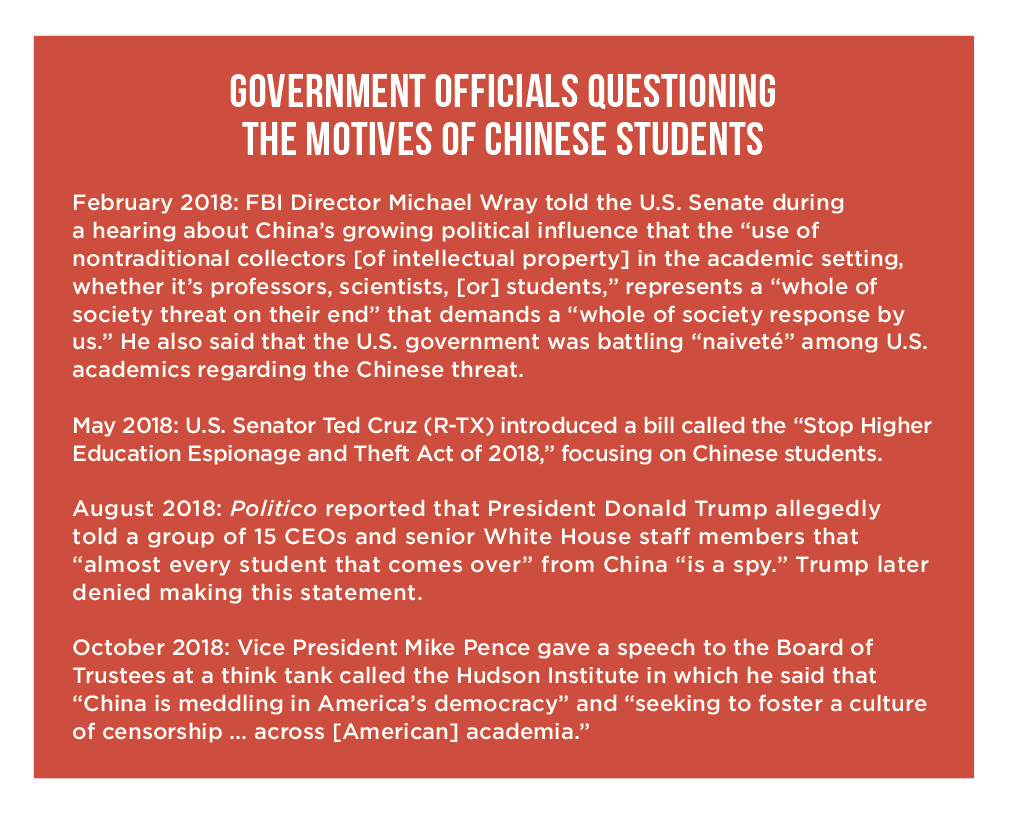 Since establishing such recruitment strategies, these three nations have seen "double digit growth" in their international enrollment while the U.S. has seen drops of "nearly 10 percent" over the last two years, Banks says.
A third factor contributing to the decrease in America's international enrollment, according to Ross, is the hostility with which some top U.S. government officials view Chinese scholars and students, and the fact that they are publicly questioning these students' motives for studying in the U.S.
President Donald Trump's trade war with China has also contributed to the declines, according to Jill Allen Murray, deputy executive director of public policy at NAFSA, who told INSIGHT in September that lower numbers of Chinese students are at least partially due to students from foreign countries "feeling unwelcome" in the United States. 
Many colleges and universities are responding to the decrease in Chinese students by turning their recruitment efforts toward African countries, says Mirka Martel, PhD, head of research, evaluation, and learning at the Institute of International Education (IIE). "The number of students from sub-Saharan Africa grew by almost five percent in the 2017-2018 academic year," she says, adding that students from Nigeria and Ethiopia have demonstrated consistent growth in enrollment in recent years.
"Nigeria is now one of the top places of origin for international students outside of Asia," Martel says, citing a survey IIE conducted last fall. "Nearly one-sixth of higher education institutions are prioritizing student recruitment in that country."
Recent Rules and Regulations That Pose Challenges for International Students
International students overall are vulnerable to a lack of government transparency surrounding the terms of their visas, according to Banks. This assertion is based on numerous incidents this fall where students traveling from abroad have had their visas revoked upon entry to the U.S., she says.
One of the most widely publicized incidents occurred in August 2019 when nine Chinese undergraduates enrolled at Arizona State University (ASU) were detained at Los Angeles International Airport for reasons unknown to university officials. U.S. Customs and Border Protection (CBP) said the students were "inadmissible" to the U.S. and required each of them to buy a return ticket to China.
In early September, ASU President Michael Crow requested individual reviews of each student's situation from U.S. Secretary of State Michael Pompeo. According to Katie Paquet, ASU's vice president of media relations and strategic communications, Secretary Pompeo's office referred President Crow to the Department of Homeland Security (DHS). "We have still not received a satisfactory response from DHS on the issue and are continuing our quest for answers," Paquet says.
In another August incident, Ismail Ajjawi, a 17-year-old Palestinian student set to attend Harvard University, was detained at Boston Logan International Airport and ordered to return to his home country of Lebanon. CPB denied the student entry to the U.S. because of content posted on social media by people he was connected to online, according to The Crimson, Harvard's student newspaper.
Harvard University President Lawrence S. Bacow also wrote Pompeo a letter, and in early September Ismail began classes after the U.S. embassy in Beirut reissued his visa.
Moving forward, Banks calls on CBP to improve "transparency, efficiency, and [increased] certainty" when it comes to processing student visas.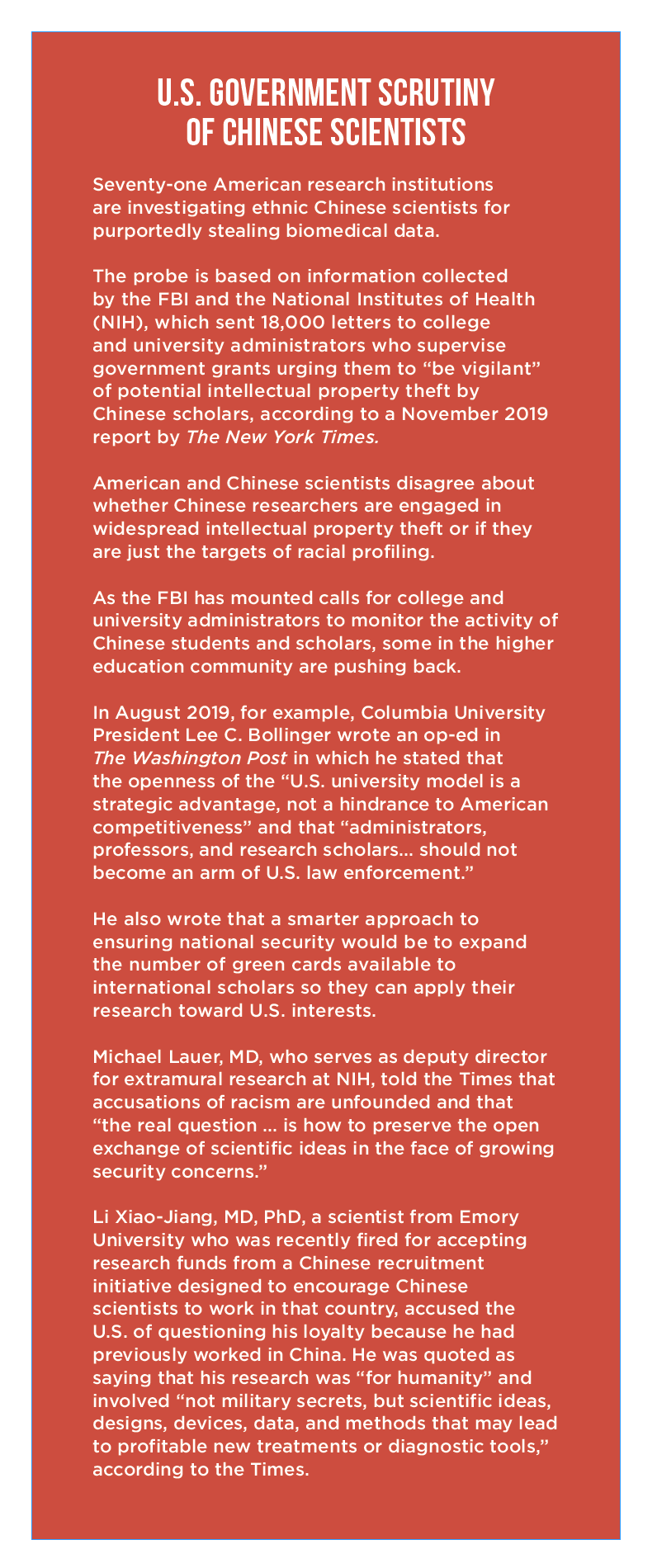 Moreover, she encourages higher education leaders to voice their support for the Optional Practical Training (OPT) and STEM OPT programs, which allow students and scholars from other countries to apply their skills and gain work experience in the U.S. upon completing their degrees. International student advocates and many economists believe that OPT is crucial to driving business and science innovation in America and enhances national security by allowing graduates from abroad to put their skills to use here in the U.S.
Both OPT programs are at risk of being eliminated, however, due to new developments regarding a federal lawsuit brought forth more than a decade ago by The Washington Alliance of Technology Workers, (WashTech), a union for American STEM professionals.
In July 2019, a federal judge decided that WashTech's case against OPT could proceed. If the lawsuit is successful, the program could potentially come to an end, Banks says. According to NAFSA's website, "there is concern that the current administration might not defend OPT."
To help preserve the program, Banks urges as many higher education administrators as possible to file an amicus brief in support of OPT.
NAFSA has also expressed concern about a 2019 Immigration and Customs Enforcement (ICE) proposal to place a time limit on international student visas. Under current law, these students have what is called "duration of status" (D-S) on their visas, which allows them to stay in the U.S. as long as they are meeting the expectations of their respective colleges or universities. D-S gives foreign students the opportunity to transition from a two-year degree program to a bachelor's degree and on to a graduate program if they so choose.
If they were restricted to a three-year visa, for instance, simply earning a four-year bachelor's degree could become difficult, given the numerous delays and backlogs within the visa processing arm of the U.S. Citizenship and Immigration Services Bureau, Banks says. The D-H proposal is an example of a larger problem regarding international education policies under the Trump administration, according to policy experts at NAFSA. The administration tends to change federal regulations for international students via internal policy memos as opposed to the formal federal register, which affords the public a chance to offer feedback on new government proposals. Regulating by policy memo, however, ignores potentially valuable input from stakeholders and experts, Banks says.
Policy advocates at NAFSA also urge the U.S. government to create a national recruitment strategy for attracting and retaining international students to America. "We are in a global competition for international talent, and each of our individual competitors have developed a recruiting strategy [for these students]," Banks says.
A government-led recruitment strategy would alleviate the need for individual colleges and universities to undertake their own comprehensive public relations and outreach efforts to ensure that students from other countries — and their families — know that the U.S. is a safe and welcoming place to pursue higher education, she says.
Ginger O'Donnell is a senior staff writer for INSIGHT Into Diversity. This article ran in the December 2019 issue.