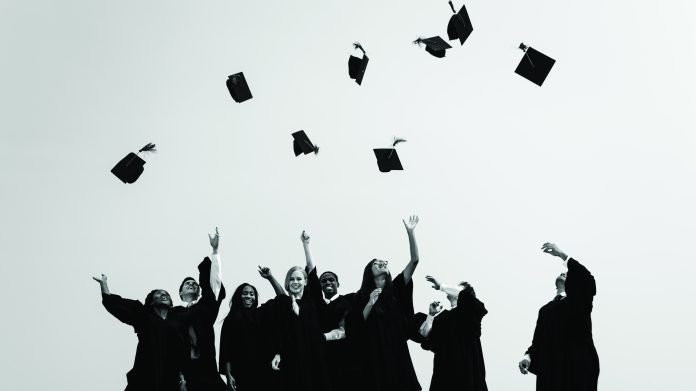 New and soon-to-be college graduates have faced a perilous job market since the onset of the COVID-19 pandemic, yet many reports show that employment prospects could be looking up for students completing their degrees in 2021. 
In October, the National Association of Colleges and Employers (NACE) announced that its annual Job Outlook Survey found that most employers planned to "essentially maintain hiring for Class of 2021 graduates at 2020 levels, with a drop of just 0.1%," according to a press release. The association attributed this positive news to the fact that some industries, such as pharmaceutical manufacturing and wholesale trade, have grown during the pandemic. Furthermore, many employers have adapted their hiring strategies to work within the limits of the pandemic rather than being deterred by it, according to NACE. The negative impacts on the economy have been "offset as employers shifted their college recruiting approaches and operations to meet — or at least account for — the challenges the pandemic has created," the association states.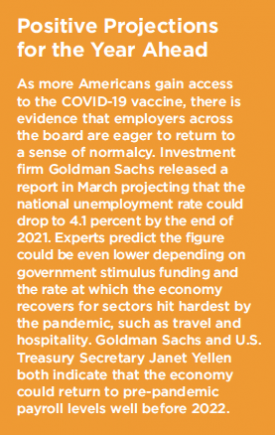 Of course, much research has shown that women and people of color have been hit hardest by job losses because of COVID, even as the economy begins to recover. In February, Black unemployment increased to nearly 10 percent despite the national rate dropping to 6.3 percent. Women of color have experienced the greatest impact, with the U.S. Bureau of Labor Statistics reporting that Black women and Latinx women have suffered a 10 percent and 8.6 drop in employment, respectively, since February 2020. 
Despite these dismal numbers, the future is still likely to hold better prospects for underrepresented job seekers and women. NACE released a report in November showing that 90 percent of employers indicate they have a diversity recruiting strategy for the Class of 2021. Many plan to work with institutions such as historically Black colleges and universities and professional associations to increase their number of African American, Latinx, and women employees. 
Though the job market for recent graduates has not fully recovered, there is a light at the end of the tunnel, says Deborah Herman, director of Employer Relations and Recruiting at Clemson University's Center for Career and Professional Development (CCPD). While the university is still in the process of collecting employment data from students who graduated over the course of the past year, there has been a steady rise in online job postings in recent months, Herman says. This is a great improvement from the beginning of the pandemic when employment prospects were so low that some employers had to rescind job and internship offers.
"I'm seeing it looking a little better, because we're getting a lot more job postings coming in, and what employers are telling me is that they are trying to do some hiring, just maybe not as much as [before]," explains Herman. "It depends on the industry and their products and services."
The majors that are seeing the most job opportunities right now include accounting, computer science, mechanical and electrical engineering, logistics management, and finance, according to Herman. Industries like health care, construction, consulting, manufacturing, and sales are posting jobs as well. Unsurprisingly, students studying areas related to tourism and hospitality are among the least likely to find job opportunities in their field, she says. According to the U.S. Bureau of Labor Statistics, these industries lost 3.9 million jobs between March 2020 and January 2021. 
One of the greatest challenges for the CCPD has been preparing students for the virtual hiring environment. Just as so many people have had to adjust to online learning and working remotely, conducting the job search process entirely online requires some adjustments, Herman says. Teaching students how to network and interview via virtual meeting software has been a major task. At first, the transition was intimidating for both students and career center staff, but most have come to realize that operating in virtual environments can expand possibilities for job coaching and networking.
"You guys are part of a generation that knows how to create more than any generation before," Roth told the audience. "You know how to be your own brand. You've got to take advantage of that."
A January survey by online job search company Handshake found that students see both benefits and drawbacks when it comes to remote hiring. Nearly half of the survey's 1,000 respondents said they felt more comfortable in an online interview environment, but 52 percent reported being concerned that the process would hinder their ability to effectively communicate and connect with interviewers. 
In recent months, Herman has worked closely with recruiters to set up online mock interviews, webinars, and virtual career fairs to help students succeed despite the limitations caused by the pandemic. Companies and organizations hoping to hire soon-to-be graduates were vital in helping the CCPD and students in these efforts.
"Employers were awesome, and they still are," Herman says. "We just cannot believe all the information sessions and webinars that employers are trying to offer to connect with students."
She encourages upcoming graduates to remember that despite technology now playing a bigger role in the job preparation process, the basic elements for landing a job by standing out to potential employers remain the same. Ensuring that you are as knowledgeable as possible in your particular field and have prepared for interview questions ahead of time are still vital for success, for example. Herman also recommends that students whose degrees are not currently in demand consider expanding their job search to see where their skills may fit in with other industries. 
Other job search experts have offered similar advice for students and recent graduates who are struggling to find employment in their chosen field. Many encourage students to apply for jobs outside of their region, as more professions than ever before are transitioning to remote work environments. Job seekers can also take advantage of the time available to learn new skills online, especially as some companies have started offering virtual training and classes for free since the start of the pandemic.
"Your dream job isn't available right now [and] that's okay," LinkedIn editor-in-chief Dan Roth told students during a virtual town hall special on CNBC in July. "Seek out those industries and opportunities that will get you those skills, and I think you'll find something that you never expected to have."
Roth also encouraged new graduates to take whatever jobs were available to them so that they could demonstrate to employers that they were staying engaged with the marketplace, even if just through the gig economy. He also recommended that job seekers continue building their unique brand through "side hustles." One recent graduate in the virtual audience reported that he was tutoring online and producing his own podcast, for example, while searching for full-time work.  
"You guys are part of a generation that knows how to create more than any generation before," Roth told the audience. "You know how to be your own brand. You've got to take advantage of that."●
Erik Cliburn is a senior staff writer and Mariah Bohanon is the senior editor for INSIGHT Into Diversity. Clemson University is a 2017-2020 recipient of the INSIGHT Into Diversity Higher Education Excellence in Diversity (HEED) Award and a 2018-2020 Diversity Champion.