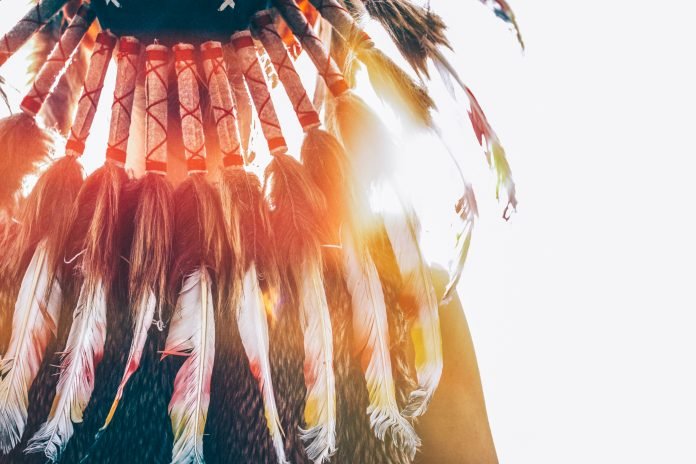 The momentum of this year's Black Lives Matter protests and nationwide demands for racial justice have helped propel calls for justice and equality for all marginalized groups, including Indigenous peoples. Among the most significant causes in support of this population is the push to eradicate the long-standing tradition of Native American discrimination in the form of team names and school mascots. 
This ongoing bigotry defies calls from numerous tribal organizations to dismantle the appropriation of their cultures and the dehumanization of Indigenous people. The National Congress of American Indians (NCAI), which represents nearly 800,000 Native Americans across multiple tribes, has "waged a formal campaign to eradicate negative, harmful stereotypes of Native peoples in popular culture and media for more than five decades," including eliminating offensive mascots, names, and logos from sports at all levels, according to the NCAI website. Other inter-tribal groups representing dozens of tribal nations have issued multiple resolutions against the use of racist terminology in team names, as have more than 40 tribal governments. Advocacy groups such as changethemascot.org are dedicated solely to this mission. 
Yet sports teams and educational institutions — many of them predominantly White — continue to perpetuate this discrimination. In addition to ignoring the requests of millions of Native Americans and their supporters, these traditions can cause psychological damage to all who are exposed to them — especially Native American students — and can hinder equitable education. In 2005, the American Psychological Association issued a formal resolution calling for the "immediate retirement of all American Indian mascots, symbols, images, and personalities by schools, colleges, universities, athletic teams, and organizations." The association's decision was based on a "growing body of social science literature that shows the harmful effects of racial stereotyping and inaccurate racial portrayals, including the particularly harmful effects of American Indian sports mascots on the social identity development and self-esteem of American Indian young people." 
Progress has been slow, and one of the most important successes in this area was achieved only after millions took to the streets this summer to demand better treatment and respect for marginalized groups. In July, the Washington Redskins changed its name to the Washington Football Team. An NFL franchise whose owner had previously vowed to never change its name, the team rid itself of the "R-word" and its logo and is currently determining what its new official name will be going forward.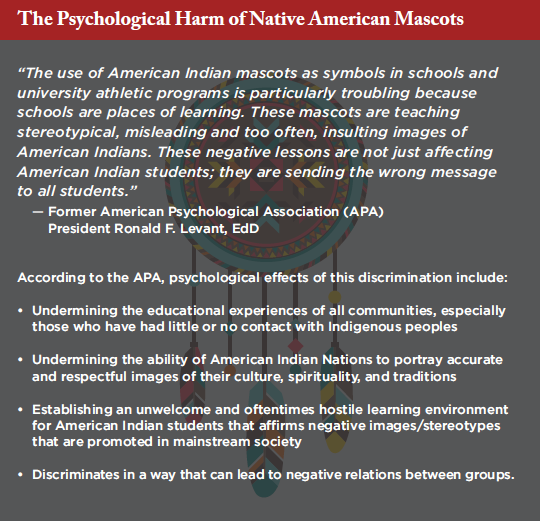 The "R-word" was once used as a self-identifier by Native Americans but was appropriated by Whites in the late 19th century. It was during this same era that "other Native American words and images were becoming increasingly popular symbols for sports teams," according to NPR. Braves, Chiefs, and Indians became acceptable names for teams at all tiers of athletics, including at the collegiate level. Over time, thousands of K-12 and postsecondary institutions adopted these and similar monikers along with dehumanizing caricatures of Native Americans as their mascots. 
More than 2,200 high schools in the U.S. still use "Native imagery" in their names and mascots, according to a July 10 report by The New York Times. Colleges and universities have been quicker to remove such iconography thanks to the efforts of Native American groups and student activists dating back to the 1960s. 
By the late 1990s, a wave of higher education institutions had begun changing their team names, mascots, and related symbolism. In 2005, after years of pressure from Indigenous advocacy groups, the NCAA officially enacted a policy to discourage member schools from using "hostile and abusive racial/ethnic/national origin mascots, nicknames, or imagery."
Recognizing the importance of respecting Indigenous cultures and elevating Native American voices can and should be part of the "tough conversations" taking place in higher education, Bitsóí recommends.
The association listed 18 colleges and universities it deemed in violation of this policy, 10 of which complied with making necessary changes. The University of Louisiana at Monroe, for example, retired its "Chief Brave Spirit" mascot in exchange for Ace the Warhawk, a cartoonish red bird adorned in fighter pilot gear. Some teams, such as the Bradley University Braves, were allowed to keep their nicknames so long as they eradicated all symbolism or representation of Indigenous people associated with those names. 
Five of the schools were able to waive the NCAA policy by proving that they had formal agreements with a Native American tribe or organization. The Seminole Tribe, for instance, issued a written resolution for Florida State University (FSU) to continue to use its name, logo, and related imagery. The long-standing partnership between the tribe and FSU includes an annual tradition of having tribal members crown the "Homecoming chief and princess with authentic Seminole regalia," and FSU provides a scholarship program and other opportunities for Seminole students, according to the university's website. 
Not every institution of higher education has been compliant with eradicating their dehumanizing portrayal of Native Americans. At the University of North Dakota (UND), administrators were unsuccessful in gaining permission from Sioux tribes to continue to use its 'Fighting Sioux' team name after the NCAA's 2005 announcement. Fans were so resistant to giving up the moniker and related logo that UND and its supporters twice attempted to sue the NCAA. North Dakota lawmakers even passed a bill making the proposed changes illegal. The law was later repealed, and voters officially approved removing the Fighting Sioux title and appropriated Indigenous symbolism from the school in 2015. 
Despite these advancements, some fans of collegiate and professional sports teams continue to resist letting go of offensive team names and traditions such as chants that mock Indigenous culture. Official bans against this form of dehumanization haven't always been effective, but Lee Bitsóí, EdD, director of the Fort Lewis College Diversity Collaborative and special adviser to the president for Native American affairs, says athletic teams have the power to enforce them if they are willing. He points to the example of NASCAR recently banning the Confederate flag at races; fans may still cling to this symbol, but the organization has taken a stance to show that it is no longer welcome or allowed at NASCAR events. 
Bitsóí says that athletic organizations and higher education institutions have a responsibility to not just eliminate these offensive symbols, but also make people aware of why these changes matter. 
"The primary responsibility of colleges and universities is to educate students, to educate the citizenry. Sports and everything else should be secondary," he says. 
Too often, the fans who support maintaining discriminatory team names and imagery view Indigenous people as remnants of the past, according to Bitsóí. Such symbols also promote the viewpoint of Native American tribes as monolithic rather than recognizing their cultural differences. Colleges and universities should be proactive in combatting these viewpoints and be leaders in spreading awareness about why they are harmful. 
Recognizing the importance of respecting Indigenous cultures and elevating Native American voices can and should be part of the "tough conversations" on systemic racism currently taking place in higher education and society at large, Bitsóí recommends. This discourse opens the way for creating major change in how students and people across the U.S. view Indigenous peoples. 
"People are not aware of the diversity of who we are as Indigenous people, [but] we're here," he says. "We've always been here and always will be here."
Mariah Bohanon is the senior editor of INSIGHT Into Diversity. This article was published in our November 2020 issue. Lee Bitsóí is a member of the INSIGHT Into Diversity editorial board.