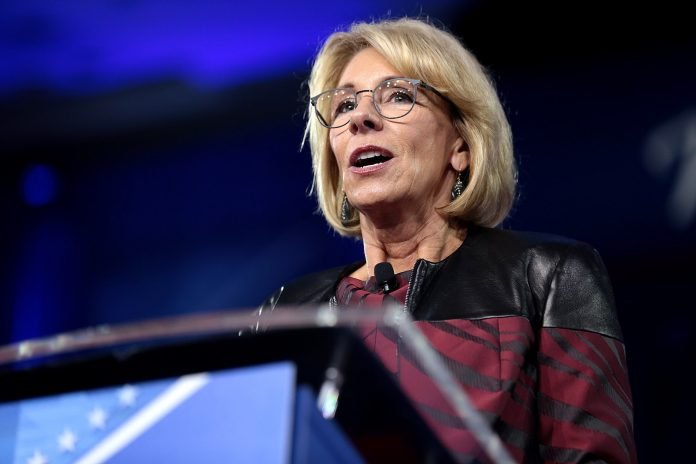 Secretary of Education Betsy DeVos submitted a resignation letter on Thursday following Wednesday's insurrection at the U.S. Capitol by supporters of President Donald Trump. 
In her resignation letter, DeVos says the Trump administration should be highlighting its accomplishments as the term comes to an end, not "clean[ing] up the mess caused by violent protestors." 
"That behavior was unconscionable for our country," DeVos wrote. "There is no mistaking the impact [Trump's] rhetoric had on the situation, and it is the inflection point for me."
— Secretary Betsy DeVos (@BetsyDeVosED) January 6, 2021
The violent uprising has led to more than 80 arrests and five deaths, including the fatal shooting of an Air Force veteran by a Capitol police officer. DeVos was one of the first cabinet leaders to speak against the Trump extremists on Wednesday, according to The New York Times. 
During her term, DeVos was heavily criticized for her controversial views on Title IX,  affirmative action policies, and LGBTQ rights.
"Holding this position has been the honor of a lifetime, and I will be forever grateful for the opportunity to serve America and her students," DeVos wrote in the letter.
She is the second cabinet member to leave the administration since the insurrection. Transportation Secretary Elaine Chao also resigned in a Thursday letter.