As public universities in Texas, Florida, Tennessee, and North Dakota prepare for and see new anti-DEI (diversity, equity, and inclusion) laws take effect, similar measures are proposed in other states that focus on closing DEI office operations, ending required diversity statements on student applications and in hiring, dispensing with mandatory DEI training, curbing curriculum regarding diversity-related concepts, and disallowing funding for DEI support.

 
In response to relentless anti-DEI measures, over 200 former college, university, and system heads have joined forces as the Champions of Higher Education coalition, an initiative created by PEN America, an organization that unites writers and their allies to celebrate free expression and defend the liberties that make it possible. As a united front, this group is sharing its expertise and calling on institutions to forcefully oppose efforts by public officials to censor and stifle free expression on college campuses.  
These prominent leaders say it's essential to break down silos in higher education across departments, disciplines, and institutions to create unified coalitions of political influence and align leadership as one voice.
Equally important is the need to craft and communicate clear, effective arguments to lawmakers in support of DEI efforts and to emphasize the negative economic, student, and human rights repercussions of anti-DEI laws.
Chilling Effect on Campus Climate
Although many colleges and universities in affected states report they continue to operate as usual, some deemed it necessary to pause DEI funding and programming even before laws were approved, such as the University of Texas System, which did so in February.      
The deleterious effects of the state bills can be felt among faculty, especially in the state of Florida, according to the Preliminary Report of the Special Committee on Academic Freedom and Florida, a study recently published by the American Association of University Professors (AAUP). The report finds that many of these educators have left or plan to leave their institution, and for those who do not have the option to leave, some find themselves self-censoring their teaching materials. 
The AAUP concludes that many initial fears have come to fruition and that anti-DEI efforts are stifling academic freedom on campuses.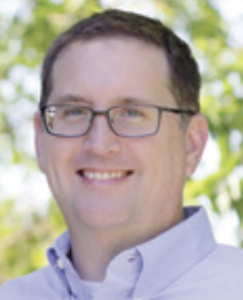 Neal Hutchens, JD, PhD, professor in the Department of Educational Policy Studies and Evaluation at the University of Kentucky, specializes in law and policy research with an emphasis on issues of academic freedom and free expression. State legislators pushing these laws don't have the long-term economic and political interests of their state at heart, he says.
"[Lawmakers are] also dealing with the dangers of unintended consequences about what they could do to these public universities that these states have spent decades building up," Hutchens says. "I'm not sure it's going to take decades to tear them down." 
In agreement with the stance of the Champions of Higher Education, Hutchens says anti-DEI laws focused on curriculum encroach on the academic freedom of faculty and the right of students to learn.
"[It's] viewpoint discrimination," says Hutchens. "They're wanting to say that only certain views about race and ethnicity and gender are acceptable. Other views are just off the table, you can't talk about them. If you talk about them, we can fire you. That idea is just so contrary to how higher education is supposed to operate."
Although the intentions of anti-DEI bills are clear, the laws are poorly written, Hutchens says, which makes them difficult to interpret. Because of this, institutional leaders may be hesitant to fight for DEI initiatives out of fear they might violate a new law, and faculty may choose to follow their example.
Lessons in Strategy
The AAUP report accuses academic administrators in Florida of not only failing to contest attacks, but in some instances being complicit or explicitly supporting them. Overall, Hutchens feels university leadership may have initially tried to avoid upsetting politicians, afraid of causing greater harm. Although he sympathizes with this fear under these abnormal circumstances, he says that's a lesson learned, and more needs to be done.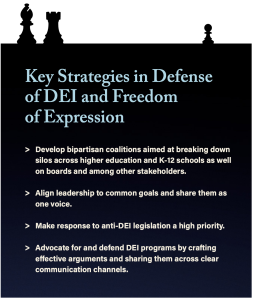 "The deafening silence of a lot of institutional leaders — it makes you wonder, is there no limit to how far you can go before they say, 'This is not acceptable?'" Hutchens says. 
He points to actions by the Board of Trustees of The Ohio State University as an example of how to fight back. In May, the board released a collective statement opposing Senate Bill 83, which, among other things, would prevent new school partnerships in China, limit DEI training, prevent university employees and staff from striking, enlist new tenure evaluation requirements, and require certain American history courses for students.
A similar response occurred in Iowa, where presidents of the state's three regent universities defended their DEI programs against Iowa House Republicans in February. 
Despite their efforts, the fight continues in these states. Ohio's law is pending before the state House of Representatives, and Iowa's three public universities have been ordered to pause new DEI programs by the state's regent board while a study is conducted on related efforts at the schools.
Although Senate Bill 83 is still on the table in Ohio, Hutchens says appeasement and silence isn't an effective approach. He advises any university leadership under attack for DEI and free speech initiatives to act proactively to persuade lawmakers to consider their arguments, to expand public knowledge of the implications of such legislation, and to maintain the morale of the campus community.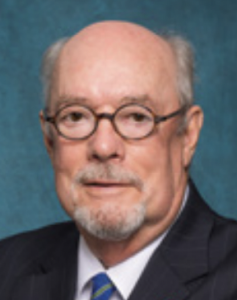 Mike Martin, PhD, former Florida Gulf Coast University (FGCU) president who stepped into the interim president position amid a search for his successor, signed on to the Champions of Higher Education group before leaving FGCU effective at the end of June. At FGCU, diversity programs continue to move forward while Martin awaits further guidance from the Florida Board of Governors, and no matter what happens, the institution will work hard to continue these initiatives, he says.
Higher education leaders are hesitant when it comes to taking a public stance on political issues because they fear consequences like budget cuts or layoffs, he says, but the reluctance to speak up among chancellors and presidents in Florida didn't result in effective political participation.
"I don't think many of us spoke up quite as affirmatively and positively about [DEI] when this movement legislatively began. … We probably should have been [speaking to lawmakers] sooner and we probably should have been a little more fully coordinated and fully consistent in the stories we were telling," Martin says.
Leaders facing political and legal DEI backlash need to treat such legislation as a high priority and respond quickly — and not become distracted by other issues unique to their institution, he says. Martin also advises campus leaders to coordinate their efforts and speak as one voice in opposition to anti-DEI measures.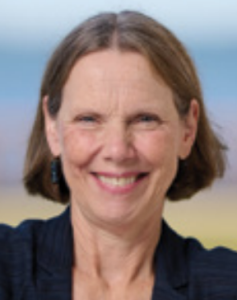 Patricia Okker, PhD, former president of the New College of Florida, says she joined the Champions of Higher Education with a focus on fighting legislation aimed at book bans and a goal of advancing bipartisan advocacy for free expression on college campuses. 
The New College of Florida took center stage early in the fight for DEI principles. Six partisan allies of Florida Gov. Ron DeSantis (R) were appointed to the college's board of trustees, and Okker was ousted from her position as president in February. 
The AAUP report views the takeover of the school as a "test case" meant to intimidate other institutions. 
Okker declined to comment on her relationship with the college but says she will continue to engage in meaningful dialogue with critics of DEI programming to learn how best to improve the climate on college campuses. She strongly objects to the idea that the only reasonable action is to eliminate DEI efforts.
"I have seen firsthand the benefits of thoughtful work in DEI, and I am grateful to have had the opportunity to work alongside DEI professionals with significant expertise mediating tense situations among people with strongly opposing views," Okker says. "That kind of expertise is something we need more, not less, of."
DEI practitioners and university leaders have ongoing, hard conversations on program concerns, and it's important to pave the way for those discussions to include legislators, she says. 
In defending free expression on campus, Okker focuses on long-term strategies, and says it's vital to create bipartisan coalitions that have influence on lawmaking by connecting faculty and staff across sectors, including disciplines, institutions, and K-12 schools.
"Raising awareness is important," she says. "Making statements in support of free expression is important. But we've got to do some old-style organizing [by] building a coalition of people that want to advocate for freedom of expression."
Effective Arguments
In North Dakota, Larry Isaak, who served as the North Dakota University System chancellor for approximately 10 years and as president of the Midwestern Higher Education Compact, has spoken out publicly against anti-DEI bills since they were first proposed in the state and has raised awareness around the negative impact earlier drafts would have had on accreditation. 
Isaak praises the actions by The Ohio State University Board of Trustees, something he encourages more boards and education leaders to do, despite political pressures.
"During my time as chancellor, I was accused by Democrats of leaning Republican," he says. "I was accused by Republicans of leaning Democrat. My point is, I didn't let that stop me from advocating for what was right."
Isaak points to effective arguments that should be emphasized, including the limitations on freedom of speech and expression, which he says is a bipartisan issue most individuals can agree upon.
"Raising awareness is important. Making statements in support of free expression is important. But we've got to do some old-style organizing [by] building a coalition of people that want to advocate for freedom of expression."

Patricia Okker, PhD
Beyond the moral imperative of DEI work, there's an important pragmatic argument to be made, says Martin, specifically, the negative economic consequences of
the legislation.
"If we in some way send a message that [Florida] isn't a welcoming place and [because of that] we lose people who want to come here and get an education to serve, this region will be adversely affected," Martin says.
Another critical point, says Hutchens, are the legal implications of the legislation. With gutted DEI offices, students and employees of institutions are more vulnerable to acts of discrimination, which in turn also makes colleges and universities more susceptible to litigation.
Other consequences extend to the entire campus community, Hutchens says, including work to recruit and retain talent. With leadership yielding to anti-DEI practices, employees and students of color especially may feel unsupported in their values, causing them to leave for other institutions or states, he says.
Isaak suggests students also lose in the anti-DEI movement due to constraints on curriculum and research. Students will receive an education that shields differentiating viewpoints, he says.
 "Curriculum should include various viewpoints and not be determined by legislating partisan political ideology that limits presentation and discussion of these viewpoints … and college leaders and presidents need to bring this [up] more: What is the impact on students?" he says.●
This article was published in our July/August 2023 issue.