As in many professions, the field of sign language interpretation is extremely homogenous. Nearly nine in 10 interpreters are White, according to the 2018 annual report from the Registry of Interpreters for the Deaf, Inc. (RID). The statistics are similar when it comes to gender parity, as 87 percent are women. These demographics are relatively unchanged from what RID reported in 2000, thus showing that the industry has made little progress in diversifying. 
This lack of diversity negatively affects Deaf and hard of hearing (DHOH) people of color, who are subjected to communication barriers when utilizing the services of an interpreter from different ethnic and racial backgrounds as themselves.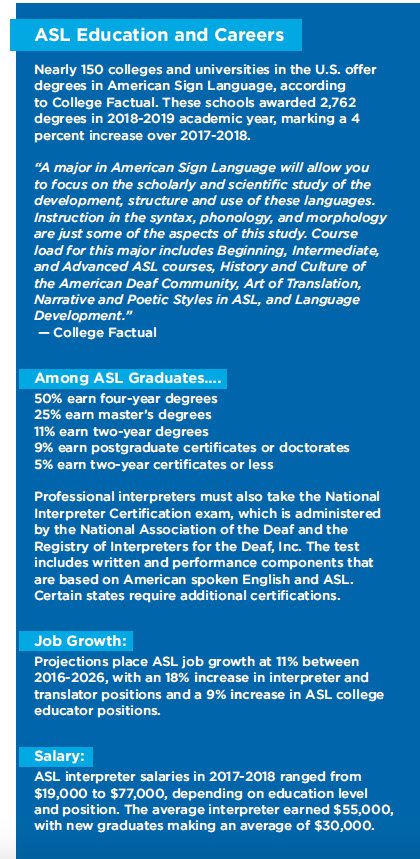 Interpreters who share their client's sociocultural identity can pick up on cultural nuances and differences in dialect that are difficult for other interpreters to translate or understand. 
The late Martin Hiraga — an activist and educator who identified as Asian American, Deaf, and LGBTQ — explained this concept in a video for the National Multicultural Interpreter Project (NMIP). An ASL interpreter of any background would be fully capable of translating for him when it came to a professional or work setting, but he preferred an interpreter who fully understood his cultural heritage when it came to personal settings and events, Hiraga said. 
"At the end of August, we have a dance for the dead. Of course, I would prefer to bring in an Asian interpreter [for that event], and the reason is they would have the cultural background and wouldn't need to be briefed on all the various aspects and terminology. They would already have that knowledge base," Hiraga stated in the video. 
Many in the Black DHOH community tend to share Hiraga's viewpoint. African American Sign language, also called Black Sign Variation or Black ASL (BASL), is a distinct form of communication. Its linguistic differences stem from the era of segregation when African Americans were barred from mainstream DHOH organizations like the National Association of the Deaf and DHOH institutions such as Gallaudet University. 
The differences between traditional and BASL can be significant, Gallaudet Professor Carolyn McCaskill explained in a 2012 article in The Washington Post. She recalls how, as a Black Deaf person in the 1960s, she was "dumbfounded" to discover that she couldn't understand sign language conversations with White people. McCaskill — who went on to become the second Black Deaf woman to ever earn a PhD — had to relearn how to sign common words such as "shoe" and "school," how to use one hand to sign certain terms and phrases, and other new skills in order to communicate with her White peers.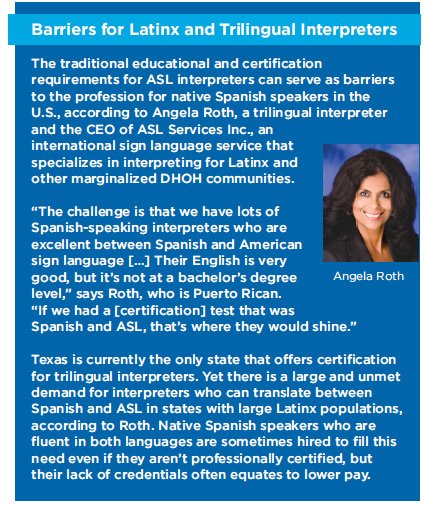 Today, BASL remains an important aspect of identity for the African American DHOH community and helps convey a sense of belonging for people. "Black ASL paints pictures and expresses messages in ways that just bring another layer and another flavor to the whole notion of what Black language is," Candas Barnes, a staff member of the Gallaudet Interpreting Service, explains in a recent documentary. Titled "Signing Black in America," the film is part of North Carolina State University's Language and Life Project and is the first documentary on the history of this often-overlooked aspect of African American identity. 
Research suggests that one reason more students of color don't pursue ASL degrees is the inherent isolation and marginalization they experience in traditional interpreter programs. 
"Anecdotal evidence suggests that interpreters of color have a significantly different experience going through interpreter training programs than their [W]hite counterparts," according to the Rochester Institute of Technology (RIT) website. "Systematic norms catering to the success of the majority often adversely affect students of color. These norms can manifest in oppressive, alienating ways that make it difficult for interpreting students of color to succeed." 
RIT's National Technical Institute for the Deaf (NTID) launched The Randleman Program in 2019 in an effort to disrupt the homogeneity of the interpreter profession and better serve DHOH people of color. Named for the first Black interpreter to work in RIT's Department of Access Services, the program is a two-year preceptorship that offers mentoring, small group meetings, and other support that helps interpreters of color build confidence, develop cognitive processing, and strengthen self-assessment skills. 
"Protégés are assigned a preceptor and an individually designed curriculum. Protégés work 40 hours a week, which includes hours of interpreting, language development, professional development with an emphasis on diversity and inclusion, and leadership development activities," according to an RIT press release. 
RIT is not alone in these efforts. Other groups have taken concrete action to rectify the longstanding racial and ethnic disparities in ASL education and careers. Gallaudet's English Language Institute offers a full-time program for international students in ASL, English as a Second Language, and cultural studies with the goal of preparing them for additional education and career opportunities in the U.S. The National Alliance of Black Interpreters, Inc. focuses on building "a bridge for high school and collegiate students to cross into the world of interpreting" by hosting college and career fairs, performance and interview workshops, and more. DHOH organizations across the country are helping underrepresented ASL users and interpreters find community and spread the message about the need for diversity in their profession. 
As awareness of social inequities continues to spread across the U.S. thanks to the racial justice movement, it is crucial that all populations who have traditionally been marginalized are included in the push for equality and inclusion. The ongoing efforts of DHOH organizations and educational institutions as mentioned above will hopefully be able to gain the attention of the public as this advocacy work continues so that all DHOH individuals, including those of color or from diverse backgrounds, can experience a brighter, more inclusive future.
Mariah Stewart is senior staff writer for INSIGHT Into Diversity. This article was published in our November 2020 issue.