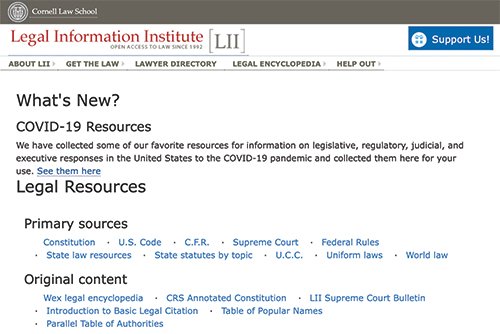 The Cornell University Law School's Legal Information Institute (LII) is a nonprofit that promotes open access to legal documents and research and is based on the belief that "everyone should be able to read and understand the laws that govern them," according to its website. 
Unlike paid and subscription-based research services that law firms typically employ, the LII offers these services for free to users worldwide. The institute publishes and creates materials designed to help all people comprehend the complexities of the legal system, and much of its work includes exploring new technologies that make it easier for those without a law degree to conduct research in this area.  
The LII has long been an innovator in promoting public access. It was the first organization to provide online Supreme Court opinions 10 years before the court even had a website; it also offered the first distance-learning courses for the graduate study of law. Among the LII's many other offerings are an online dictionary and encyclopedia containing over 6,000 legal definitions and internet resource listings for roughly 100 different areas of law.
Recently, LII staff realized that there was a lack of legal research websites available for people with disabilities. They set out to make their website accessible for everyone, including those who use screen readers due to vision impairments.  
According to the 2018 Report on Diversity in U.S. Law Firms by the National Association of Law Placement, it's estimated that less than one percent of law firm partners and associates have a vision disability, which is defined as visual impairment not fixable by usual means such as glasses. A recent article in the American Bar Association Journal notes that because there is a pronounced lack of all aspects of diversity in the legal profession, ADA website compliance is typically not on firms' radars. 
However, as the reliance on technology continues to grow — along with online interactions between lawyers, employees, and clients — website compliance should be a diversity best practice in the legal profession. 
While the ADA does not provide definitive rules for website compliance, it does have a set of general guidelines. Firms can also consider making their sites compliant with the Web Content Accessibility Guidelines from the nonprofit Web Accessibility Initiative in order to ensure they are accessible to all.
LII was founded in 1992 by co-directors Thomas R. Bruce and Peter W. Martin. It is funded by Cornell Law School, online sponsorship and advertising, projects with partner organizations, and donations from the public. 
To learn more, visit law.cornell.edu.●