Approximately 29 percent of community college students say they've experienced food insecurity, while 14 percent report housing insecurity — and for students of color and those from low-income backgrounds, the challenges are even greater, according to a 2022 survey* by the Center for Community College Student Engagement (CCCSE). 
It's well documented that such challenges affect a student's ability to succeed in their educational goals as well as professionally and personally. In response, many community colleges have created programs to meet the needs of their most vulnerable students. 
Often, low income is the root cause of basic needs insecurity, and community colleges enroll a high percentage of economically disadvantaged students. The National Center for Education Statistics finds that 37 percent of them have a family income of less than $20,000, and that number rises to 47 percent when accounting for nondependent students. 
CCCSE survey data also finds that racially and ethnically underrepresented students are more likely to face food and housing insecurities. Non-White students experienced food insecurity at a rate between 6 and 20 percentage points higher than their White peers, according to the survey. Asian students had the same rate of housing insecurity as White respondents, while all other underrepresented groups had between 6 and 16 percent higher rates.
Students contending with food and housing insecurity are more likely to lack other necessities as well, says Julia Stidham, coordinator of student support and social work at Sinclair College in Dayton, Ohio.
"Often when students are struggling with food, there's more to the picture," she says. "That can be struggling to pay for bills, transportation, or housing."
Due to the broad reach of the issue, it is important for communities and institutions to approach basic needs insecurity through a holistic lens, Stidham says.
Through state, nonprofit, business, and higher education collaborations, community colleges engage in initiatives such as creating food banks, providing funds for housing, and offering help in navigating complex government assistance programs. 
In the state with the highest homelessness rates, the California Community Colleges Chancellor's Office has addressed the issue by allocating $9 million of the state budget in the form of three-year grants to 14 member colleges. The grants are directed at helping students find reliable shelter with support from local agencies and organizations.
Utilizing its share of the funding for the Welcome Home City (WHC) program, San Diego City College (City College) partners with People Assisting the Homeless (PATH), a housing services agency, to assist students with case management services, housing navigation, and in some instances, limited one-time financial assistance. Although emergency housing is not provided, students are connected with the county for immediate housing and can still qualify for other WHC services.
Nearby, Long Beach City College (LBCC) also receives a portion of the state funding. The school partners with Jóvenes, an area nonprofit that helps youth end their cycle of homelessness. They work together to identify rapid housing solutions for students in the form of shared apartments and rental subsidies for long-term housing.
Additional LBCC programs and partnerships support single parents and offer shared homes, along with resources such as career services for students. The school's Safe Parking program allows students living and sleeping in their cars to stay in a safe environment overnight, with access to bathrooms, showers, and Wi-Fi. 
​​Supporting students' basic needs often looks like advocacy and social justice at the local and state level, says Nohel Corral, EdD, executive vice president of student services at LBCC. 
"We support our students to reach their goals, regardless of their experience or circumstances," he says. 
At City College, nearly half the students enrolled are Latino, and many are considered nontraditional. With the city's high cost of living, they face stiff barriers to securing housing, says Emily Saldine, grant coordinator for WHC.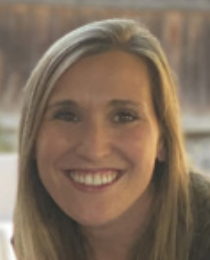 Students who have been touched in some way by housing insecurity often explore careers around reforming the issue. Recognizing that, City College offers the Program for Engaged Educational Resources (PEER), a course designed to train a future workforce to address homelessness, says Kirin Macapugay, City College assistant professor and PEER instructor.
"A lot of people, once they get to experience the heart of service providers or they've also been homeless themselves, [are] best equipped to continue to serve in that capacity," Saldine says. 
In Massachusetts, collaborations are key to solving food and housing insecurity for students.

The Moving to College (MTC) Scholarship program began as a pilot between Massachusetts Bay Community College (MassBay) and Framingham State University, a public four-year university. It launched in 2019 and is organized by the state's Department of Education. Eight schools now participate in the MTC program and assist up to 20 people at a time with scholarships.
As a community college, MassBay doesn't have student dorms, so Framingham houses its participating students. Additional resources are provided by MassBay's campus, including case management, tuition and fees, books and supplies, and transportation. 
The future of the MTC program is uncertain, as state funding for subsequent years has yet to be approved, says David Podell, PhD, president of MassBay. While institutional advocacy and partnerships with other sectors are essential, state financial support is critical to create projects like MTC, he says.
For many, education is the way out of a lower socioeconomic status, Podell says. 
"If we want our students to succeed, which we do, we have to focus on all of these other basic needs that are standing in the way," he says.
In western rural Kentucky, addressing basic student needs is a driving force at Madisonville Community College (MCC). Among other initiatives, MCC operates a $45,000 emergency fund for students with a demonstrated financial need to help them pay for car repairs, groceries, bills, rent, school supplies, and other expenses. Most of those eligible can access up to $300 in emergency funds per academic year, though more can be approved in special circumstances. When a deadly tornado tore through the region in 2021, MCC raised an additional $40,000 to act as a secondary emergency fund for students affected by the natural disaster.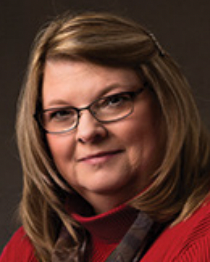 "We believe, wholeheartedly, that for every student in our area that we can educate, it will raise the ship for the entire community," says Cindy Kelley, PhD, MCC president. "We want to lead with compassion to help students find their better lives through education. This is one small thing we can do to make education more accessible for our students."
Along with the emergency fund, MCC also operates food banks across its three campuses. 
Food banks and pantries have become a more common sight at community colleges in recent years and serve as both an immediate and ongoing solution for food insecurity for students and their families. 
"Many of our students have a lot [to manage] between work, family, and school," says Alicia Schroeder, Sinclair's director of student affairs. "The fact that they can access that support right here on campus is a big game changer." 
As with housing initiatives, many schools partner with state and local agencies, nonprofits, and businesses to help run their programs. The Maricopa County Community College District (MCCCD) in Arizona, for example, operates food banks on all 10 of its campuses, with help from several community nonprofits, most notably St. Mary's Food Bank Alliance.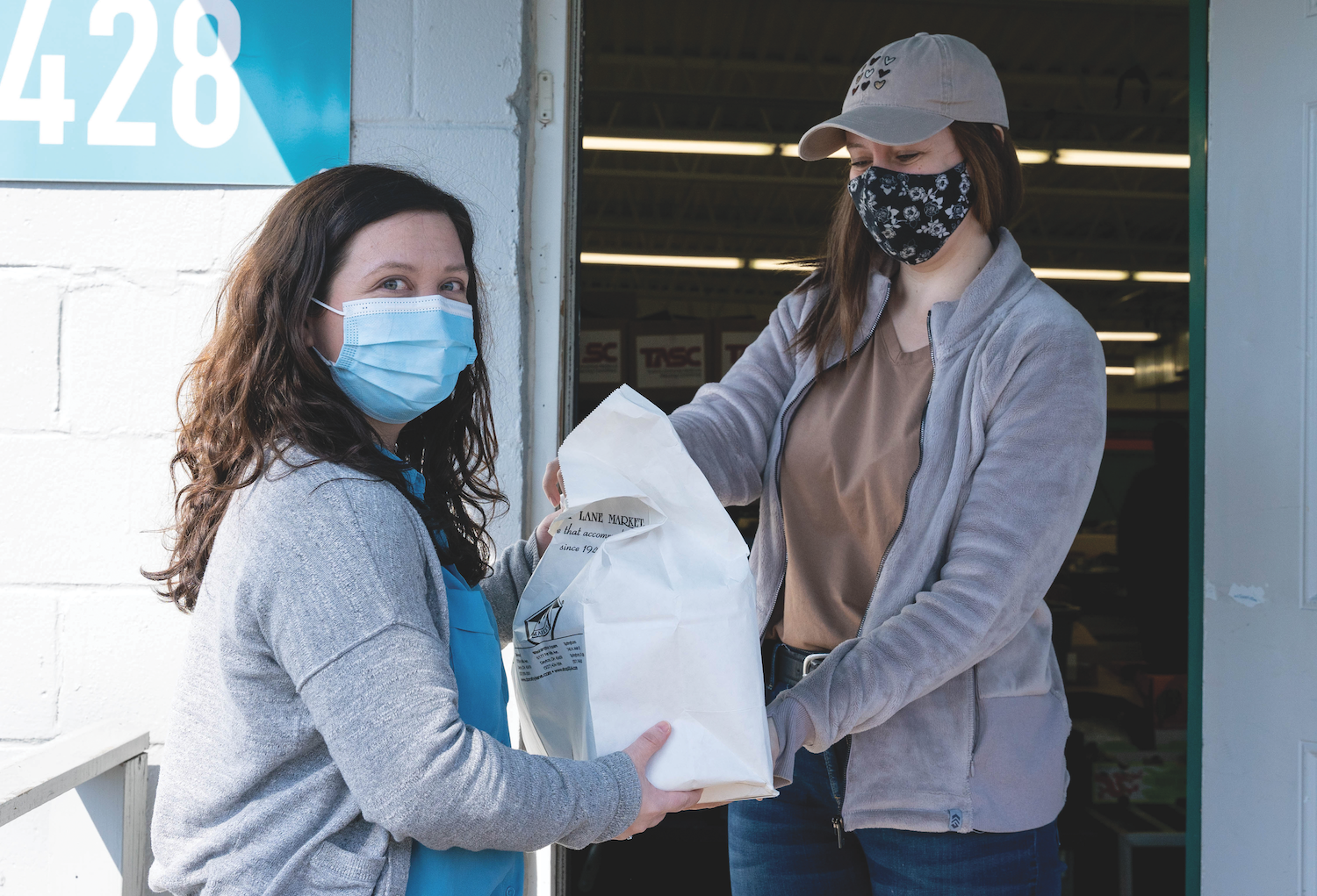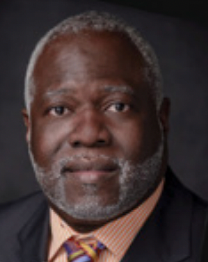 Through these partnerships, some of MCCCD's food banks rival commercial grocery stores in their food selection, such as The Village at South Mountain Community College (SMCC), which offers a wide range of food options, including shelf-stable foods, fresh produce, fresh and frozen meats, and even ready-to-eat vegan meals. Students can access larger food quantities for themselves and their families through the biweekly Shopping @SMCC program and can stop by The Village for a daily snack to tide them over during classes, says Ralph Thompson, SMCC's student affairs director. 
"A food box is a great immediate fix, but sometimes it's just not enough, especially when it comes to protein," he says.
Some community colleges, like MassBay, Sinclair, and Phoenix College (PC), an MCCCD school, have implemented free lunch programs with access to hot, nutritious meals throughout the week.
In addition to its food bank and lunch assistance program, PC provides several other supports for student parents, including food and necessities for infants and children. The college also hosts baby showers for new and expectant parents, which involves giving them diapers, formula, and other essentials, says Vashi Worley Moore, DDiv, senior student services specialist at PC.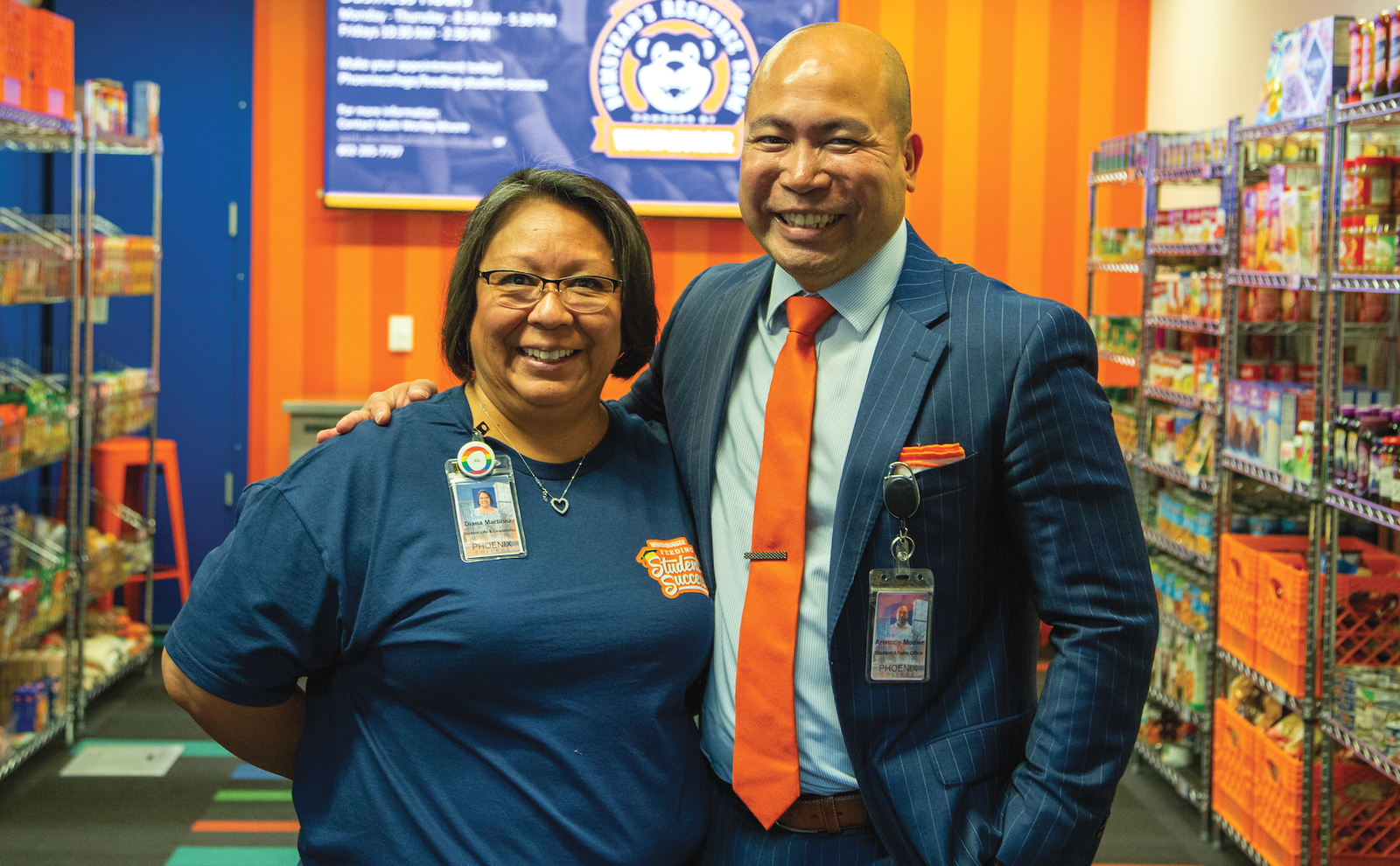 "It is a necessity to have a program on-site to accommodate those students who have larger-size families, because there is a limit to government assistance," she says. "Making sure that each of the individuals in the household is fed takes off or reduces some of the stress that parents have."
Along with campus food assistance services, administrators and staff at community colleges often work closely with students to help them identify, navigate, and apply for outside resources, including the federal Supplemental Nutrition Assistance Program (SNAP). In addition to operating the school's food programs, for example, Stidham is a licensed social worker, and she serves as Sinclair's student coordinator for outside resources.
At MCCCD, a districtwide SNAP outreach staff member walks students through the application process for federal funds. The district also maintains a webpage listing free events and resources throughout MCCCD and the region for food, housing, personal safety, and transportation.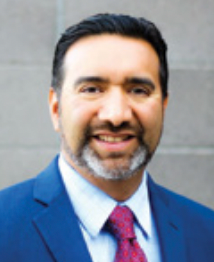 "It's hard to be a good student when you're hungry, your kids are hungry, or you're worried about where your next meal is going to come from," says Ray Ostos, EdD, district director for student affairs at MCCCD. "But if we're able to connect them to SNAP opportunities or other resources to eliminate that barrier, it makes them better students who are more focused. And, odds are, they will be successful."
A key element of community colleges' efforts to address food, housing, and other basic needs insecurity is to help destigmatize the use of assistance programs. Because many of these initiatives are relatively new, community colleges continue to experiment to find the best approach.
MCCCD schools, for example, aim to normalize the use of food assistance programs by making their food banks a centerpiece of student union centers. 
MassBay takes a different approach by working to preserve the anonymity of those relying on food and housing assistance programs. Students in the dorm housing program are unidentifiable from any other residents, and those who receive free cafeteria meals simply scan their pay card to do so.
As they explore best practices for destigmatizing assistance, these community colleges share the same goal: ensuring students feel comfortable seeking and accessing help on campus. 
"There should be no stigma attached — you have to have dignity," says Podell. "Students should not feel ashamed about the situation they're in."
Placing an emphasis on all types of basic needs insecurity, while also addressing the root cause and effects, are important aspects of any holistic approach to support community college students, says Ostos. By working to remove barriers, institutions can ensure that students have the tools and capacity to thrive, he says.
"We want our students to succeed, we want them to achieve their goals," Ostos says. "This work directly contributes to their success because it eliminates barriers. …We've found that when they get a little bit of help, they do really well. Each one of them faces some bumps in the road and if we can help them overcome those challenges, then they are well on their way to graduating."● 
*Mission Critical: The Role of Community Colleges in Meeting Students' Basic Needs (2022) | CCCSE
This article was published in our March 2023 issue.