Using tools popularized during the COVID-19 pandemic, colleges and universities are expanding their international reach through partnerships that feature virtual exchange programs and online courses. Such initiatives benefit U.S. students and faculty as well as spur education, research, and economic development worldwide. 
These partnerships primarily involve government agencies, educational institutions, and nonprofit organizations, which cooperate to advance opportunities across borders, cultures, and languages. 
International collaborative education was the focus of the recent Future of Global Higher Education conference organized by the University of Pennsylvania (UPenn) Graduate School of Business, and Penn Global, the office that oversees the university's worldwide engagement efforts. The event featured a keynote address from L. Rafael Reif, PhD, president emeritus of the Massachusetts Institute of Technology and a Venezuelan native, who discussed the importance of U.S. higher education institutions building and maintaining relationships with schools in other nations, even during heightened periods of international tension.
"On this small planet of ours we cannot do and shouldn't do without the open-mindedness, patience, and understanding generated by joint academic research and problem-solving," Reif said at the UPenn conference. "We should welcome mutually beneficial collaborations with our colleagues in other nations."
A recent example of an effort to build educational relationships between countries is the Norwegian Panorama Virtual Exchange/Collaborative Online International Learning (VE/COIL) Partnerships Initiative, a cooperative agreement involving 19 higher education institutions throughout Japan, Norway, and the U.S. All eight U.S. schools involved will pair with a Norwegian university while three will also collaborate with a Japanese institution. U.S. college and university participants include: Babson College, Florida Gulf Coast University, Florida International University, Michigan State University, Penn State, St. John's University, the University of North Carolina at Chapel Hill, and the University of Texas at Dallas.
Through VE/COIL, international institutions can affordably provide multicultural online courses to students around the world and encourage faculty and staff to collaborate in virtual teaching, research, and service learning. The U.S. institutions will work closely with the Association of American Colleges and Universities (AAC&U) through December to help establish connections between their Japanese and Norwegian counterparts.
"The initiative provides professional development and resources to support the development of sustained international partnerships for global learning for today's learners through the powerful practice of [collaborative online learning]," Dawn Michele Whitehead, vice president of the AAC&U Office of Global Citizenship for Campus, Community, and Careers, said in a press release. "This is a wonderful opportunity to develop and model equitable global learning practices for colleges and universities."
Though Ivy League institutions and large, flagship universities often have more money to support robust international education programs, partnerships allow even small institutions to implement meaningful initiatives that promote global collaboration.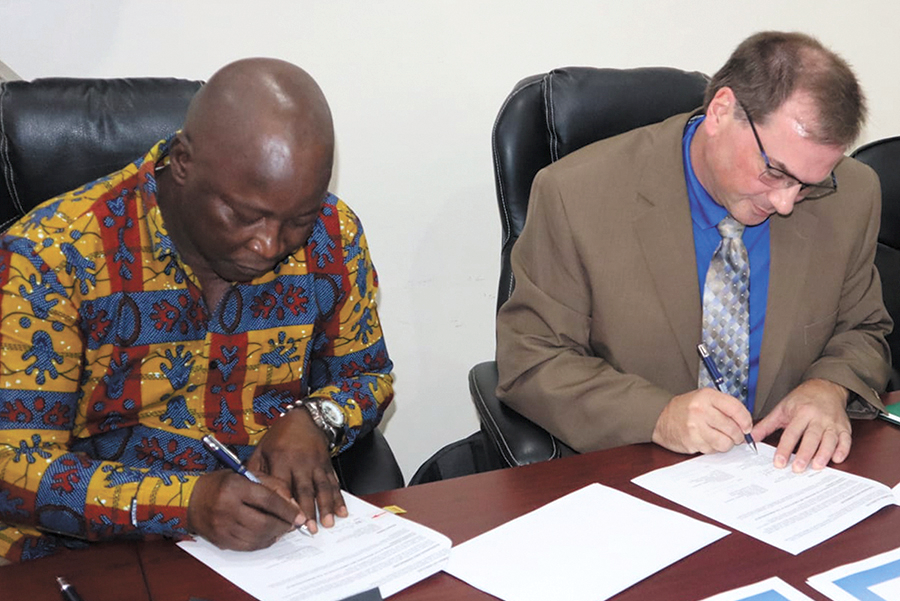 For example, Madison College, a technical and community college in Wisconsin, recently launched its Africa Initiative, a four-year plan that encompasses efforts to expand its outreach to learners across several western African nations.
The initiative includes a partnership agreement between Madison College and The Gambian Ministry of Higher Education, Research, Science, and Technology, and by extension, all higher education institutions within the country. The agreement involves offering online courses to Gambian students, creating transferable course credits, exchanges of faculty and students, grant development, and training on how to build research capacity. Through the overarching initiative, Madison College also partnered with Yam Education Inc., founded by alum and Burkina Faso native Ousmane Kabré, to offer six certificate-granting entrepreneurship and business courses to students in Africa. 
Though Ivy League institutions and large, flagship universities often have more money to support robust international education programs, partnerships allow even small institutions to implement meaningful initiatives that promote global collaboration. 
"We want to create opportunities for all students at Madison College to understand the world, and Africa is a big part of that," says Geoffrey Bradshaw, PhD, associate vice president of international education at Madison College. "Almost 20 percent of the world's population lives in Africa in more than 50 different countries, but few of our students can learn from and interact with people from the continent. Hopefully, through these partnerships, we can help create opportunities for cross-cultural learning, dialogue, and exchange that makes our whole campus and community richer."
Experts agree that global collaborative efforts like these are critical in advancing educational attainment, developing solutions to societal issues, and building a sense of mutual understanding across cultural boundaries.
"As everyone considers the particular risks involved in each international nation, we also ask the important question, 'What do we risk by not engaging?'" Reif said at the conference. "We risk understanding much less about where the rest of the world stands and not just in terms of technology development but in terms of other people's goals and aspirations."●
This article was published in our June 2023 issue.