The coronavirus pandemic has taken away many of the most rewarding aspects of the college experience for students, from socializing with peers and conversing face-to-face with professors to having access to unique cultural and entertainment resources on campus.
For some, the pandemic has also taken away the security of guaranteed housing and meals.
"The focus for many schools right now is mainly on getting students to campus and into classes, but students with the most needs are kind of on the back burner in terms of these rollout plans," says W. Carson Byrd, PhD, an associate professor of sociology at the University of Louisville.
In a recent op-ed in The Washington Post, Byrd and his colleague William Lopez, PhD, an assistant clinical professor of public health at the University of Michigan, argue that by failing to prioritize the needs of vulnerable students during this pandemic, colleges and universities are perpetuating racial and economic disparities in higher education now and into the future.
Recent research shows that the pandemic has affected the number of underrepresented students who have already left or expect to leave school. Black and Latinx students were more likely than White students to drop out after campuses closed last spring, according to Byrd and Lopez. A survey released on August 11 by SimpsonScarborough, a higher education marketing firm, found that 28 percent of students of color who originally planned to attend classes this fall say they won't return to school, compared with 16 percent of White students. Students of color were also more likely to say that they were "extremely" concerned about being exposed to COVID-19 on campus.
Latinx students in the SimpsonScarborough study were the most likely of all racial and ethnic groups to have been financially affected by COVID-19, with one-third reporting that a parent or guardian became unemployed during the pandemic. They are also the largest demographic to say that it is "highly likely" — at 32 percent — that they will change their minds about attending college in the fall.
A pivotal way that colleges can help underserved students stay on track is by ensuring they know how to access the government and institutional resources that are designed to help them overcome the additional economic strains of the pandemic.
Megan Coval, vice president of Federal Relations for the National Association of Student Financial Aid Administrators (NASFAA), says that financial aid offices have had to restructure in order to increase their capacity during these last months.
When students face unexpected challenges — such as when they or a parent become unemployed — it's up to the financial aid office to help them adjust and access the amount of funds for which they qualify. This includes helping them receive emergency assistance through the $6.2 billion allocated for student economic relief as part of the Coronavirus Aid, Relief, and Economic Security (CARES) Act passed by the U.S. Congress in March. As with many in higher education, NASFAA had hoped that Congress would pass a new economic relief package by the August recess, says Coval, but Democratic and Republican lawmakers have failed to come to an agreement as of August 12.
The uncertainty of how much and when additional federal aid will be available — as well as the fact that many institutions are rapidly and continually changing their reopening plans — exacerbates the process of determining the cost of attendance for many students. This is why having access to knowledgeable, supportive financial aid staff is one of the most important services that colleges and universities can provide, Coval says.
Underserved students may also be missing out on pivotal resources such as the Federal Work-Study (FWS) program. Those with FWS jobs this past spring continued to receive wages even if their positions were eliminated when campuses closed, according to Coval. Now, however, it is uncertain whether current laws governing the FWS program will allow colleges the same flexibility when it comes to supporting students whose campus jobs have been eliminated going into the fall.
Advocates for low-income students are encouraging colleges to maintain as many FWS positions as possible and to convert or create new FWS opportunities online. Maintaining these jobs is important not only for guaranteeing students an income, but also affects their ability to access Supplemental Nutrition Assistance Program (SNAP) benefits, according to an August 6 report from the Center for Law and Social Policy. The center is urging states to temporarily waive SNAP restrictions on student eligibility, "citing 28 states documenting harm being done by the student rules," according to NASFAA.
Both Coval and Byrd say that lobbying lawmakers for better support is vital in ensuring that marginalized students can continue pursuing their dream of higher education. In addition to pushing Congress to provide additional economic relief, fighting for an extension of the eviction moratorium is another way to advocate on an issue that disproportionately affects low-income students and their families, Byrd says.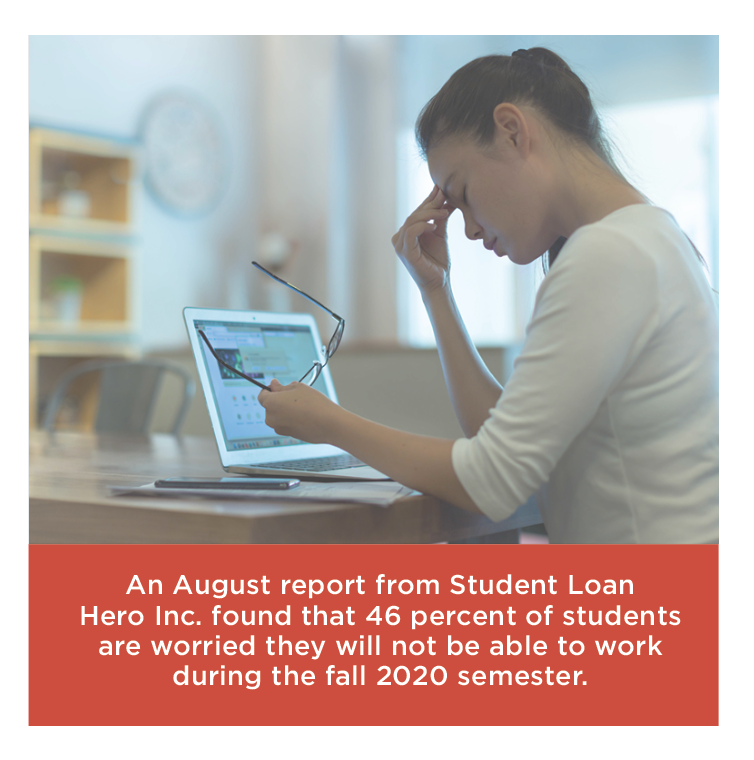 Higher education leaders must take a "more innovative, empathetic approach" in devising support for vulnerable students going into the fall semester, according to Byrd. While there is no "tried and true way to navigate a pandemic" there are some unique methods for ensuring students' basic needs are met, he says.
Partnerships with local businesses can be a great way to help students find secure housing and food. Some institutions that have closed their campuses or downsized the number of those who can live in residence halls, for instance, have partnered with nearby hotels and apartment complexes to provide students with safe and affordable housing, according to Byrd. Northeastern, Loyola, Brown, and Suffolk Universities have all leased hotel rooms and apartments close to campus that they are providing at no additional cost compared to traditional on-campus housing.
Byrd also suggests schools consider providing housing stipends, which can support the most vulnerable during the pandemic whether they are taking classes on campus or remotely. Another innovative solution for supporting students regardless of their presence on campus is to partner with local restaurants so that they can purchase food using their campus meal plans, he suggests.
"[These partnerships] could provide a lot of different benefits beyond just making sure that students have a place to stay or food to eat. It's allowing that to happen on top of supporting local businesses and the workforce," Byrd says.
Byrd also emphasizes the importance of partnerships and working together when it comes to student health and safety. Smaller institutions or those with less-resourced campus health facilities can partner with larger colleges and universities to ensure students have access to reliable healthcare, he suggests.
Byrd believes the pandemic is an opportunity for schools to rethink their responsibilities toward students and communities in need as well as the overall role of colleges and universities in society.
"I think what we're seeing are campus administrators and leaders reflecting more deeply than in the past about what they should be doing and what it takes to reopen safely," he says. "They're really having to reflect on what their missions are and think about how public institutions can better serve the public, including students and their families."●
Mariah Bohanon is the senior editor of INSIGHT Into Diversity magazine. This article was published in our September 2020 issue.