Her own difficult journey navigating high school and college has inspired Dana Griffin, PhD, associate professor in the School of Education at the University of North Carolina at Chapel Hill (UNC), to focus her work on enhancing the experiences of underrepresented students. She also calls on school counselors to step up their leadership roles when it comes to mental health and academic counseling for students.
Raised by a single mother in a low-income household in rural Virginia, Griffin faced stereotypes and misconceptions from others because of those circumstances — which ultimately created barriers to her education.
"When I was in high school, I graduated [fourth] in my class," says Griffin. "But not one school counselor talked to me about going to college [or] filling out a college application. Not one."
Griffin didn't consider higher education until her junior year. That's when a teacher at her school finally approached her in the hallway and encouraged her to apply for a summer college preparedness program at William & Mary designed for underrepresented and low-income students. She took advantage of that opportunity and later decided to enroll.
As a first-generation college student, Griffin faced difficulty in her initial pursuit of medical studies and was guided to obtain a degree in English instead. After graduating, she worked in the credit recovery department of a financial institution. Discovering she had a passion for helping others, she pursued a master's degree in counseling at Hampton University.
"I wish I had people in the school who could have talked to me about certain things — not just academics, but also social and emotional [challenges]. Not having that was huge. … It's something that I want to prevent for other students going through the school system."

­Dana Griffin, PhD
Griffin worked for four years as a middle school counselor before returning to William & Mary for her PhD in the field. She also served in the campus clinic and gained experience in marriage and family treatment.
"My story here is a story of a person who wasn't receiving the guidance to figure out where she wanted to go," says Griffin. "I had to go through this long maze and tunnel to get to this point."
These experiences influenced Griffin's belief that K-12 counselors should be leaders in bridging the gap between historically marginalized families, schools, and communities by helping them build stronger relationships and collaborations. With this approach, the socioemotional development, mental health, academic success, and professional advancement of students is more fully supported.
"You can't isolate [kids] from their families and you can't isolate them from the communities from which they come," Griffin says. "In order to really address the issues that we have going on, you need to have this three-pronged approach where you're working with kids, but you're also thinking about 'How are you providing their families with the resources they need, and how are you being a resource in a community?'"
Griffin is intentional about weaving DEI (diversity, equity, and inclusion) into her scholarly work and pedagogy at UNC. Her research focuses on rural environments, low-income populations, and people of color. She has investigated how community partnerships can help address issues like college and career readiness and preventing suicidal behaviors. She also incorporates conversations related to DEI within her teaching, such as how to ensure that marginalized voices are included in data-collection efforts.
Helping Heels Outreach Program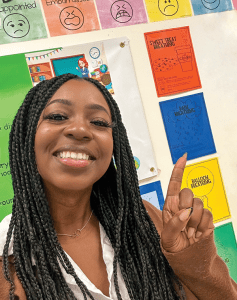 Griffin previously served as the dean's fellow for DEI at the institution and recently stepped into a new position as principal investigator of Helping Heels — Expanding Access to Care and Improving Opportunities for Rural Schools in the Tar Heel State, a UNC School of Education and North Carolina school district collaboration that brings UNC interns from non-urban regions and culturally diverse backgrounds to K-12 districts. Students complete coursework and a yearlong internship in which they provide academic counseling, address mental health needs, and offer anti-bullying programming.
With grant funding from the U.S. Department of Education allocated to increase the number of mental health professionals in high-need areas, Griffin chose to embed student counselors in rural schools, which often lack such services. The job includes financial assistance for living expenses and tuition. In return, participants are required to work in a rural school for two years following graduation.
The five-year program will place 33 UNC interns in area districts, with five participating in the inaugural cohort this year.
Despite the critical need for Helping Heels, Griffin is grappling with challenges to the program due to recent changes in state legislation and university policy. North Carolina's new Parents' Bill of Rights, a law focused on parental authority regarding their child's education, affects decisions about student participation in reproductive health and safety programs, notification and consent for specific mental health services, and the ability to opt out of certain data-collection efforts.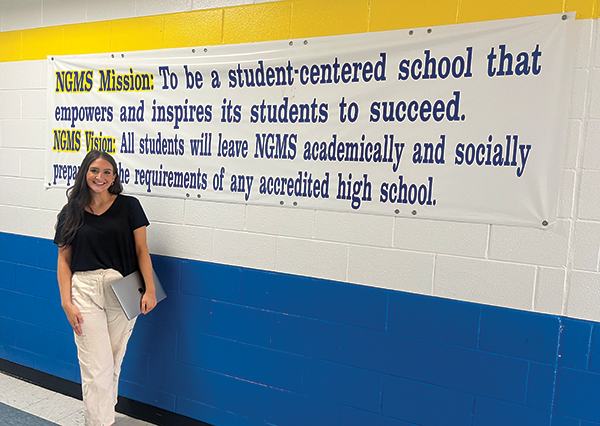 In addition, program hiring is impacted by the UNC Compelled Speech Prohibition, which prevents UNC System schools from requiring students, faculty, and administrators to express their views of social policy in consideration for admission, employment, or professional advancement. As a result, if Griffin seeks to hire a staff member who is skilled in working in diverse communities and committed to social justice and antiracism, especially in the context of the position, she does not have the ability to discuss such topics outright with applicants.
Regardless of the political climate, Griffin says Helping Heels will continue its commitment to rural students. The initiative is personal as well as professional, she says.
"I wish I had people in the school who could have talked to me about certain things — not just academics, but also social and emotional [challenges]. Not having that was huge. … It's something that I want to prevent for other students going through the school system."●
This article was published in our November/December 2023 issue.