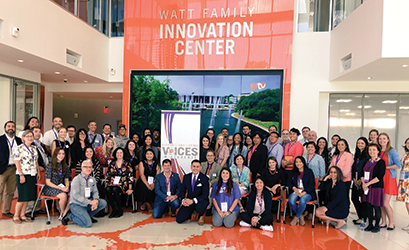 Diversity Champions exemplify an unyielding commitment to diversity and inclusion throughout their campus communities, across academic programs, and at the highest administrative levels. INSIGHT Into Diversity selected institutions that rank in the top tier of Higher Education Excellence in Diversity (HEED) Award recipients. 
[Above: Faculty, graduate students, and Senior Associate Director for Hispanic Outreach Julio Hernandez (center) attend Clemson University's inaugural Hispanic and Latino Voices in Academia conference on Oct. 13, 2018.]
Clemson University in South Carolina may be well-known for its championship sports teams, but its success as an academic institution extends far beyond athletics. Clemson's acceptance rate is 51 percent. Its first-year retention rate, at 93 percent, surpasses the national average by 15 percentage points.
Perhaps most impressive about this university, however, is its commitment to uplifting students and communities sometimes relegated to the sidelines of higher education. Through extensive programming, campus-wide support, and the dedication of Clemson's faculty and staff, it has become a place of opportunity for marginalized populations and a role model for other institutions.
Highlighted below are just a few of the university's diversity and inclusion efforts that make it a welcoming place for students looking for a college where they can feel welcome and included.
Hispanic and Latino Outreach
As the Hispanic and Latino populations in the United States continue to grow, equity-minded institutions like Clemson are working to promote cultural inclusion and educational opportunities for these often-marginalized communities. In spring 2017, Clemson hired Julio Hernandez to guide these efforts as the college's inaugural associate director for Hispanic outreach. His role includes recruiting and supporting Hispanic students in underserved high schools, building community connections, and increasing the number of Hispanic faculty and staff.
Having a staff member dedicated solely to Hispanic outreach has been successful. Over the past two years, the number of Latino students applying to Clemson rose 108 percent while the number of Latinos applying for open jobs at Clemson increased by 50 percent, according to Hernandez.
"The more [Hispanic] professors and employees we have on campus, the more places we have where Hispanic students can make connections with someone who may understand where they're coming from," says Hernandez, adding that many of these students are first-generation. "When you're faced with something you've never had to do before, like creating a résumé, it's encouraging to have someone to turn to in the career services office who looks like you or may share your background."
Clemson is also committed to boosting Hispanic and Latino representation by supporting and recruiting faculty. As of 2016, just 5 percent of college and university faculty in the U.S. were Hispanic or Latino, according to the National Center for Education Statistics.
In September 2018, the university hosted its first annual Hispanic/Latinx Voices in Academia Conference, a one-day symposium that highlighted the research and accomplishments of these academics at Clemson and surrounding communities. The event "gave everyone an opportunity to speak," says Hernandez, explaining that every researcher who participated in the conference was able to give a 10-minute speech on their work. Nearly 100 academics and students attended the conference, according to Hernandez.
The day also included breakout sessions and keynote speakers, culminating with Noche de Gala. Marking the end of the campus' Hispanic and Latino Heritage Month festivities, the gala featured food, entertainment, and a fundraiser to support students in the national Deferred Action for Childhood Arrivals (DACA) program.
In addition to celebrating scholarly achievements, the event demonstrated Clemson's commitment to supporting Latino professionals and embracing Hispanic culture, something Hernandez hopes will inspire Latino faculty members and graduate students at other institutions to consider careers at Clemson, he says.
Hernandez also works closely with human resources and hiring committees — as well as the local Latino business community — to encourage the recruitment of Latino and bilingual employees. Bilingualism is a valued skill for building relations between the school and local Latino populations, he explains, adding that the school offers some admissions materials and orientation sessions in Spanish so that parents who are not fluent in English can participate in their child's enrollment process.
Engaging with the Hispanic and Latino populations at large is a priority for Hernandez, who wants Clemson to be a place where every Hispanic resident of the City of Clemson and the surrounding region can feel at home. So far, the university's efforts to embrace this community appear to have been successful. In 2018, events like Salsa at Sunset — a festival of Latino dancing, music, and food in the Clemson amphitheater.— and a Día de Muertos celebration in the South Carolina Botanical Garden brought hundreds of visitors from throughout the region to campus.
More than 500 people from Clemson and the surrounding area took part in the celebration, more than any other event in the Botanical Garden's 25-year history, according to Hernandez.
"It means a lot that people at Clemson and the surrounding cities are supporting us in helping the Hispanic community to see themselves represented here and to trust us as a community," he says. "As a result, we can see that more Hispanic students are drawn to our campus. The number applying for next fall already matches that of 2018, which was a record-breaking year." 
 "The numbers show that we're on the right track," Hernandez says, "but we still have a lot of work to do."
Men of Color Summit
One of Hernandez's biggest goals is to increase enrollment and success for Hispanic male students. As co-chair of Clemson's annual Men of Color Summit, he helps organize and lead a conference of more than 2,000 attendees including educators, business leaders, and high school and college students from across the country. They are all dedicated to promoting bright futures for young African American and Hispanic men, who have the lowest high school and college graduation rates of any other demographic but "can relate to one another through shared experiences," Hernandez says.
"In order to do that," Hernandez adds, "they need champions and people to advocate for them, which is why we invite educators, community leaders, parents, and more. It's an all-hands-on-deck approach."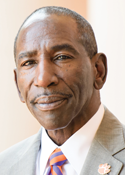 Lee A. Gill, JD, chief diversity officer for the university, proposed the idea of hosting the summit when he started at Clemson in 2016. Having organized a similar event in his previous position with the University of Akron in Ohio, Gill says Clemson's leadership readily supported his vision. The dedication of people like Hernandez and Clemson President Jim Clemens, both first-generation college graduates, helped garner support from the campus, community, and summit sponsors.
The summit consists of several keynote speakers, two days of presentations, and more than 40 breakout sessions. Topics range from cultivating good study habits to addressing identity crises common among young marginalized men, according to Gill.
The third annual Men of Color Summit will take place in April 2019. Specific themes include career and professional development; entrepreneurship; masculinity and personal identity; retention, graduation, and student achievement; and social and community engagement.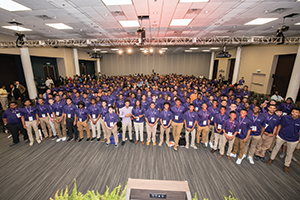 Tiger Alliance
Clemson brings 400 male high school students of color from neighboring South Carolina counties to attend the Men of Color Summit. These young men are participants in a four-year college access program known as Tiger Alliance, which is designed to cultivate a college mindset and culture among the students and their broader communities.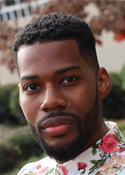 Tiger Alliance mainly targets students who "are not putting forth the maximum effort in their education because they don't think college is for them," says Matthew Kirk, associate director. Of the 400 members, 98 percent are first-generation, he adds.
Alliance students regularly visit schools where they can see men like themselves thriving in a college environment. The program also employs male Clemson students known as Tiger Alliance Ambassadors who serve as role models and mentors. Ambassadors accompany Kirk on his monthly visits to the nine high schools that participate in the program, where they share their personal stories of overcoming obstacles to achieve college success and lead small group discussions on college readiness.
Ambassadors also help lead the Tiger Alliance Summer Academy, a three-day event where members stay on Clemson's campus, learn about the college experience, and participate in identity-affirming experiences. "A lot of my professional background is in identity development," Kirk says. "For young men, particularly young men of color, there are a lot of messages in the media, from older men, and from peers that having a masculine identity means being oppressive."
The Alliance is already showing positive results in the two years since it was founded. In 2018, all Tiger Alliance seniors completed high school and approximately 92 percent enrolled in either college or the military post-graduation.
The greatest signs of success, however, are the attitudes and confidence of these students, Kirk says. "They talk about how they never thought college was for them before going with us on college visits, going to the Men of Color Summit, and all the other cool things we do together."
LGBTQ Programs
As with many of Clemson's diversity and inclusion focus areas, efforts to support and celebrate its LGBTQ population are robust. Located in the Harvey and Lucinda Gantt Multicultural Center, the university's LGBTQ Programs division offers advocacy and educational opportunities, social programs and services, and a full calendar of campus events.
The decision to house its LGBTQ office in the campus' Multicultural Center — rather than in a separate center — was inspired by the university's intersectional approach to diversity and identity. "We know that our students don't just bring one identity to the table," says Kendra Stewart-Tillman, PhD, director of the center. "If you're an LGBTQ student of color, you shouldn't have to choose whether to find support at a multicultural center or at a LGBTQ center. Here, we serve all students and all identities."
Among the many events celebrated on campus are National Coming Out Week, Pride Week, and Trans Awareness Week. While these occasions offer fun and community-building activities — such as a National Coming Out Day Festival — they are also seen as opportunities for building awareness and empathy around LGBTQ issues. During Trans Awareness Week in November, for example, Clemson hosted a vigil to acknowledge "the violence against trans people, especially trans women of color, and the number of murders [of transgender people] that happen each year," says Stewart-Tillman. The week also included educational opportunities, such as guest speakers and discussions on topics like gender as a social construct and exploring sex and gender outside the traditional binary, she says.
This empathetic approach extends to university events held specifically for LGBTQ students and employees. Every year before Thanksgiving break, the center hosts Rainbow Feast — a meal that celebrates the LGBTQ community while recognizing that the holiday season can be difficult for those whose families are unaccepting of their sexual orientation or gender identity. "We consider the feast a family event that builds community among this population," Stewart-Tillman says. "But it's also about acknowledging the nuances of the LGBTQ experience and understanding that this might not be the easiest time for some members of this community."
Clemson faculty and staff members regularly open their homes to LGBTQ students who cannot stay with family during Thanksgiving and winter breaks, she adds.
The university trains students and employees to advocate for and support the LGBTQ population on campus. While Clemson has offered safe zone ally training for more than 15 years, the recent hiring of a full-time employee to oversee LGBTQ programs has enabled the center to host multiple training sessions for any student, faculty, or staff member who wishes to become an LGBTQ ally.
When it comes to society's most marginalized populations, the university goes the extra mile in promoting cultural inclusion, personal encouragement and affirmation, and safe spaces. For those students who are often overlooked in higher education, Clemson provides a welcoming campus community to call home.
Mariah Bohanon is the associate editor for INSIGHT Into Diversity. Clemson University is a 2018 Diversity Champion and 2017-2018 Higher Education Excellence in Diversity (HEED) Award winner. INSIGHT Into Diversity is a sponsor of the 2019 Men of Color National Summit.