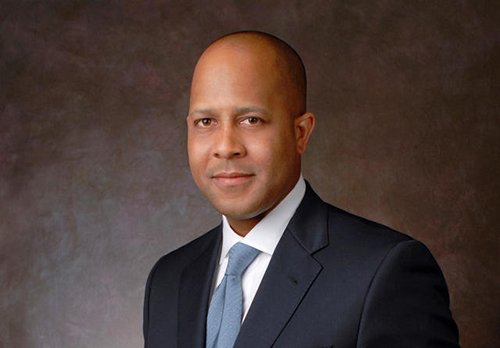 Jeff Pegues is a three-time Emmy Award-winning journalist and the Chief Justice and Homeland Security Correspondent for CBS News. He is the author of the 2017 book Black and Blue: Inside the Divide between the Police and Black America and the 2018 work Kompromat: How Russia Undermined American Democracy. 
Prior to joining CBS News in 2013, Pegues worked as reporter for local stations in New York City, Baltimore, Miami, Milwaukee, and Rockford, Illinois. His many accolades include multiple Emmy Award nominations and the Sigma Delta Chi Award from the Society of Professional Journalists. He is also the recipient of an honorary doctorate from Miami University in Oxford, Ohio, where he attended on a football scholarship before graduating with a bachelor's degree in mass communication in 1992. In January 2020, he was named to the university's Board of Trustees. 
Pegues spoke with INSIGHT about his experiences as an African American journalist reporting on events such as the 2014 murder of teenager Michael Brown in Ferguson, Missouri, and what inspired him to write a book on the rift between law enforcement and Black communities. Pegues also shared his thoughts on the challenges of working in the modern news media and what advice he gives to journalism students as they prepare to enter a profession experiencing turmoil, skepticism, interference from foreign bodies, and threats to personal safety like never before.
Answers have been edited for clarity and length. 

What led you to your current position as CBS News' Chief Justice and Homeland Security Correspondent? How and why did you choose this beat? I've been in this business for quite some time and was fortunate enough to work for some really successful local stations. In 2013, when CBS News approached me about joining their news division, I started as a transportation correspondent, but after about a year and a half became the Justice and Homeland Security Correspondent. This was right about the time that Ferguson was unfolding on the national stage. You had Freddie Gray in Baltimore and all sorts of police and community relations issues. And I was just the right fit for those stories. I'd spent 30 years of my career working in communities across the country covering (these types of) stories, so in a way I didn't really choose it. The beat sort of chose me.
What inspired you to write a book about these events and policing in Black communities? The fact that I was the first Black Justice and Homeland Security Correspondent for CBS News gave me a unique perspective when it came to covering Ferguson and all of these other incidents. I'd covered law enforcement for so long that I knew for a fact that the majority of police officers are trying to do the right thing. You do have bad apples, and post-Ferguson the focus was on (them), but 99 percent become police officers because they want to help their communities. 
While I have that perspective, I am an African American man. My parents are children of the civil rights movement. They grew up in Alabama and were heavily involved in marches and protests and sit-ins. So I have that perspective as well. 
Partly why I wrote the book is because I felt it was important to try to bridge the divide in my own unique way by pointing out to people in the African American community what police officers are thinking when they're going into their neighborhoods. And (to give) young cops coming on the beat a resource that can inform them about why Black communities have a history of distrust of the police. It's there in part because of how policing has developed in these communities, how it continues to impact young Black males, and how there are generations of hurt because oftentimes police officers were on the frontlines of enforcing Jim Crow laws or other discriminatory policies. When you saw an officer, they weren't there to help — they were there to arrest or harass. 
In other communities, you grow up seeing police as friends, as heroes, and as people who are only there to help. But in the Black community, that isn't often the image that people have. I thought it was important just to inform people about those differences.
What advice would you give to a student journalist who has to report on controversial and divisive topics such as policing in Black communities or similar social issues? For any young journalist, I think it bears pointing out what should be obvious, which is that it's important to represent all sides. Don't go into these situations with your mind made up. 
Sometimes as a young journalist, you think you know what the story is, but I've done this job for 30 years, and every day I learn something new. That is one of the benefits of the job — that you get to meet so many different, interesting people with so many different, interesting opinions. 
But the job is getting tougher. There's no doubt about that. With social media and everybody having an opinion, you find yourself under attack sometimes. Or oftentimes, these days. But you can't let that deter you.  
In this democracy that we all love, it is important to have facts for it to thrive. At this point in history, it is more important than ever that we have the next generation of journalists working hard to preserve the facts, to tell the story as it is, not as someone wants you to believe it is. 
Can you expand on some of the current challenges for reporters and the journalism industry? The challenges that journalists face today are from those who try to spread false narratives and information and those who attack the media. 
Currently, you have so much misinformation out there, and a lot of Americans get their news from social media. Whenever I meet with a young journalist or with students, I always remind them to read beyond the headline. Get the facts. And read different sources of information.
I wrote a book on how the Russian government sort of perverted our democracy with its disinformation campaigns, and those (campaigns) are ongoing as we all prepare to head to the polls. That's why it is more important than ever that you find a source for good, accurate journalism, because there are adversaries of this country who want to influence what you see, what you hear, how you think, and ultimately how you vote. 
Right now, more than ever in the 30 years that I've been in this business — and I think it's fair to say in the history of this business — is journalism under attack.  
What is encouraging though, is that I've seen major universities start new or build up their (existing) journalism programs. I see that as a real positive. 
How can educators best prepare students to succeed in this challenging profession? As I was told 30+ years ago, the key is writing. It's the most important thing, but because of texting and everything we do in short form these days, writing — or at least good writing — is something that you don't see as much. 
I would encourage professors to ensure their students write as much as possible. Have discussions about daily events. Direct them to pick up the newspaper, to watch the evening news, and really pay attention to what's going on in the world. 
Encourage them to pay closer attention to their environments. On campuses, or even walking down a city street, you see the majority of people on their phones, heads down, earphones in. I think that's symptomatic of a bigger issue in this country where we've tuned each other out. When you're not compelled to get to know your neighbor, to talk to the cop who maybe you see every day at Starbucks, then you're not going to understand (one another). So, I would tell professors to make sure their students are paying attention and aware of what's going on in their surroundings. 
What advice would you give to students or new journalists who are underrepresented in the profession? Diversity is something that we talk a lot about at CBS News. It is something we are committed to because, as a news organization, we are only as good as the people in our ranks. The more you represent the communities you cover, the more successful you will be. 
I encourage students to see this as a business with a tremendous amount of opportunity for people from all backgrounds. If I'm not there pushing for stories that are reflective of African Americans, then who will? If I'm not there pushing for stories that, through my personal experience, I think are important to the larger audience, then who will? 
That's why diversity is so important, whether it comes to LGBTQ issues, issues affecting people of color, or issues that, for example, affect people in the Midwest. After the 2016 election, there was a lot of debate in the news world about if we missed something when it came to the people in the middle of the country and if we did enough to cover the issues that affect them. I think universally the conclusion was that we failed. 
That's why there has to be diversity in so many ways, including geographic diversity. An organization can't just have everyone from the same university or same part of the country. Our nation is incredibly diverse and becoming more so every day. As a news organization, our job is to reflect that diversity. 
Anything else future journalists should know? The key for young journalists is to pursue internships, because they often lead to jobs. There's a bigger push to make sure the ranks of interns are diverse as well. Don't think that just because you don't go to Harvard or Yale that you're not going to get an internship. We're casting a wider net, so if you want to get into this business, try hard for that opportunity. It can really set you up for the future.
Mariah Bohanon is the senior editor of INSIGHT Into Diversity. This article ran in the April 2020 issue.