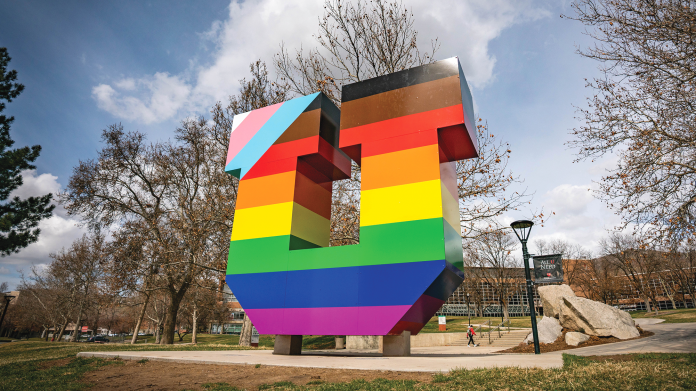 Over the past two years, many major LGBTQ Pride celebrations have been canceled, postponed, or moved online due to the COVID-19 pandemic, especially those at colleges and universities. Now, with most campuses fully reopened, many have opted to bring back in-person Pride events. 
While Pride Month officially takes place in June, higher education institutions of all types and sizes across the U.S. hosted their own celebrations during the spring semester, giving their entire campus communities the opportunity to participate. Recognizing Pride on campus is especially crucial at this time, as a growing number of states are looking to pass or enforce anti-LGBTQ legislation. 
In honor of Pride Month, INSIGHT has highlighted below just a few colleges and universities that have recently celebrated LGBTQ history, culture, and community.
Dickinson College
This April marked the first-ever Campus Pride Week at Dickinson College, a private liberal arts institution in Pennsylvania. The college's Office of LGBTQ Services began the celebration on April 2 with a festival and professional development opportunities, including a career navigation workshop for LGBTQ employees. Other events included educational sessions on activism, a discussion for LGBTQ students looking to study abroad, an LGBTQ employee social, a poetry slam, and a miniature golf outing. The week closed with a keynote speech titled "Healing and Wholeness in Coming Out" by 1966 Dickinson alum Emily Newberry, a writer, performance poet, and speaker.
New Mexico State University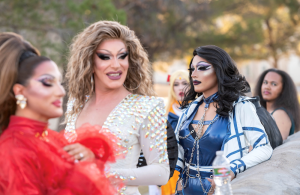 At New Mexico State University (NMSU), officials chose to have an extended Pride season rather than a single festival or celebration. The events spanned March and April and included guest speakers and experts on topics such as the representation of LGBTQ people with disabilities in the media and the role of Latinx LGBTQ people in sports. The university also hosted the 2022 Pride Season Drag Show and film screenings organized by LGBTQ student groups. The season ended with a presentation from Lehua M. Taitano, a queer Pacific Islander artist and writer, who discussed her works with the campus community.
Pennsylvania State University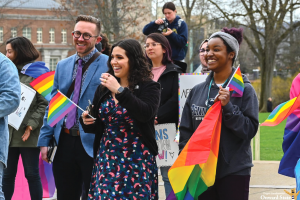 Through its Center for Sexual and Gender Diversity, Pennsylvania State University hosted a series of in-person events to celebrate LGBTQ Pride this spring. The festivities began on April 11 with a march and rally on campus. Other events included musical and theater performances, a drag show for queer and transgender people of color, and a 5K race for LGBTQ runners. Comedian, actor, and writer Cameron Esposito delivered the keynote address. The series of celebrations ended with the university's annual Lavender Graduation to recognize the achievements of graduating LGBTQ students. 
Rutgers University
This year, Rutgers University celebrated "Gaypril" through a series of educational and celebratory events for queer and transgender communities. The opening event, "Voices of Diversity–LGBTQIA+ Student Stories," was a student-led panel that allowed faculty and staff to learn about the experiences of their LGBTQ students and how to better support them. Rutgers Hillel hosted two events in honor of the Jewish LGBTQ community, including a Pride Shabbat on April 8 and a DIY Passover Seder on April 20. The university also organized a conversation with George M. Johnson, a Black nonbinary author, on April 19. The celebrations concluded on May 4 with the annual Rainbow Graduation ceremony, which honored graduating LGBTQ students who have upheld the traditions of activism on campus.
University of Missouri

 
The University of Missouri's Division of Inclusion, Diversity, and Equity organized a mixture of in-person and virtual events throughout April to celebrate Pride. Programming included an online workshop on how to be a better transgender ally, a panel discussion for queer educators, and a campus prom hosted by the student group Queer and Trans People of Color. Among the special guest speakers to visit campus were actor and LGBTQ activist Stephanie Beatriz and writer and physicist Kate Greene. The monthlong festivities concluded on April 26 with the presentation of the Catalyst Awards, which recognize members of campus and the local community for their commitment to promoting LGBTQ inclusion. 
University of Utah
The University of Utah hosted Pride Week in late March with the theme "Solidarity." Officials stated that the theme represents the campus LGTBQ community's commitment to stand with marginalized groups by protecting the sovereignty of Indigenous nations, promoting racial justice movements, and defending transgender communities. Some of the events hosted by the university's LGBT Resource Center included Queer Prom, a Religious Solidarity Panel, and Pride Paint night. Writer and activist Raquel Willis, who is dedicated to Black transgender liberation, delivered the keynote speech on March 29.●
This article was published in our June 2022 issue.