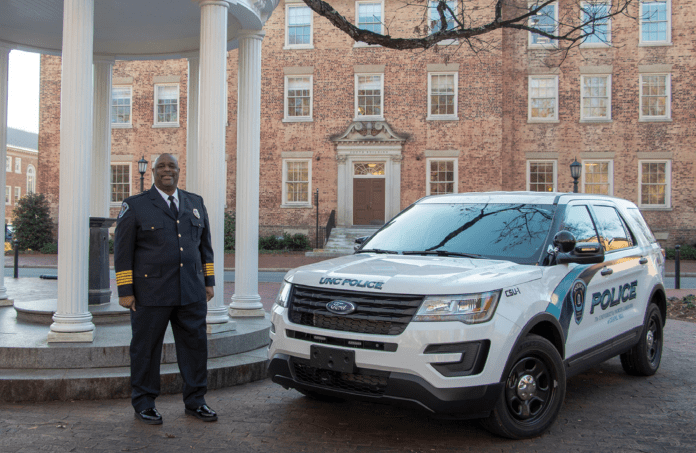 At many schools, campus police departments and diversity offices operate as separate entities, rarely, if ever, interacting. 
At Iowa State University (ISU), however, the chief of police checks in with the Office of the Vice President for Diversity and Inclusion (VPDI) twice each week. Before the COVID-19 pandemic struck, when more people were living and working on campus, he would call the office every day.  

Having regular check-ins regarding police activity is just one way that Michael Newton, PhD, chief of police and associate vice president of public safety, works to ensure that the ISU Police Department (ISUPD) is maintaining a safe and equitable environment for all. 
At a time when so many Americans have lost faith in law enforcement, college campus police departments are uniquely suited to bring about change and innovation in policing, he says. Such change necessitates full transparency and collaboration with the entire community.
"Reform of the criminal justice system and law enforcement is doable by all organizations, but higher ed is generally a more collaborative environment," Newton explains. "Being in this environment means we're led by people who by nature look at how to solve issues and problems."
Newton has orchestrated several reform efforts since joining the ISUPD in 2017, including creating a formal partnership with the VPDI office, which he says was one of the best moves his department has ever made. Together, they were able to launch an initiative called Campus Conversations that brings officers and community members together to talk about issues such as police reporting, suicide awareness, and more. 
Newton says that if it were not for Reginald Stewart, ISU's vice president for diversity and inclusion, necessary conversations such as these would never have happened.
"Dr. Stewart has been a mentor to us all. He was able to get us in front of groups that weren't always willing to talk with law enforcement," he says.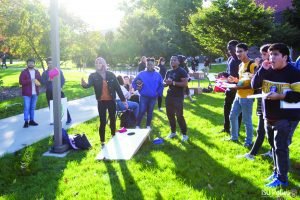 ISUPD has taken other steps to improve community trust in law enforcement, including showing solidarity with students during Black Lives Matter protests and working with a student oversight advisory board. When it comes to handling mental health crises, the ISUPD uses certified therapy dogs for responding to calls about and following up on distressed students. The department also recently hired a professor to analyze its annual traffic stop data. All of these unique efforts earned the ISUPD the 2020 Award for Innovation and Community-Oriented Policing from the International Association of Campus Law Enforcement Administrators (IACLEA).
The association, which represents more than 1,000 colleges and universities across 11 countries, has also taken recent steps to encourage reform. In 2020, it launched the IACLEA: Shaping the Future of Policing & Public Safety program to "support members' efforts to engage in police reform at campus, state, and local levels," according to its website. The program provides online resources and has hosted virtual summits on topics such as trust and legitimacy, policy and accountability, and more. 

David Perry, a former president of IACLEA with more than 25 years of experience in campus security, was hired as assistant vice chancellor and chief of the University of North Carolina Police in 2019 after the university launched a nationwide search for someone with "a proven track record in community policing and strong experience building communication and trust," the UNC website states. 
The campus has been home to tumultuous protests in recent years, including multiple demonstrations by White nationalists who wanted to preserve a famous Confederate statue and by students who demanded that it be removed. Hiring Perry was part of a series of reforms recommended by the UNC Campus Safety Commission (CSC), which was created to repair student-police relations following these protests. 
The most important thing for an officer to remember is that they should be an active part of campus, not just "an afterthought" that only shows up when there is a crisis or a conflict, Perry says. "University police are meant to be interwoven into the daily lives [of the community] by interacting, engaging on committees, and attending events so that it's not a shock to the conscience when people see them," Perry explains.
The most important thing for an officer to remember is that they should be an active part of campus, not just "an afterthought" that only shows up when there is a crisis or a conflict, Perry says.
Eliminating militarized responses to nonviolent protests is another way to build trust while protecting First Amendment rights, he says. For example, when patrolling a Black Lives Matter protest following the murder of George Floyd, Perry drove a golf cart to help transport people while other officers remained in the area on standby.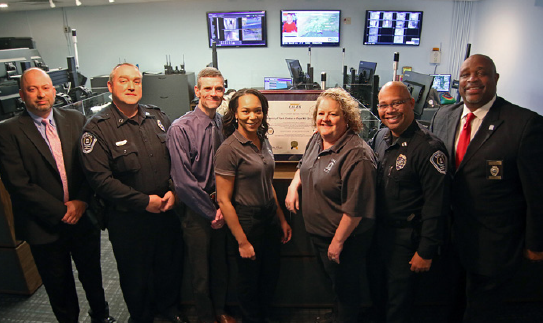 In addition to increasing officer participation on campus, it is equally important that students and employees engage with and take part in police operations, Perry says. The UNC Police website allows students to invite officers to community events, host safety presentations, or even request ride-alongs.
Perry has also created a more transparent hiring process that involves collaboration with the campus community. "We bring in representatives from the student government, student affairs, and all cross sections of the university to come and sit in on our interview panels so they can see the men and women we are considering for these jobs. [New hires] are not just working for the police department, they're working for the very people that are helping interview them," he says.
In a May 2020 report, the CSC states that many of its recommendations for campus police reform — including transparency with law enforcement procedures and better communication.— have been successfully implemented.
Perry agrees with Newton that these types of changes are easier to achieve for police departments working on college campuses because they tend to be more collaborative environments where officers can work one-on-one with administrators and scholars who are dedicated problem solvers and change agents. He also thinks that more collaboration between college and local law enforcement could help bring about broader police reforms by enabling them to share best practices for community policing, accountability, and more.
"There is still lots of work to be done within our own agencies to make sure that we are hiring the best people, training them appropriately, and making sure they're receiving education as needed," Perry says. "And most importantly, holding them accountable to their actions and standards when they go outside the line of what we expect."
Mariah Stewart is a senior staff writer for INSIGHT Into Diversity.