Throughout its history, higher education in the U.S. has served as both an institutional oppressor of Black Americans and as a stronghold for resistance against racism and discrimination in society. In honor of this year's Black History Month theme, "Black Resistance," designated by the Association for the Study of African American Life and History (ASALH), INSIGHT examines the role that higher education has played in Black activism and how academia can support anti-racism by empowering students and faculty.
Although Black History Month was federally designated in 1986, similar weekly and monthly celebrations had already existed for more than 50 years. In the 1960s, many higher education institutions, especially historically Black colleges and universities (HBCUs), began recognizing Black History Month with campus observances. These celebrations served as a way for Black educators to lionize people and narratives that advanced ideals of equality and social justice, according to the ASALH. 
During the civil rights era, HBCUs served as centers for Black resistance to segregation and disenfranchisement. For example, the famous 1960 Greensboro lunch counter sit-ins were organized by four North Carolina A&T University students. Eight years later, South Carolina State University, an HBCU, served as the site of a racial segregation protest, during which police killed three Black student protestors and injured 28 others. HBCUs have also educated many important pioneers who fought for equal protection under the law and against segregation and disenfranchisement, including W.E.B. Du Bois, Chief Justice Thurgood Marshall, and Congressman John Lewis.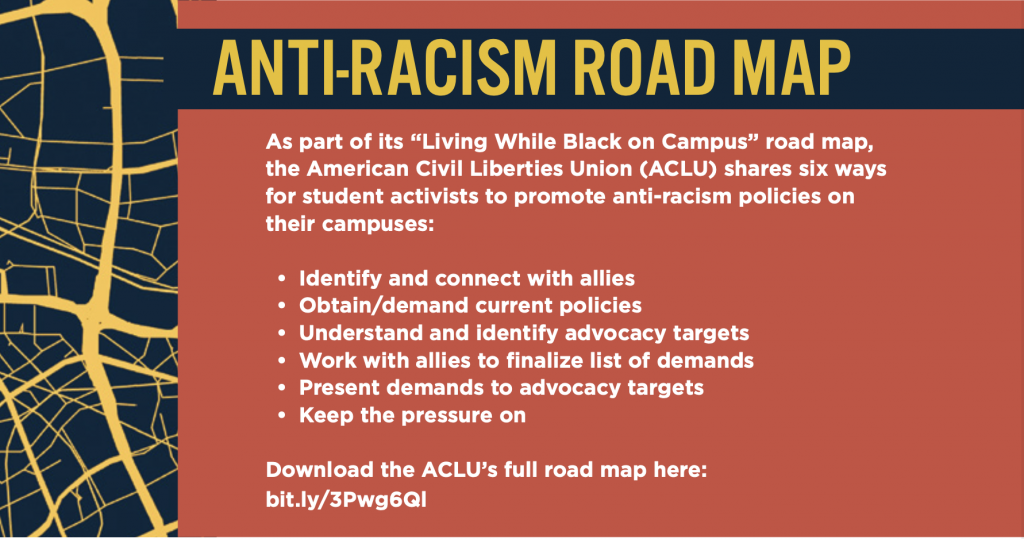 These individuals and their impact, along with many like them, demonstrate the important role that colleges and universities can play in shaping the activists and thought leaders of the future, says Timothy Welbeck, JD, director of the Center for Anti-Racism and assistant professor in the department of Africology and African American Studies at Temple University, and a civil rights attorney.
"Institutions of higher learning are supposed to be a beacon of knowledge and insight, so they should be a home for activism, progressive thought, and the equitable treatment of people," says Welbeck. "They should be more than a place for theoretical intellectual exercise and discourse, but be a space that is working toward the liberation of all people. Throughout history, some activists who were for Black liberation found their homes in the academy."
To truly empower their students, faculty, and staff, higher education institutions must fully incorporate anti-racist policies, ideals, and objectives into their operations, Welbeck says.
"It begins by making anti-racism more than just a branding term and something that is actually an overarching principle of the university," he says. 
To meet the needs of student and faculty activists seeking to promote anti-racist policy, colleges and universities must be willing to create safe spaces for marginalized groups to share their experiences, express their concerns, and advocate for change, says Welbeck. 
"One thing these institutions should do is begin with understanding what Black liberation is, what that fight looks like today, and make an active effort not to suppress those who are pushing for liberation in a contemporary sense," he says. "As that relates to programming, there should be an effort to lean into those who are speaking to do the work of liberation, amplify their voices, and connect [them] to the broader historical narrative."●
This article was published in our January/February 2023 issue.