As legislative attacks continue to threaten the rights and protections of LGBTQ+ students, an innovative new program at Bard College at Simon's Rock aims to empower them with the professional and social capital to lead the charge for a more inclusive future.

The Bard Queer Leadership Project (BQLP) is a bachelor of arts degree program that enables LGBTQ+ individuals and allies to study queer leadership and culture in tandem with one of the more than 40 academic concentrations offered by the college. Students obtain essential networking and community-building skills while developing a sense of leadership that is not informed by "heteronormative and cisnormative practices," says John Weinstein, PhD, the college's provost and vice president.
The private liberal arts institution in Great Barrington, Mass., is a unit of Bard College in New York and is designed as an early college program for 11th- and 12th-grade high school students. Because LGBTQ+ individuals often take nontraditional paths to education and have increased high school dropout rates, BQLP is the first program at the school to be open to students of all ages. 
A key focus of BQLP is examining the historical connections between LGBTQ+ communities and colleges, including what it means to be a member of this type of collaboration and the kinds of policies and practices that contribute to its success. 
Students attend a variety of events, including a Colloquium in Queer Culture and leadership seminars. Its inaugural event, the Queer Leaders Vision Forum, took place in September and featured distinguished business veteran Jim Fielding and Schuyler Bailar, the first openly transgender NCAA Division 1 swimmer. Weinstein says he has plans to invite more speakers and intends to establish the college as a destination for queer scholars.
During their senior year, students partake in the Industry Expert Advisory Program, which pairs them with an alumni mentor in a professional field related to their career interests. Once students graduate, they continue to receive mentorship for an additional year while they're in the workplace. The program culminates in two capstone experiences: a senior thesis aligned with a student's academic field, with or without a queer studies focus, and a work or internship experience contributing to the growth of their leadership skills. 
Originally slated to launch in 2024, BQLP accelerated its timeline in light of the recent negative political climate toward LGBTQ+ high school and college students.
"We decided that we would push ahead a little faster. If there were students ready to go this fall, we would be ready for them," says Weinstein. The program officially launched with a cohort of 15 students this year, ranging from early college to traditional-aged students, with plans to increase to 40 by next year. The college also provides a $20,000 annual Queer Leadership scholarship to qualifying students.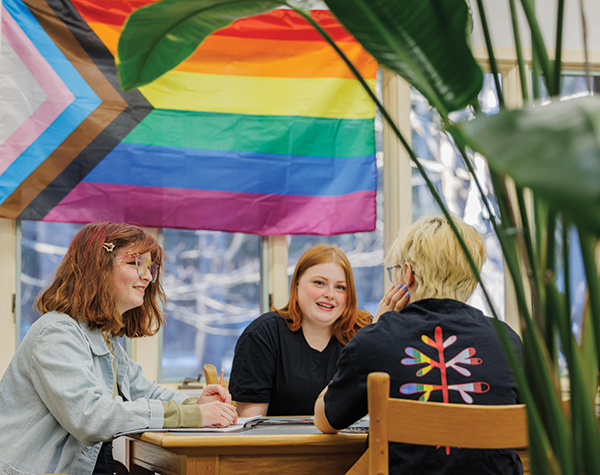 "BQLP offered a unique opportunity to start my college career earlier than expected and a chance to learn how best to advocate for change," says Alice Billings, a BQLP student who is also undertaking a concentration in history. "I hope to be more educated in the identities and experiences of others, learn how to be a leader in fighting for rights for marginalized groups, and find a group of fellow queer leaders to work towards making the world a more equitable space for all."
The skills learned in the program are meant to help students feel more comfortable advocating for themselves and their community, regardless of whether they are in an actual leadership position or not.
"If you're working in a field where you're likely to be the only out person in your workplace, you're not going to get so much community-based support," says Weinstein. "Having had your formative college experience be with a cohort of people who are really your chosen professional family to help you through that, I think that's the [key] piece we offer."
As the program gains new cohorts each year, Weinstein ultimately hopes to expand Bard into the first-ever identity-based college intentionally designed for LGBTQ+ students. He says that faculty across the college have already begun reimagining their courses to be more queer-inclusive. ​ 
"My goal over time is to look at everything from administrative structures to student handbooks to different policies around students to even policies around curriculum and curriculum development," Weinstein says. "How are each of those now designed with queer students at the center? Because [our college] already [has] existing programs, we don't have to start from zero."●
This article was published in our October 2023 issue.