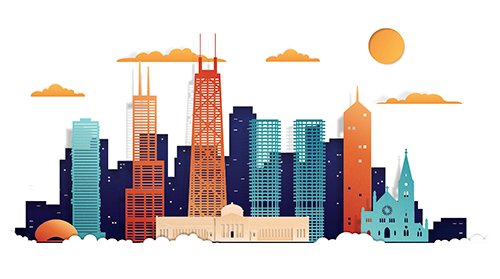 An apprentice network that started in Chicago to train future employees for the corporate sector as they pursue a free college education is now addressing larger social issues, and leaders of the initiative hope to spread the model to more cities around the country.
Chicago's first Black female mayor, Lori Lightfoot, lauded the Chicago Apprentice Network at an event recently. The network, founded in 2017 as a joint effort by Aon and Accenture, now connects roughly 485 apprentices to 25 companies in Chicago alone, including Walgreens, McDonald's, and JPMorgan Chase.
"I think about the person I was when I was 18," Lightfoot told a group of apprentices and business leaders in July, "needing an extra boost and someone reaching out to me and telling me that I could do more. … I am so grateful for the opportunities employers across the city have committed to our young people."
Ed Richardson, 27, is one of those people who earned an opportunity to pursue a career he never envisioned for himself. He was working a "dead-end job" as a security guard at a company that was moving its operations to Mexico. Richardson started the job search.
He saw a listing one day for an apprenticeship — no experience needed.— with Aon, a global professional services firm that provides health retirement and reinsurance solutions.
"I was all over the opportunity," Richardson says.
He applied and was accepted. As part of the apprenticeship, Richardson enrolled in a two-year degree program in marketing management with a focus on insurance at Harold Washington College, one of the City Colleges of Chicago, and Aon paid his tuition. After graduating in December 2018, Richardson accepted a full-time job as a reinsurance broker at the company.
The apprenticeships are key to employee retention and to increasing diversity at the company that employs 50,000 individuals worldwide, says Daniel Serota, manager of public affairs at Aon.
Before adopting the apprenticeship model, company leadership had become frustrated with three-month internships that "never turned into anything," Serota says.
Aon started with 25 apprentices in 2017 with roles focusing on insurance, human resources, and information technology. They earn a full-time salary with benefits in addition to full college tuition. Aon's second graduating apprentice class will complete their degrees in December.
"A lot of these individuals don't come from the corporate background," Serota says. "They worked in retail, construction, or are right out of high school and never had a job before. This program gets them used to Aon, and in six or seven months, they're going to be doing the job and busting their butt doing it."

Bringing in "green" individuals rather than highly educated interns from the top 10 or 20 universities meant Aon could train apprentices to "do things the way managers wanted things done," Serota says. Additionally, the things apprentices learn in the classroom directly apply to their jobs.
Accenture, a global professional services company, piloted its apprentice program in 2016 in Chicago after then-Mayor Rahm Emanuel challenged businesses to employ graduates from the city's community colleges.
The company started off with just a handful of apprentices, but they've since expanded the program to Accenture offices nationwide with roughly 450 apprentices to date in fields such as cybersecurity, digital, data analytics, and cloud migration, says Pallavi Verma, senior managing director for Accenture's Midwest region.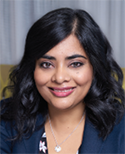 "We're very excited about the talent and to provide a job at Accenture to individuals who might not have otherwise had the opportunity," Verma says. Apprentices at Accenture have generally just completed their two-year college degree or are close to doing so. If they've done well after a three- to 12-month apprenticeship, Accenture offers them a full-time job.
Tiffany Spraggins, 31, started a full-time position as a functions tester — someone who tests the functionalities of software or an application — for Accenture in July after a successful apprenticeship there. When she was in her early 20s and starting a family, Spraggins says she never envisioned herself doing information technology work for a Fortune 500 company.
"I was working on taking care of my family. I never imagined working for a company this big," Spraggins says. "With this [apprenticeship,] I didn't have to start at the bottom. I was given an opportunity to be successful early on in the program and now as a full-time employee."
In 2017, Aon and Accenture partnered to form the Chicago Apprentice Network in an effort to encourage other businesses in the city to adopt the model. The two companies, with the help of the network and the Business Roundtable's Workforce Partnership Initiative, developed a playbook to help other companies get started.
Network leaders hope to grow the program to 1,000 apprentice opportunities in Chicago by 2020, Verma says. "Getting to scale at that level starts to make a difference socially to a broader group of individuals," she adds.
Since implementing the apprenticeship program, Accenture's offices in Chicago have seen increased diversity in where their employees live in the city. 
"The apprentices add diversity to the zip codes where our employees come from. That's the importance of giving everyone in the city of Chicago equal opportunity," Verma says. "That one apprentice who is getting that job may be coming from an area where maybe professional jobs are not the norm. Then that person is affecting four other people. Over time, the social change will happen just by providing the opportunity."
Chicago's mayor has placed an emphasis on community groups and faith-based organizations to help address the city's problems, among them gun violence and youth unemployment. Lightfoot says the apprentice network shows promise for young people like Richardson, the Aon apprenticeship graduate.
"I still have conversations with some of my best friends. They say, '[Corporate] is not for me.' I tell them to just give it a chance," Richardson says. "Once you get past the feeling that you don't belong, you start talking to people and you realize they're just normal people. Then your skills build on each other. In 10 years, you look back and know you'll never have to go back to working in the service industry. I'll never have to go back to working a minimum wage job."
Spraggins believes the apprenticeship model will change lives.
"I feel like the apprenticeship program is going to change the tide of the way things have been [in Chicago] for the past 50 years," she says. "Even if I had gone to an elite school and was recruited, I don't think I would have gotten the exposure to the professionals and city officials had I not come through Accenture."
A perceived lack of racial diversity in the corporate world can sometimes cause anxiety among his friends from the South Side of Chicago, Richardson says. "Some people never got out of the South Side and never had the chance to interact with people of different races. They built it up in their head," he says.
But the apprenticeship programs at both Accenture and Aon have proved effective in increasing diversity at both companies.
"If you're recruiting from city colleges, which are in the range of 75 percent Black or Latino," Serota says, "and when you think about the different types of diversity that comes into the city of Chicago, those are the individuals who come into our firm. … It changes the way we think. We want to be localized, and we want people in our city to get jobs and get careers."
Apprentices from underrepresented groups bring new ideas and innovation to Aon, Serota adds. Verma says they have had the same effect at Accenture.
"We were not looking at this pool of talent before," Verma says. "Now we're getting access to a set of talent that we didn't have access to before. As an added benefit, the group of people coming out of community colleges is more diverse. … When you have more diversity in your company, you have better diversity of thought."
But inclusion is equally as important as diversity, Spraggins says. As an employee at Accenture, she says she is treated with respect.
"I never felt like an apprentice," she adds. "That's the number one thing I like about coming to work. I feel included. I feel respected."
The apprenticeship model works differently for each business, Verma says, but companies are increasingly becoming interested.
"We are definitely looking to expand the Chicago Apprentice Network idea to other cities across the U.S.," Verma says. "If you understand within your organization what kind of roles would fit an apprenticeship model, and if you have good frontline managers who are willing to do something different, it can be done."
These efforts make a difference in the lives of individuals, says Richardson, who plans to begin online classes toward a bachelor's degree in leadership studies this fall at DePaul University in Chicago while he continues to work full-time at Aon.
When asked what advice he would have for someone thinking about pursuing an apprenticeship, Richardson says they should be ready to take experiences as they come. His family also reminds him to be humble.
"Focus on the long-term and give it a chance," he says, "because what else are you going to do? Why not let someone give you something to do and see if you can take to it? When you see other apprentices doing good things, reaching leadership, you see you can do it and move on up too."
Kelsey Landis is editor-in-chief of INSIGHT Into Diversity. This article ran in the October 2019 issue.