INSIGHT Into Diversity is proud to announce the 2020 winners of the INSIGHT Into Diversity Study Abroad Scholarship for Underrepresented Students.
Majesty Drumwright, Melissa Flores, and Elizabeth Caraballo Torrealba — three talented students from across the United States — were each awarded $2,000 toward their international education programs.
The scholarship is part of a continuous effort by INSIGHT Into Diversity to improve educational equity for all students, especially those from underrepresented backgrounds who may not traditionally be afforded the ability or opportunity to study in another country.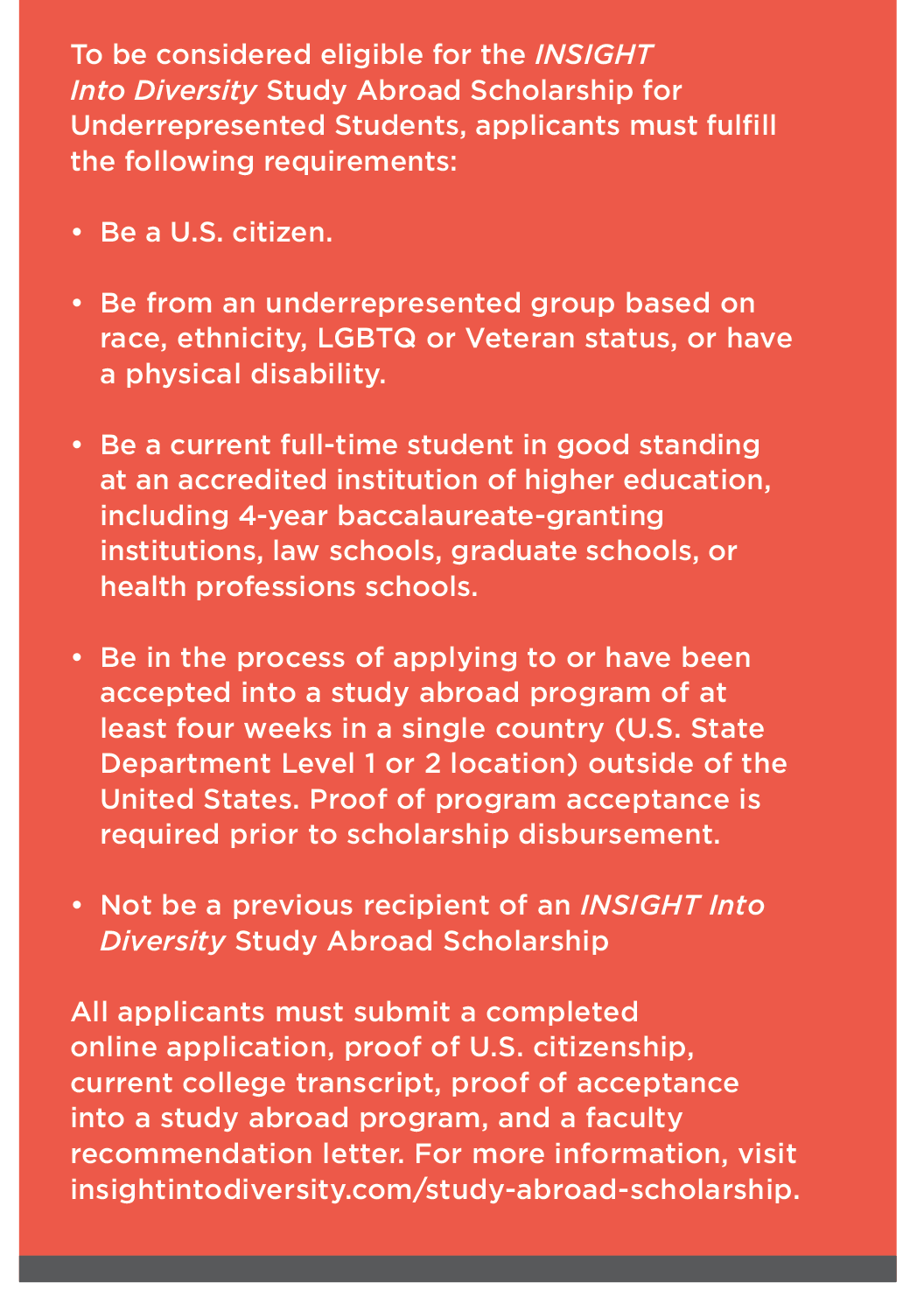 Data has shown there are multiple benefits to studying abroad, including increased retention and graduation rates, according to a 2017 report by the Institute of International Education (IIE). It is one of the most dynamic ways to make a student's résumé stand out as they look to gain experience in their field of study and enter the workforce. Institutions of higher education and recruiters know that international education enhances teamwork and cultural competency skills.
The percentage of U.S. students who study abroad has tripled in the last 30 years, according to IIE. Yet diversity and inclusion in these programs continue to lag, with only a quarter of participants coming from underrepresented racial or ethnic backgrounds. Special programs and support such as the INSIGHT Into Diversity scholarships can help change that statistic.
More than 200 applicants from colleges and universities across the country applied for the Summer and Fall 2020 scholarship. Three winners were selected from this pool of diverse, academically driven students.
"We know that so many underrepresented students are not aware of study abroad opportunities or don't have the financial resources to even consider applying," says Lenore Pearlstein, co-publisher of INSIGHT Into Diversity. "We are so thrilled to be able to support these young people to not only have the experience of a lifetime, but also be able to bring their learned skills into their everyday life and their future career paths."
The recipients of the INSIGHT Into Diversity Study Abroad Scholarship for Underrepresented Students are as follows: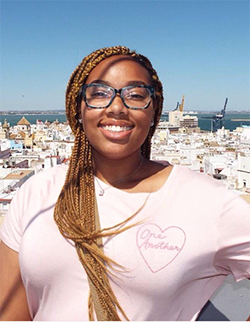 Majesty Drumwright is a senior at University of North Carolina at Greensboro and is double majoring in Spanish and international and global studies with a concentration in arts and belief systems. She will further her Spanish language skills and her knowledge of Latin American culture by studying abroad in Montevideo, Uruguay. 
"I currently work with a program dedicated to mentoring and empowering African American elementary school students that come from Title I schools. Through this scholarship, I will be able to give them a firsthand account of the opportunities that are available to them that they are not normally told of," says Drumwright. "This scholarship is not only an investment in me but also an investment into the future of others."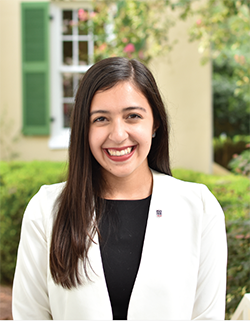 Melissa Flores is pursuing a double major in international affairs and public relations at the University of Georgia, where she expects to graduate in spring 2022. Her study abroad experience in Stellenbosch, South Africa will include traditional coursework as well as community engagement and service in economically disadvantaged neighborhoods.
"As an international affairs student, I learn a lot about the concepts behind political and economic development. Being able to actually experience the same concepts I've learned in class and seeing how they actually affect people will be very fulfilling," she says.
"I never thought that I could study abroad. It's just something that I wouldn't be able to do on my own. Receiving this scholarship makes me understand that if there is something that you really want to do, you can do it with the right work ethic and dedication." 
Elizabeth Caraballo Torrealba is a junior at Miami University in Ohio and is pursuing a degree in bioengineering and pre-medicine with a minor in medical sociology. She will be participating in the Miami University London Interactive Design program, where she will work on the design and implementation of tools to assist in neurological rehabilitation as part of her senior engineering project.
"As someone who wants to go into the medical field and has had the experience of being a diverse person who doesn't look very diverse, this scholarship provides a great opportunity to be exposed to new people and cultures," Caraballo Torrealba says. "These experiences will help me be more prepared for the future and will hopefully help me become a better physician someday."
Mariah Stewart is a senior staff writer for INSIGHT Into Diversity. This article ran in the March 2020 issue.