Spending on diversity, equity, and inclusion (DEI) efforts at American universities has increased 27 percent over the past five academic years, according to an INSIGHT Into Diversity analysis of public records from more than 85 institutions.
Our HEED Award committee has reviewed thousands of applications over the past eight years and one consistent theme has stood out. There are not enough financial resources allocated to DEI offices, yet chief diversity officers are still able to effect tremendous change with the funding they receive. The staff at INSIGHT decided to administer a study of higher education budgets at all U.S. public colleges and universities to see how their DEI budgets compare to overall spending. We found the results from the colleges and universities that responded to our Freedom of Information Act (FOIA) requests are very much in line with the reported information from HEED institutions.
Though DEI costs have increased by nearly a third from the 2014-2015 academic year to 2018-2019, they account for an average of only 0.49 percent of university-wide budgets, according to INSIGHT's analysis.Relative to university-wide budgets and other departments, spending on this area remains extremely low.
But early indicators show that even this small investment pays off when it comes to higher education's bottom line. Despite the minimal size of the investment, these efforts can have a huge impact on recruiting and retaining students, faculty, and staff, especially those from underrepresented backgrounds, DEI officials say.
As such, spending on DEI is not just a politically correct "feel good" effort, says A.T. Miller, PhD, vice president and chief diversity officer at Central Michigan University (CMU). Rather, it is a strategic financial attempt to fundamentally shift an institution built for able-bodied White people to include not only them, but everyone else, other DEI experts say. Christa Platt, PhD, who serves as assistant dean for diversity advocacy at Illinois State University, emphasizes that most institutions of higher education are "predominantly White" because they were "historically White."
"If we don't pay attention to what our history is and what has happened, then we are bound to repeat some dangerous things, maybe not in an overt way, but certainly in a covert way. We don't want that to happen to students who are coming to build a life for themselves," Platt says.
As the population of the United States continues toward a "majority minority," and as higher education institutions continue to face declining enrollment, including diverse groups will become increasingly important for higher education's economic stability.
A point of concern INSIGHT heard from public colleges and universities in seeking their records was that it was difficult to quantify spending on DEI because those efforts tend to exist at every level of the institution and that what each institution considers DEI differs from school to school.
Despite these concerns, INSIGHT's analysis produced remarkably consistent results. Ninety-four percent of the DEI budgets fell within 1 percentage point of each other when calculated as a percentage of university-wide budgets. Ninety-seven percent of the budgets fell within 2 percentage points of one another. Consistency in the data indicates the methodology was sound and the results are representative of trends.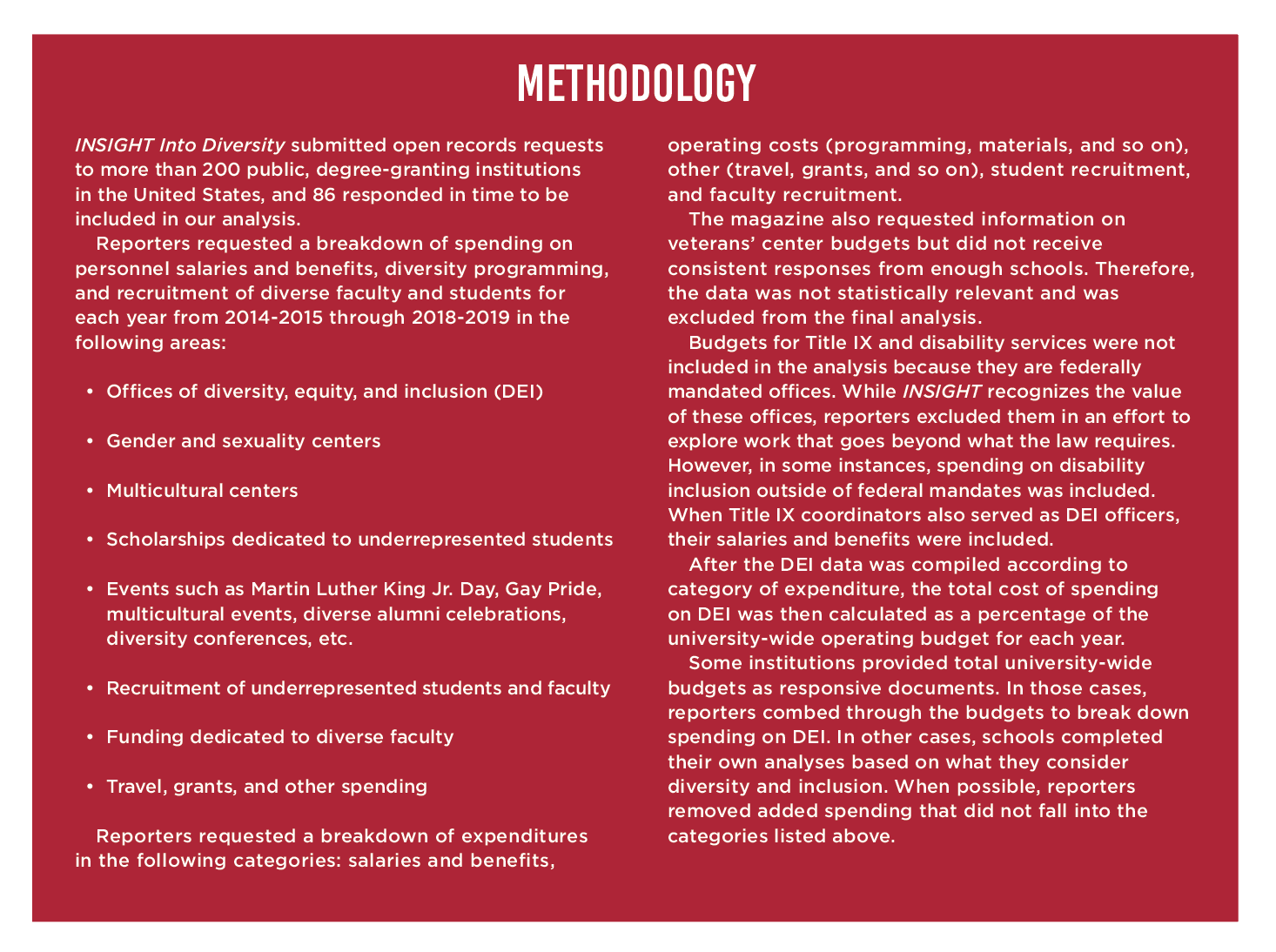 Based on its analysis, INSIGHT came to the following conclusions:
● DEI spending often accounts for less than 1 percent of university spending, while other areas such as institutional support (i.e., general administrative services, central executive-level activities, logistical services, and so on) accounts for 8.5 percent of overall budgets at four-year public institutions, according to the U.S. National Center for Education Statistics (NCES).
● Independent operations, such as large ancillary research labs, accounted for 5 percent of university-wide expenses in 2015-2016, according to NCES.
● Total athletic operating expenses, including scholarships costs, at 231 public institutions accounted for an average of 6.5 percent of university-wide spending from 2012 through 2017, according to an analysis of data from the Knight Commission on Intercollegiate Athletes.

● Average dollars dedicated to DEI budgets increased by 33.7 percent from 2014-2015 to 2018-2019.
● Spending on faculty recruitment and on salaries as universities began hiring dedicated DEI officers saw the biggest increases over the five-year period at 62 percent and 43 percent, respectively.
For now, the success of DEI offices relies on quantifiable characteristics of a university's population, says Michael Goh, PhD, vice president for equity and diversity at University of Minnesota (UMN). Those measures could include increasing numbers of various racial, ethnic, or gender groups.
"Yet in order to get the number, or in order to keep the number, it involves this related second step," Goh says. "Just as important if not more important is the campus climate. … But how does the quantity of a budget lead to personnel or programming that actually creates a sense of belonging? That seems so intangible, but you cannot have one without the other. You have to have the budget to have the personnel and services and programming."
An Investment in the Bottom Line
DEI spending has risen 0.5 percent since 2014-2015 at CMU, in line with other institutions in our analysis. The university has added new staff, initiatives, and programs, including a central office for institutional diversity, equity, and inclusion (OID); an office of diversity education; a center for diversity and inclusion; a Native American programs office; an office of LGBTQ services; and more.
Simultaneously, the university saw a slight increase in the diversity of its student body. While overall enrollment of underrepresented students remained largely static, from fall 2014 to fall 2017, the percentage of underrepresented students in freshman classes increased from 23.3 percent to 27.2 percent.
Of the nearly 16,800 on-campus students in fall 2018, 18.5 percent were from underrepresented ethnic and racial backgrounds, according to CMU data. Nearly 24 percent of the freshman class were from underrepresented backgrounds.
To unite CMU's separate DEI programs and strengthen the university's ability to recruit, support, and retain diverse student populations, the university hired Miller in spring 2018 as vice president and chief diversity officer. Inaugural DEI officers at the cabinet level are a common path at many colleges and universities, he says, leading to an increase in spending. But the positions support recruitment and retention across the board.
"At a certain point, many institutions begin realizing that [their diversity work] is piecemeal. It's all over the place and requires clear strategic direction, which is why they start building that structure [of diversity leaders]," Miller says.
CMU invested last year in two full-time positions within OID, including a data analyst and a communications specialist. Having a full-time analyst allows diversity staff to track internal data to verify that CMU's efforts are actually working, Miller says. While a university's central research office can help, they often don't have the resources to meet all the demands of a diversity office, he says.
Another investment is CMU's faculty diversity and inclusion fellowships, which provide a full calendar year of funding for two faculty members annually to conduct projects and research that strengthen the CMU community. The communications specialist helps facilitate conversations on a big campus.
Proactive diversity work does not always equate to additional staff or more money, he says, but rather to an investment of time and effort by the campus community.
"In one sense, you can talk about how we have 60 diversity initiatives happening on campus, but many of them are simply changes in the processes of how we do things," such as recruiting faculty and students, he says. "When you do that, it's often not a big money investment, because you're doing something you've always done but changing it to be more equitable and inclusive."
That means making sure each department creates diversity initiatives within its own ranks. At CMU, a diversity council charges each institutional unit with creating and implementing three diversity initiatives annually, according to Miller. This means each unit is responsible and involved.
All these investments at CMU — both in time and money — will help support the university's mission, Miller adds.
"If there are people who are on the sideline, who are discouraged or don't feel welcome, then you're wasting the resources of your institution. I think more and more schools are starting to realize that," Miller says.
In compiling data for INSIGHT Into Diversity's open records request, university leaders at CMU realized that the central diversity budget amounted to slightly less than what it spends on its library, Miller says.
"This is just as important of a central resource as the library. A library is very important to a university. It plays a central function, and so does this, so that helps put [this spending] in perspective a bit," Miller says. "This is not a frill. This is not an extra. This is central to making everything work, and I think more and more institutions are realizing that and are really making the investment."

Towson University (TU) near Baltimore has also steadily increased spending on DEI, representing roughly 1 percent of the university-wide budget for the past five years.
The increase is driven by growing numbers of underrepresented students on its campus, says Leah Cox, PhD, TU's vice president for inclusion and institutional equity. The number of undergraduate Black students on TU's campus increased by 58 percent from fall 2014 to fall 2019, while the number of undergraduate Asian students increased by 42 percent during that same time period.
TU's fall 2019 freshman class is also the most diverse in the university's history. Of the approximately 2,700 first-year students on campus this fall, 48 percent come from underrepresented groups and 25 percent are African American. In addition, 22 percent are the first in their families to attend college.
TU President Kim Schatzel, PhD, has responded to these demographic shifts by creating Cox's position, transitioning several programs under her office, and increasing the size of the university's DEI staff.
"All of the units that I supervise are doing a lot for not a lot of money. Each and every one of the staff goes above and beyond. We really work at strategically planning programming across the institution that will be effective to help us become the community that we're striving to be," Cox says.
Goh says DEI officers have had to become "smarter and wiser" in how that money is used, including at UNM.
"We have hawks that are scrutinizing how much and what it is being spent for. … I don't think I'm alone every year having to find at least $100,000 in our operating and management budget to return to central administration all in the effort of trying to be leaner," Goh says. "We're under a perpetual audit on what's working and what's not."
Wary of Political Forces
DEI spending is scrutinized in ways other costs are not because of political overtones, Goh says, despite the fact that these offices seek inclusion for all students.
"We do promote this idea of [higher education] as a free-flowing marketplace of ideas," Goh says. "We hold up the values of inclusion, belonging, nonjudgement, and anti-racism. But speech covered under the First Amendment is also welcome. If it has a tinge of judgment, racism, xenophobia, or sexism, it will be judged quite forcefully. … Yet we want to believe that everyone can coexist."
Miller says he thinks some people are wary of investing in DEI, especially in higher education, because "there's rhetoric out there that makes it sound as if these funds go to programs that are just 'feel good,' are politically correct, and don't serve a real function."
The point of public education, however, is to serve the general population, which requires "adapting processes and work environments to our current time period, to our local and state population as well as national population," he adds.
When asked about leaders in states who are working to cut diversity funding, Miller says, "It's a mistake."
"The whole purpose of having state universities is about knowledge gained, about research that supports the general population, and since we're in the business of knowledge, the more perspectives we have, the more likely it is that we'll develop important new insights," he adds. "It's really about the future of those states and the future of being a welcoming and productive population, because those kinds of unwelcoming conditions can just spiral and make things worse for everyone involved, not only those who are perhaps marginalized."
Cox urges leaders to remember that DEI work cultivates inclusive thinking and behavior for the country's future workforce. In other words, this relatively inexpensive effort has a ripple effect in U.S. corporations and government agencies. That aspect will be increasingly important as the private sector continues to seek a diversified workforce, Miller says.
Corporations are investing in their own internal diversity efforts because they know that everyone benefits when there are a variety of perspectives brought to the table, he says. Miller believes that preparing students to thrive in multicultural environments is necessary for them to succeed in the modern workforce.
Part of the solution to DEI's future success will require attracting more allies to the cause, Platt says. DEI programming often attracts individuals who are already allies for the work. "We need to reach those folks who can be barriers for the work that we're trying to do," she says.
Siloed DEI services will not work to promote inclusion on campus, Goh says. There must be partnerships between departments to create "multiple safety nets" to catch marginalized students who fall through the cracks. This logic gives all the more reason for getting everyone on campus on board, he says.
"I feel like leadership at the president level, the provost level, is beginning to appreciate and understand these phenomena on campuses," Goh says, "and scholars are shouting out the need to pay attention. … And I think we are learning how to not trigger unnecessary political divisions and unintentional divides."
As DEI officers continue to build those relationships, Goh says it's hard for him "to imagine people wanting to criticize" listening, empathizing, and helping others. As a trained counselor and psychologist, helping people was the reason Goh became interested in cultural intelligence and intercultural training. Like other DEI officers, Goh leads from personal experience.
One of his first encounters within 24 hours as an undergraduate involved a racial slur hurled at him as he was walking on campus. Goh says he never wants anyone to feel the way he did on that day.
"While this [interview] is framed as a budget conversation, it is deeply emotional and deeply personal," he says. "No one on our campuses deserves to feel that they do not belong, regardless of stripe or color identity or orientation."
Debates that devolve into shouting matches about DEI spending will not work, he adds. Rather, the conversation should focus on how to produce future leaders who will do a better job of directing the current sociocultural, political discourse.
"Most of my colleagues understand we are not in this for a political purpose. We are all for the purpose of the higher education mission."
Kelsey Landis is editor-in-chief, Mariah Bohanon is associate editor, Ginger O'Donnell is a senior staff writer, and Mariah Stewart is a staff writer for INSIGHT Into Diversity. This article ran in the November 2019 issue.