Lisa Pruitt, JD, PhD, the Martin Luther King Jr. Professor of Law at the University of California, Davis (UC Davis) School of Law, has fought for justice around the world, working on issues as diverse as Eastern European intellectual property law to the investigation of sex crimes during the 1994 Rwandan genocide.
Now she dedicates her time to advocating for overlooked rural pockets of the U.S. like her hometown in northwestern Arkansas, where the entire county has fewer than 8,000 residents. Her wide range of experiences as an attorney made it apparent that rural areas such as this one — and the people from them — are largely underrepresented in legal policy and practice.
"I knew from practicing in different sectors, both public and private, that [law] is implicitly urban," Pruitt explains. "I call this metro-centricity or urban-normativity, the way that legal scholarship and lawmaking in many settings assumes the urban and is unaware or neglectful of rural districts."
Much of her research has focused on issues related to rural poverty, drug abuse, domestic violence, and environmental law. Understanding rural-urban differences when it comes to demographics and resources is necessary for developing effective policies and services that address these issues.
One important disparity is a lack of interventions for nonviolent drug offenders in rural areas. Criminal justice policies that encourage participation in drug treatment programs as an alternative to more punitive measures may not take into account how inaccessible such programs can be for people in sparsely populated regions.
"One issue that people may not realize about rural areas is [the dilemma] of what to do with drug users when there's no treatment programs or other supports that a judge or judicial system would prefer to use [for sentencing]," Pruitt says. "A judge can say 'I'm not going to throw you in jail as long as you show up to this treatment course,' but if the closest program is 50 miles away and you have to be there three days a week, that's not going to work in areas where people are poor and there's no public transportation."
A lack of interventions for drug use is just one factor behind the phenomenon of growing rural incarceration rates. In urban areas, mounting pressure to reduce the nation's sizable prison population has led to fewer jail sentences, yet the number of inmates in rural jails has drastically expanded. From 2013 to 2019, urban jail populations dropped 18 percent while rural ones rose 27 percent, according to The New York Times. As of 2019, lockup rates in rural counties were more than double those of urban counties.
Another contributor to the disparity in incarceration rates is a lack of attorneys who can provide criminal defense and general legal services for rural residents.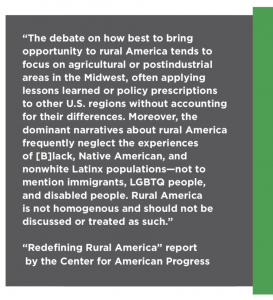 This shortage has been a primary focus of Pruitt's work in recent years and a topic of increasing concern for the legal community. The American Bar Association (ABA) and the Center for American Progress have written about how this shortage affects severely overburdened rural courts and jails and plays into the larger narrative around criminal justice reform. The ABA even added a special section on legal deserts, or areas with few lawyers, to its 2020 "Profile of the Legal Profession" report, which states:
There are more than 3,100 counties and county equivalents in the U.S., and 54 of them have no lawyers. Another 182 have only one or two lawyers. Many are parts of legal deserts – large areas where residents have to travel far to find a lawyer for routine matters like drawing up a will, handling a divorce, or disputing a traffic violation.
Pruitt points out that this shortage affects communities of many different demographics. The term "rural" is often considered synonymous with "White," she says, yet rural America is far more diverse than is often assumed. At UC Davis, for example, law students who are passionate about immigration rights often find that their interests intersect with issues affecting rural communities that are home to large populations of migrant workers.
One way to combat the rural attorney shortage is for colleges and law schools to recruit more students from nonmetropolitan areas, Pruitt says. This population already tends to be underrepresented in higher education, with only one in five people in rural areas nationwide holding a bachelor's degree or higher, according to the U.S. Department of Agriculture. The pandemic has further diminished the likelihood of these students pursuing higher education, with FAFSA completion rates decreasing by 18 percent or more at rural high schools across the U.S., according to the National College Attainment Network.
A small but growing number of legal education programs in primarily rural states have begun targeting students from small towns and sparsely populated areas to address this problem. In Nebraska, where 12 out of 93 counties do not have a single attorney, the Rural Law Opportunities Program operates as a partnership through the University of Nebraska College of Law and several smaller colleges throughout the state. Participants receive scholarships to fund their undergraduate education and regularly visit the law school for guest lectures, networking events, and more. They also participate in rural law internships and, should they meet certain admissions criteria, are guaranteed automatic acceptance into the university's college of law upon completing their undergraduate degrees.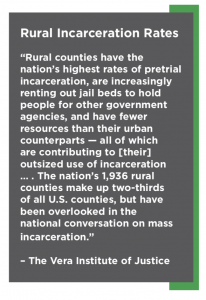 Other law schools, states, and legal organizations have developed similar pipeline programs in recent years. Some offer incentives such as partial loan forgiveness or financial assistance for establishing a rural practice. This type of support can help offset the disparity in earnings potential for urban versus rural attorneys, which is one factor that contributes to the shortage.
Pruitt suggests that students who are interested in pursuing legal careers in small towns but are worried about hefty law school debt should bear in mind that obtaining a JD in rural states is often much more affordable than other places. The Universities of South Dakota, North Dakota, Nebraska, and Montana all top the 2021 list of most affordable law schools as ranked by BestValueSchools.org.
She also recommends that more educators, regardless of location, teach students about the benefits of working in rural communities. "One of the things that law schools can do is to validate and affirm rural practice as a legitimate and fulfilling choice," Pruitt says, adding that many times these careers are seen as less prestigious than working in urban firms.
At UC Davis, Pruitt's Law and Rural Livelihoods course introduces students.— most of whom are from cities and suburbs — to some of these concepts. The class recently hosted a Zoom seminar in which several attorneys who work in rural practices shared their experiences. The students also run a blog, legalruralism.blogspot.com, that tracks news and research on everything from rural law enforcement practices to vaccine access and more.
One of Pruitt's students from New Jersey, the most densely populated state in the nation, who was studying to become an environmental lawyer decided to study rural water laws for the course. The opportunity allowed him to expand his knowledge beyond an urban framework and deepen his expertise in this subject area. "He realized that most of the land in the U.S. is rural, that there's a lot of land out there, and some of it is being polluted," says Pruitt.
The rising interest in environmentalism, especially when it comes to protecting food and water sources, has brought more attention to rural issues in recent years, she explains. Furthermore, other schools are beginning to view legal ruralism as a viable area of study. Since Pruitt first developed the Law and Rural Livelihoods class in 2007, Harvard University, the University of Michigan, and the University of South Carolina have developed similar course offerings.
"It is good to know that awareness of and engagement with these issues is growing and that we're serving an important educational function," Pruitt says. "We're disseminating knowledge and sending students out into the world with an enhanced skillset for whatever type of law they choose to do."●
Mariah Bohanon is the senior editor of INSIGHT Into Diversity. 
This article was published in our July/August 2021 issue.