Over the last year, Black communities experienced an inordinate amount of hardship. A recent study of first-year college students by the University of North Carolina at Chapel Hill found that Black students showed the highest increase in rates of depression. Other research has shown that they often do not get the mental health help they need. Only 25 percent of Black students reported seeking out psychological treatment compared with nearly 45 percent of White students, according to a report in the Journal of Adolescent Health. One of the greatest barriers for students of color in accessing these services is the lack of diverse counselors, psychologists, and psychiatrists on college campuses.
Background
Data from the American Psychiatric Association (APA) shows that only 2 percent of the estimated 41,000 psychiatrists in the U.S. are Black, and just 4 percent of psychologists are Black. On college campuses, close to 61 percent of counseling center staff are White, and 13 percent are Black, according to a 2020 Association for University and College Counseling Center Directors survey.
The shortage of psychiatrists and counselors of color has severe implications for all Black individuals needing treatment. A 2019 survey by the Substance Abuse and Mental Health Services Administration (SAMHSA) found nearly 5 million, or 16 percent, of Black Americans reported having a mental illness. However, only one in three Black adults who needs mental health care receives it. 
Because of the scarcity of mental health professionals of color, it can be difficult for Black Americans to find a practitioner with whom they feel comfortable enough to share any race-related trauma. One 2016 study in the Journal of Black Psychology found that African American therapists and their patients often had relationships marked by a "distinct sense of solidarity … as evidenced by having a better understanding of the context of Black clients' lives." 
Additionally, White mental health professionals often misdiagnose African Americans as having more severe disorders or do not provide the same level of treatment as they do for White clients. For example, a 2018 Rutgers University study found that Black men were more likely to be inaccurately diagnosed with schizophrenia when expressing symptoms related to mood disorders or post-traumatic stress disorder. 
APA Recognizes its
Racist History
The APA recently acknowledged that the differences in the quality of care for Black clients compared with Whites can be traced back to how the psychiatry field has historically pathologized African Americans as more aggressive and unstable — views that have often prevented Black students from pursuing mental health as a career choice. 
In January 2021, the APA issued its first public apology for the racial inequities that mark its 176-year history.
"Early psychiatric practices laid the groundwork for the inequities in clinical treatment that have historically limited quality access to psychiatric care for BIPOC," the statement reads. "Since the APA's inception, practitioners have at times subjected persons of African descent and Indigenous people who suffered from mental illness to abusive treatment, experimentation, victimization in the name of 'scientific evidence,' along with racialized theories that attempted to confirm their deficit status. … These appalling past actions, as well as their harmful effects, are ingrained in the structure of psychiatric practice and continue to harm BIPOC psychological well-being even today."
Efforts to Diversify the Profession
The APA has now begun focusing more on diversity, equity, and inclusion, including dedicating its 2021 annual conference to equity. In recent years, the organization has increased efforts to recruit more underrepresented mental health practitioners. 
These efforts are essential for college campuses that want to better serve students of color, said Regina James, MD, chief of the division of diversity and health equity and deputy medical director at APA, in an email to INSIGHT.
The APA's foundation now offers a total of nine initiatives, including fellowships and student programs, focused on attracting underrepresented students to the field. The fellowship team also conducts a wide range of engagement and outreach efforts, James says, including making in-person visits to medical schools and residency programs, hosting virtual presentations at national conferences and grand rounds, organizing live Q&A sessions during application periods, and more.
Additionally, the APA runs pipeline programs designed to increase the number of practitioners of color in the behavioral health workforce. These include the Minority Fellowship Program, a partnership with SAMHSA that provides a one-year fellowship to psychiatry residents committed to addressing the mental health needs of underrepresented populations, and the Workforce Inclusion Pipeline Program, which exposes diverse undergraduate students to experiential learning opportunities in psychiatry.
While it may take some time to see progress in diversifying the field, James says that colleges and universities can help address the issue by ensuring that all campus psychiatrists and counselors, regardless of their race or ethnicity, have adequate training to work with communities of color. She adds that it's essential that institutions promote a sense of equity and belonging among mental health staff, which can be accomplished by having management that is receptive to counselors' needs and offering personal and professional development opportunities along with competitive compensation.
"Institutions of higher and postsecondary education may not always find the diversity that they aspire to have at their institutions given their local demographics," she says. "However, they must focus on the importance of training staff with cultural humility and sensitivity so that they can successfully serve all students."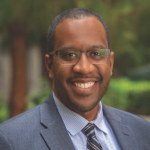 Broderick Leaks, PhD, vice chair for student mental health in the Department of Psychiatry and Behavioral Sciences and director of counseling and mental health at University of Southern California Keck School of Medicine, agrees that fostering inclusive practices is key in recruiting underrepresented professionals to provide mental health services. He adds that it's important to find dedicated staff committed to helping students who are often going through new and unexpected experiences in their lives.
"What we try to emphasize with our prospective colleagues is the rewarding nature of working with the college population," he says. "This is a time when many people are learning to be comfortable in their adult identities, express themselves, and understand how to manage stressful situations and discover their own resilience. The growth that happens during these years is really remarkable, and we're proud to be a part of it."●
Lisa O'Malley is the assistant editor of INSIGHT Into Diversity.
This article was published in our December 2021 issue.