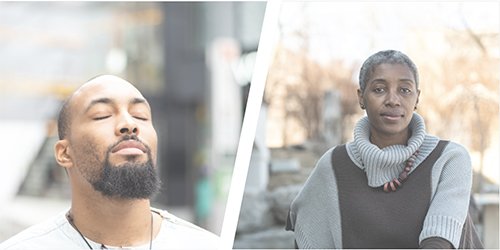 The glaring racial inequities in coronavirus cases and deaths have brought international attention to health disparities for African Americans. Steven Starks, MD, clinical assistant professor in the Department of Clinical Sciences and Behavioral and Social Sciences at the University of Houston (UH) College of Medicine — which opens in July — predicts that the disproportionate harm of the pandemic on this demographic may continue long after the pandemic has passed.
"The loss, the grief, the death and dying and the anxiety itself of everybody staying at home or the anxiety and fear of being infected yourself or transmitting infection to your loved ones … these are traumatic events," Starks says. "The traumatic response will be next."
Starks, a representative of the American Psychiatric Association's Black Caucus, says mental health organizations and professionals are working to figure out how to best manage and deliver the care these communities need now and into the future. They are discussing options such as telehealth and telemedicine services and are going to continue "using data and psychotherapy and other treatments," hoping that different mental health associations and groups can collectively work to devise solutions, he says.
Adding to these hurdles is the fact that mental health services for African Americans are sorely lacking. Black communities experience "several, multilevel determinants of disparities in mental health that result from reduced access to healthcare services and stigma associated with obtaining counseling and psychological support services," explains Chanita Hughes-Halbert, PhD, associate dean for Assessment, Evaluation, and Quality Improvement and a professor in psychiatry and behavioral sciences at the Medical University of South Carolina (MUSC) College of Medicine.
These determinants, which include socioeconomic status, make African Americans 10 percent more likely than White Americans to suffer "serious psychological distress," according to the National Alliance on Mental Illness (NAMI). Factors such as income level — which has been shown to correlate with psychological distress — make this racial demographic more vulnerable to the negative health effects of poverty, the U.S. Department of Health and Human Services (HHS) states. One in five African Americans lives below the poverty line — second only to Native Americans, who have a 25 percent poverty rate — according to the U.S. Census Bureau. Furthermore, HHS data reveals that Black Americans below the poverty line are twice as likely to experience psychological distress.
Yet Black people in the U.S. rarely receive adequate mental health services. Fewer than one in three African Americans with mental illness receives treatment, according to NAMI, which cites reluctance and inability to access services as well as provider bias among the barriers to quality care for this population.
Medical colleges are attempting to improve this disparity through several strategies, according to Starks. For one, they can prepare primary care providers to help circumvent the stigma of mental healthcare, which numerous researchers have found is particularly pronounced in communities of color. "There's a lot of stigma that prevents folks from saying 'I'm seeing a psychiatrist or other mental health professional,'" Starks says. "So oftentimes it's on the primary care professionals to take care of those mental health needs."
At UH College of Medicine, which will have a focus on primary care and community health, students will be trained on how to introduce the topic of mental wellness with patients, prescribe appropriate medications, and recommend additional services. Student experiences will include service and interaction with an individual or family in an underserved neighborhood for the duration of their medical education, allowing them to gain better understanding of medical needs as well as "the social factors and struggles that families and individuals face," Starks says.
Hughes-Halbert also cites "academic-community partnerships" as integral to improving access to mental health services for African Americans as well as improving the medical world's understanding of mental health among the African American community. At the MUSC College of Medicine, for example, the Mental Health Disparities and Diversity Program, of which Hughes-Halbert is a member, combines research, education, and service to achieve this mission. Other projects at MUSC, such as the Transdisciplinary Collaborative Center in Precision Medicine and Minority Men's Health, are delving into specialized areas of mental healthcare for people of color. The project examines how the "psychosocial stress" suffered by men of color — which includes excessive force used by police officers and being singled out in social settings — may affect the body's ability to fight off disease and respond to treatment, according to Hughes-Halbert.
Such work may help rectify the psychiatric community's lack of research on African American communities, which some experts say is a primary culprit in misassumptions, misdiagnoses, and inadequate treatment. Lehigh University researcher Sirry Alang, for example, determined in a 2016 study that depression among Black Americans tends to be "expressed in ways that are inconsistent with symptoms of depression laid out in the Diagnostic and Statistical Manual of Mental Disorders" due to culturally held beliefs regarding depression and resilience, among other factors. "It is impossible to effectively diagnose and treat depression among African Americans if their perspectives about depression are not taken into account," Alang states in the study.
Starks also says differences in cultural beliefs and behaviors regarding psychological distress are a major factor in mental health disparities for Black patients. In addition to the stigma of seeking mental health services, distrust of the medical community stemming from a long history of abuse and neglect prevents African Americans from seeking regular outpatient services such as psychotherapy and medication to manage conditions like depression and bipolar disorder. As a consequence, they are more likely to pursue emergency treatment only when symptoms become extreme. This pattern, in addition to physician bias, leads to frequent misdiagnoses, including a trend of bipolar African Americans experiencing manic episodes being misdiagnosed with schizophrenia, according to Starks.
Starks and numerous other experts call for increasing the number of doctors and mental health providers of color as necessary for improving understanding between the medical community and African Americans. Currently, Black Americans are vastly underrepresented in both the physician and psychiatrist workforce — at just 5 percent and 3 percent, respectively.
Starks emphasizes the importance of early pipeline programs for K-12 students and formal mentorships for students and clinicians of color to overcome these workforce disparities. He also stresses that improving access to and quality of mental health services — especially when it comes to arranging systemic responses to crises like the coronavirus pandemic — requires close collaboration with counselors, social workers, psychiatric nurses, and others who serve marginalized patients and communities.
While healthcare inequality for Black communities may be a persistent problem, the widespread effects of the pandemic will require "figuring out how we can best increase our workforce, increasing the number of professionals that come from those backgrounds, and aligning our institutions and associations effectively to ensure we move forward in culturally appropriate care for those communities," says Starks.
Mariah Bohanon is the senior editor of INSIGHT Into Diversity. The Medical University of South Carolina is a 2017, 2018, and 2019 Health Professions Higher Education Excellence in Diversity (HEED) Award recipient and a 2018 and 2019 Diversity Champion. This article ran in the May/June 2020 issue.