When David J. Skorton assumed the role of president of the Association of American Medical Colleges (AAMC) in July 2019, he brought with him a reputation as a staunch advocate for diversity, equity, and inclusion (DEI). Now, as he approaches the anniversary of his first year in office, Skorton faces the challenge of leading the AAMC's 171 medical schools and 400+ teaching hospitals and systems during one of the worst healthcare crises in U.S. history.
Skorton, a cardiologist, served as secretary of the Smithsonian Institution before assuming his role at AAMC. Under his leadership at the Smithsonian, women and people of color accounted for approximately 69 percent of new hires at the director level or above; he also appointed the first woman director of the National Air and Space Museum and the first woman director of the National Museum of American History. Skorton oversaw the opening of the National Museum of African American History and Culture and the implementation of the American Women's History Initiative, among other DEI accomplishments.
His previous roles in academia included president of the University of Iowa and president of Cornell University, where he was known for focusing on student and employee mental health and well-being.
Since assuming the presidency of the AAMC, Skorton has maintained a focus on DEI.
In his first address in the role in November 2019, Skorton urged the 5,000 attendees at the AAMC's Annual Meeting to "change how they carry out their missions in order to confront social and economic challenges," according to a press release, which also quoted Skorton as stating that "the status quo is not working."
Skorton pledged to focus on three challenges: diversity, equity, and inclusion; mental health and substance abuse disorders; and access and affordability of care. He placed emphasis on improving recruitment and support of Black men and other demographics who are underrepresented in medicine.
"To bridge the enormous disparities in health within communities, we must first confront the racial gaps in our own community of academic medicine and foster more diverse and inclusive environments in our institutions," Skorton stated.
In January, he issued a call to action to medical schools as the first step in a new initiative to improve equity in pay, promotion, and other areas of inclusion for women.
Since assuming office, Skorton has advocated for immigrant rights and protecting the Deferred Action for Childhood Arrivals (DACA) program. In an op-ed for The Washington Post published just days before the Supreme Court was to begin DACA hearings in November 2019, Skorton urged the court to consider the negative effects of deporting the approximately 27,000 healthcare workers with DACA status.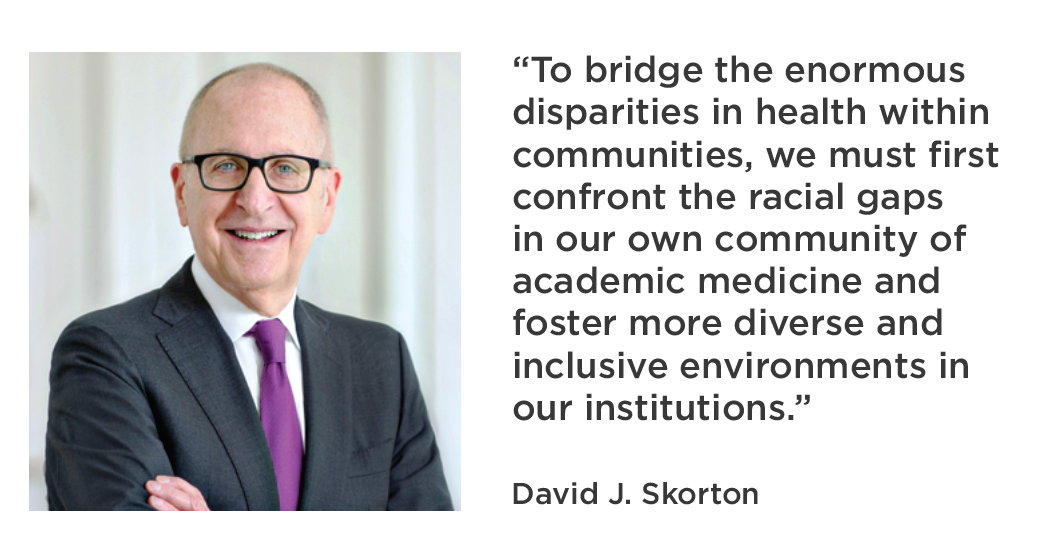 Skorton has echoed that message in his public addresses concerning the COVID-19 pandemic, stating in an April interview with NPR that DACA workers and other immigrants are imperative in combatting the crisis, adding that he hopes one lesson the U.S. takes away from the pandemic is the importance of this population to national health and well-being. 
In other public statements concerning the coronavirus, Skorton has urged the government to — among other efforts — address healthcare workforce shortages. The federal government must "move quickly" to fix this problem by investing in medical education as well as increasing "long-term federal investment in medical research," he stated in an April op-ed for USA Today.
When asked by NPR what "big change" might come from the COVID-19 pandemic, Skorton replied that one difference he hopes to see is that "we pay more attention to vulnerable populations, to our neighbors who are homeless, who have other kinds of very, very challenging socioeconomic circumstances."
Mariah Bohanon is the senior editor of INSIGHT Into Diversity. This article ran in the May/June 2020 issue.