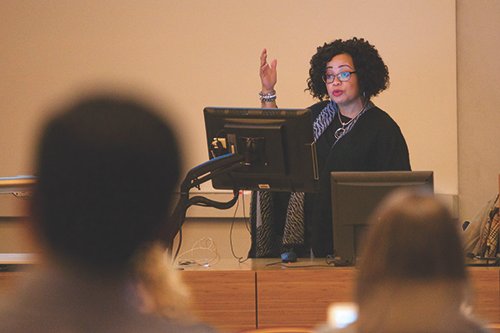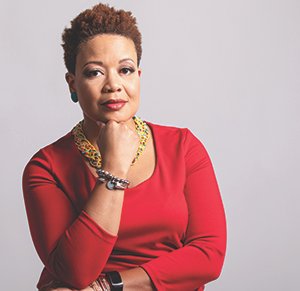 Joelle Murchison was formerly vice president of enterprise diversity and inclusion at Travelers Insurance and most recently the associate vice president, chief diversity officer, and special adviser of diversity, inclusion, and external partnerships at the University of Connecticut. Murchison currently teaches at the University of Connecticut School of Business while also managing her own company, ExecMommyGroup LLC, an inclusion, public speaking, communication, leadership, and coaching practice.
[Above: Murchison teaches a class on implicit bias in the classroom for faculty advisers at the University of Connecticut School of Business.]
You have been a chief diversity officer at a university and a vice president of diversity at a Fortune 500 company. What differences do you see between diversity, equity, and inclusion work in the corporate world versus in higher education?  The main difference that I see is the focus on outcomes in the corporate sector. In that environment, there's a clear focus around what the organization's desired outcomes are, such as increasing their profits by selling a particular service or product. They are able to really apply any strategies to ensure that they're meeting that desired goal.  
The most concrete example [in terms of diversity and inclusion] is diverse slates, which means ensuring that a slate of candidates [being interviewed for a job] at a particular level in the organization must include a woman or a person of color. That requires a company's sourcing strategy to be intentional and built on strong relationships with professionals of color so that there is a viable pool of candidates before positions become available. It's not rocket science, but you would be surprised how often organizations don't do their due diligence to make it happen.
In higher education, I think it's a little more complex because those of us who are tangentially connected would assume that the desired outcome is the graduation of students. That is the product, essentially. You're producing the next generation of leaders. But there are a variety of different factors that can play into that — for example, graduation rates, or the campus environment, or the success of an athletic team or program. I think it's a little harder to nail down the specific desired outcomes.
As such, I think there is a little bit of difficulty in identifying the "what's in it for me?" around diversity and inclusion. However, I do think that [strategies and outcomes] should be in alignment, and I think that's part of the challenge as it relates to higher education. 
Anti-racism work is a big focus area in higher education. Is it the same in corporate settings? Students on campus, from my perspective and my experience, are generally engaged in what you would consider to be social justice work. Students tend to be interested in how they might be able to dismantle particular policies or structures that do not embrace equality. There is a very clear focus by them on identifying who is wrong, whether it's the university or some outside entity that they can direct their disdain toward. And that's just not how it operates within the private sector.
In the corporate setting, the focus is more on really understanding diversity and inclusion, embracing and appreciating differences that people bring to the table, and then from a workforce perspective working to ensure that opportunities are universally accessible. 
The private sector has a different narrative around diversity and inclusion, very different than anti-racism. I don't believe that most private sector entities are really equipped to address it, and quite frankly I think they try to stay out of what some would call a more "political conversation" rather than simply addressing how to ensure that there is universal access within the organization. 
Students might encounter some challenges when they transition from the campus environment to the work setting. For example, when you are frustrated, or when you believe that there's something that's been done wrong, the actions that you need to take [in a work environment] are different than what you might have done on campus. Your response to an issue that you might think is discriminatory is not to make signs and have a rally in front of the company CDO's office.
Do you advocate for students on college campuses becoming more aware of how things work in the corporate world so they're better prepared? Absolutely. This is one of the topics I focused on in my class for undergraduate students studying senior level management. How can they transfer the skills that they've gained from the rallies and protests in order to take some of those issues to leadership in a tangible way that will allow them to really have some effective conversations and bring forth change?
This concept is based on students gaining a better understanding of how organizations work. There should be more steps taken to ensure that [students and administrators] are not adversaries. Rather, students should be included in processes to better understand how the university works. That will help prepare them for life in the workplace.  
I am a firm believer that students should be exposed to leadership development opportunities that bridge them from simply participating in programs to learning how to develop and execute programs and events. 
In the private sector, you don't get to submit a list of demands to the CEO and expect that they will accommodate your desires. That is the reality that students need to embrace. They need to gain the skillset that allows them to participate in dialogue. This will illuminate the multiple factors that have to be considered in order to create change.
What advice do you have for leaders in higher education regarding how to clarify outcome goals and get more community members involved? 
Staff actually spend more time with students than faculty do when you think about it from an hourly perspective. Faculty have maybe an hour, three times a week, or a three-hour course once a week, but students interact with staff on a regular basis, whether it be in the dining halls, in the residence halls. … I think there's a responsibility in higher education to ensure that both faculty and staff are equipped to navigate and manage working with individuals from a variety of different backgrounds. That's an area that is not always focused on in a centralized way. Sometimes it's very haphazard. 
Higher education can also benefit from ensuring that there is enough connection to the world outside of campus so as to be able to challenge the biases of faculty and staff influenced by things that may be happening in their communities.
That's a human reality. It's not about people being racist or sexist or homophobic; it's about the fact that intrinsically as human beings we have some biases that we've been taught. And we don't even realize that they come out in our day-to-day business operations or operations within our organizations.
Is this less of a problem in the corporate sector? The problem is the same across industry. I don't believe it is any less of a problem in the corporate sector. The level of awareness is the challenge no matter what kind of organization. I do think that the corporate sector in many ways recognizes the impact of embracing inclusion to their bottom line. However, as long as students continue to apply to universities, there is not necessarily an incentive to change unless there is a significant public controversy.
Ginger O'Donnell is a senior staff writer for INSIGHT Into Diversity. This article ran in the October 2019 issue.