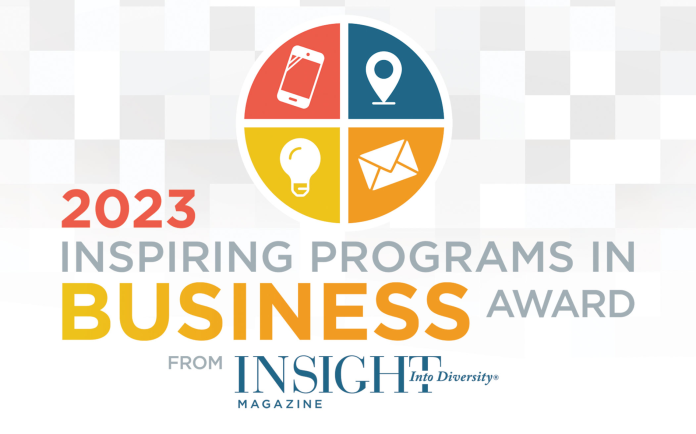 Studies indicate that a majority of U.S. workers value diversity in the workplace and want their companies to implement inclusive policies. The INSIGHT Into Diversity 2023 Inspiring Programs in Business Award winners are passionate about building programs that advance these ideals by providing access, academic support systems, skills training, mentoring, experiential learning initiatives, networking opportunities, community, and so much more. From entrepreneurship to fellowship programs, and from high schoolers to graduate students, their initiatives make a difference for first-generation, low-income, and underrepresented student groups who seek effective and innovative pathways to successful careers in business. Programs leaders, administrators, corporate partners, campus collaborators, and other individuals involved in creating and developing these programs deserve to be recognized, and INSIGHT Into Diversity is proud to honor their work with the Inspiring Programs in Business Award.
ADC Management Solutions
Summer Youth Enrichment Program
The Summer Youth Enrichment Program (SYEP) offered by ADC Management Solutions (ADC-MS) prepares students from underrepresented backgrounds for employment. Sixty-four percent of the 155 students enrolled in last year's program received job placements. Over the last several years, ADC-MS has increased private partner participation in SYEP. For example, Kaiser Permanente is a key partner in the weekly training series and is becoming a worksite for students interested in pursuing a career in the health industry. ADC-MS also works with private sector partners to design curriculum and deliver weekly training workshops on topics such as budget and time management, conflict resolution, decision-making, financial literacy, healthy living, and critical thinking and problem-solving. Ninety percent of participating students receive internships or externships.
Boston University
Questrom School of Business
The Questrom Ascend Fellowship at Boston University's (BU) Questrom School of Business seeks to build a community for first-generation and underrepresented BU business students of color. Ascend offers programming centered on inclusive leadership, mentorship, navigating identity in professional spaces, understanding different types of professional opportunities, building a career community, and expanding on financial education and inclusive leadership skills. In just six years, the program has grown from 17 fellows in fall 2017 to 134 in fall 2022, supporting 209 students to date. Fellows have shared that Ascend has been instrumental in their finding a sense of community.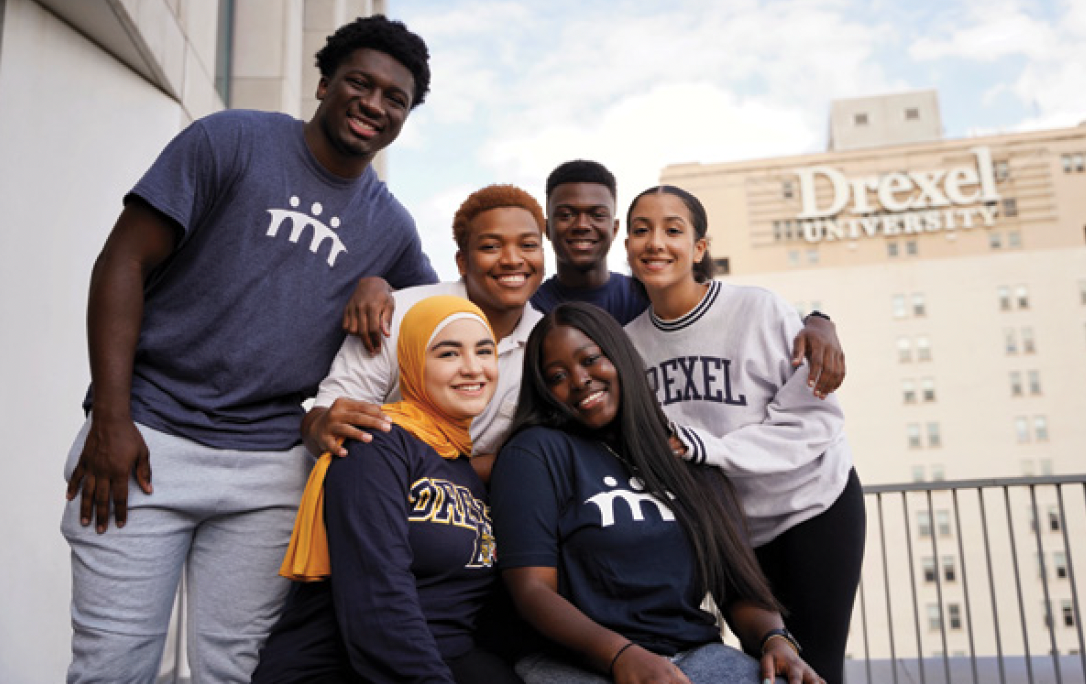 Drexel University
LeBow College of Business
Build Relationships in Diverse Group Experiences (BRIDGE) is an academic enrichment program designed to support underrepresented students at Drexel University's LeBow College of Business. The program, created in 2012, has served over 300 students. Retention and graduation rates exceed national and Drexel University standards. Developed on four pillars — academic excellence, community activism, social engagement, and financial literacy — BRIDGE creates an effective learning community through professional development opportunities, workshops, experiential learning, and community engagement. The program also features advising support, networking opportunities, a day of resource and professional development sessions, a spring break trip, and a weeklong trip that connects students to organizations via corporate site visits.
Georgia College & State University
J. Whitney Bunting College of Business and Technology
Started more than 30 years ago, the Center for Economic Education at the J. Whitney Bunting College of Business and Technology at Georgia College & State University hosts an immersive weeklong residential learning experience on entrepreneurship for high school students of color from Georgia and surrounding states. Program topics include how to start a business, the marketplace and the free enterprise system, personal and business finance, operations and organization, management, marketing, public speaking, career development, and the college selection process, along with setting and defining life goals. About 20 students participate each summer, with each receiving a full scholarship covering program, housing, and meal costs. Students also have opportunities to connect with local business leaders and engage with peer mentors. 
Joint School of Nanoscience and Nanoengineering
North Carolina Agricultural and Technical State
University and University of North Carolina at Greensboro
The Joint School of Nanoscience and Nanoengineering, an interdisciplinary program and collaborative college-level unit between the historically Black North Carolina Agricultural and Technical State University and University of North Carolina at Greensboro, a Minority-Serving Institution, launched the post-baccalaureate Certificate in STEM (science, technology, engineering, and math) Entrepreneurship in 2021. As part of the program, which is expected to take six to 12 months to complete, students learn how to operate a business and the skills needed to establish their own startup companies or to work in academic, industry, or government sectors. They gain networking opportunities and complete entrepreneurial projects. The overall goal is to increase opportunities for African American and other underrepresented students to launch startup companies in the STEM disciplines. 
Kansas State University
College of Business
The Rise Up leadership development program offered by the Kansas State University College of Business supports students from underrepresented and historically marginalized groups. One hundred percent of participants graduate with a full-time job and all have at least one internship prior to graduation. In two years, the program has served 75 students. Rise Up Scholars set individualized academic, career, and personal well-being goals and attend group coaching sessions on leadership training co-taught by a corporate sponsor. First-year students meet with a peer mentor weekly and a career coach who focuses on how to land an internship and job, recommends areas of skills development, and suggests events or programs to attend. Campus internships, networking field trips, conference scholarships, and health and wellness opportunities are also offered.
Lehigh University
College of Business
Xavier University of Louisiana
Lehigh University College of Business and Xavier University of Louisiana (XULA) offer a new 4+1 program in which students engage in undergraduate studies at XULA and then one year of graduate management education at Lehigh. XULA students in liberal arts or STEM can enter Lehigh's master of science in management program, earning a degree in 10 months. The unique combination of studies prepares graduates for industries ranging from health care to consulting and banking to brand marketing. Accepted XULA students are guaranteed generous scholarships. Additionally, a XULA rising senior who demonstrates exceptional leadership is invited to participate in the Lehigh Iacocca Global Village Immersion program, which brings together a global community of students and business leaders virtually in the spring and on campus in the summer.
Metropolitan State University of Denver
School of Hospitality
The School of Hospitality at the Metropolitan State University of Denver, a Hispanic-Serving Institution, supports its students through a range of initiatives. The School of Hospitality Concierge Services is a one-stop space for student services and career and academic advising. Students have opportunities to interact with diverse industry partners like the Hispanic Restaurant Association through mock interviews, panel discussions, and networking events. The Hospitality Learning Center, which consists of a LEED Gold Certified hotel, commercial conference space, state-of-the-art beverage testing laboratory, and commercial restaurant, offers training and educational opportunities. In 2023, an experiential lab will open for students in the brewing operations program. New classes are offered in cannabis management, gaming/casino management, and international cuisines.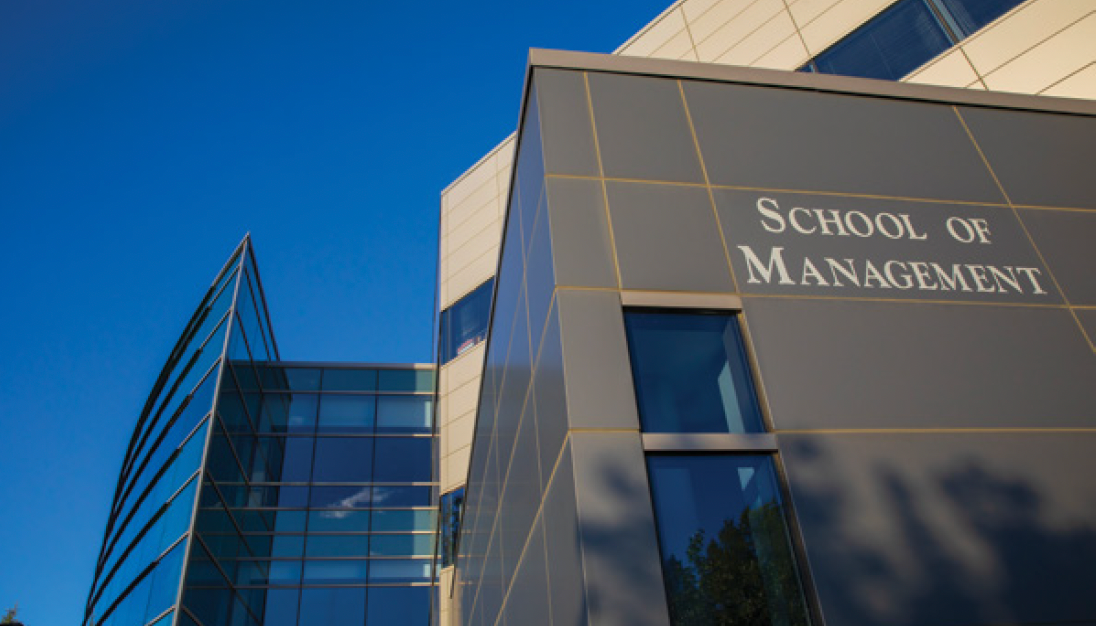 State University of New York at Binghamton
School of Management
The Transformational Leaders Program (TLP) at the State University of New York at Binghamton, serves first-year, second-year, and transfer students pursuing a management degree with uniquely tailored personal, academic, and career development opportunities. A goal of the TLP, which is led by the School of Management, is to help underrepresented student populations and those facing economic barriers that prevent access to an equitable education. Participants receive financial assistance through scholarships and with support for summer internship expenses. The program launched in 2021 and has grown from 20 students in its first year to 65 in 2023. Over 80 percent of students have seen an increase in their GPA over the course of their involvement in the TLP. 
Suffolk University
Center for Entrepreneurship
Sawyer Business School
The Center for Entrepreneurship affiliated with Sawyer Business School at Suffolk University in Boston serves as a hub for innovation and new venture development in justice, equity, diversity, and inclusion. Two major initiatives focus on low-access students at local high schools. The first, a summer entrepreneurship course held on campus, engages rising high school seniors who explore entrepreneurial content and participate in career and college readiness training. Community members offer networking opportunities and mentorship. A second initiative partners with local organizations such as Junior Achievement and emphasizes entrepreneurship. The Center also organizes experiential signature events, including a design-a-thon, business pitch competitions, panel discussions, and a Start-Up in Residence speaker series.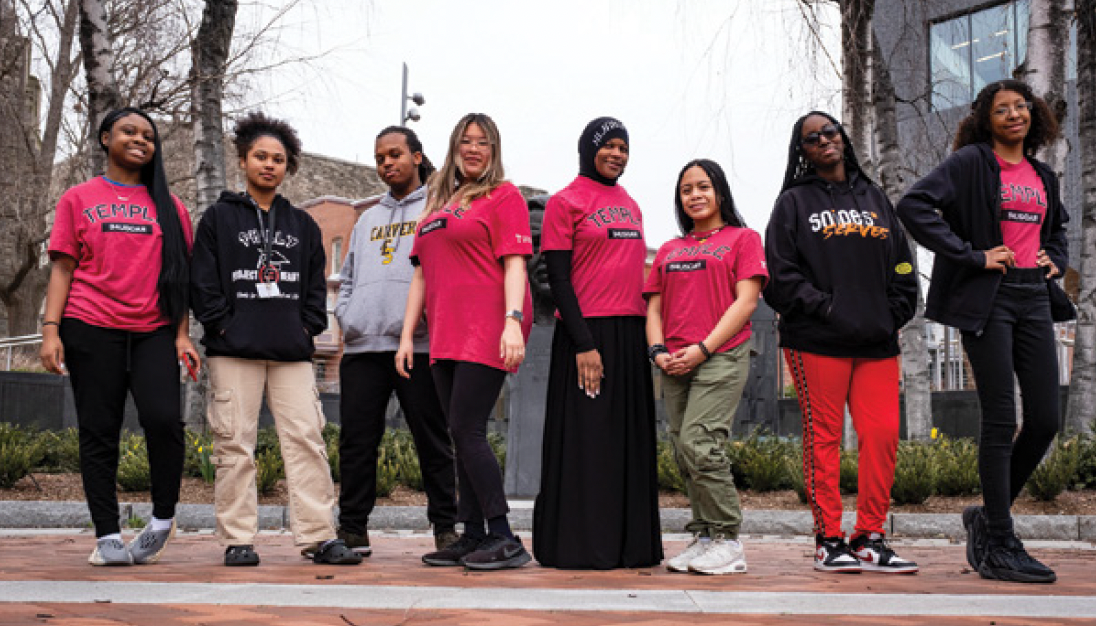 Temple University
Fox School of Business
The B4USoar program, offered by Temple University's Fox School of Business, offers underrepresented junior and senior high school students the opportunity to attend college classes with free tuition and transferable college credits. The program recruits primarily Black, Hispanic, and Asian scholars from 22 of Philadelphia's public and charter high schools. Each class has a peer mentor who offers support, encouragement, and tips for college planning. Community professionals also provide career and skills development workshops. Since 2019, nearly 200 students have completed the program and 40 were enrolled in fall 2022. Approximately 89 percent of participants received college credit.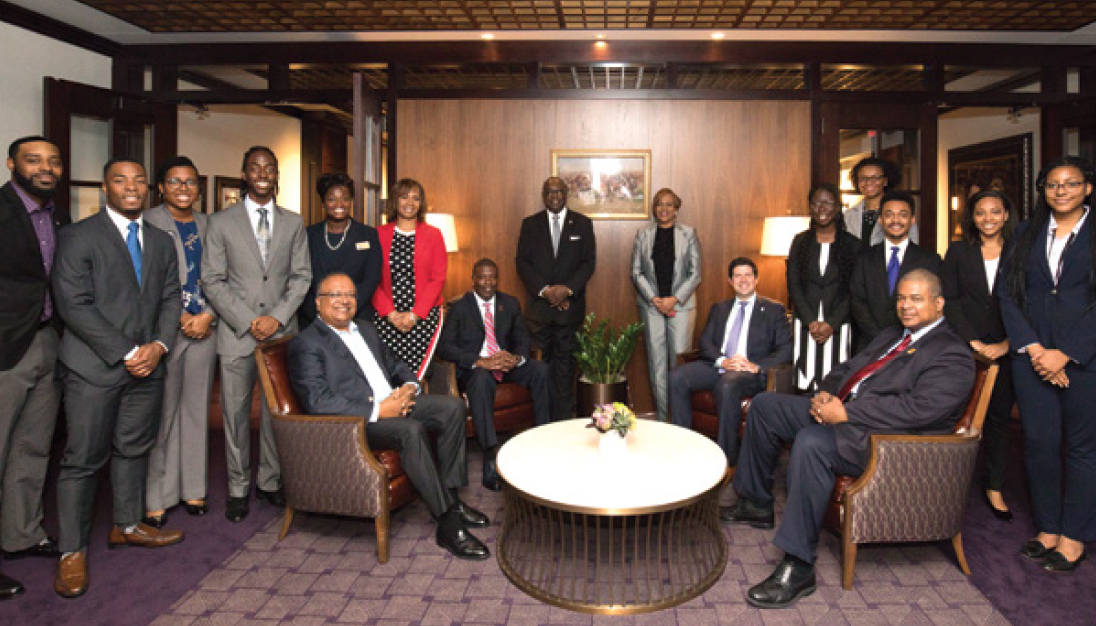 Texas Christian University
Neeley School of Business Office of Inclusive Excellence
The Texas Christian University (TCU) Neeley School of Business's Office of Inclusive Excellence focuses on recruiting, retaining, and supporting students to succeed. Their Accelerated Career Development Program works with the National Association of Black Accountants, Inc. to take part in the Accounting Career Awareness Program, which provides accounting, finance, and other business field learning opportunities to underrepresented high school students. Additionally, TCU's Suit Up – Lead On initiative supports undergraduate students in financial need with personal branding consultations and professional attire. Added financial assistance for academic needs are provided by TCU's Going the Distance Fund. Lastly, the JP Morgan Chase Inclusive Excellence Mentoring Program helps underrepresented students gain professional development skills and navigate career pathways.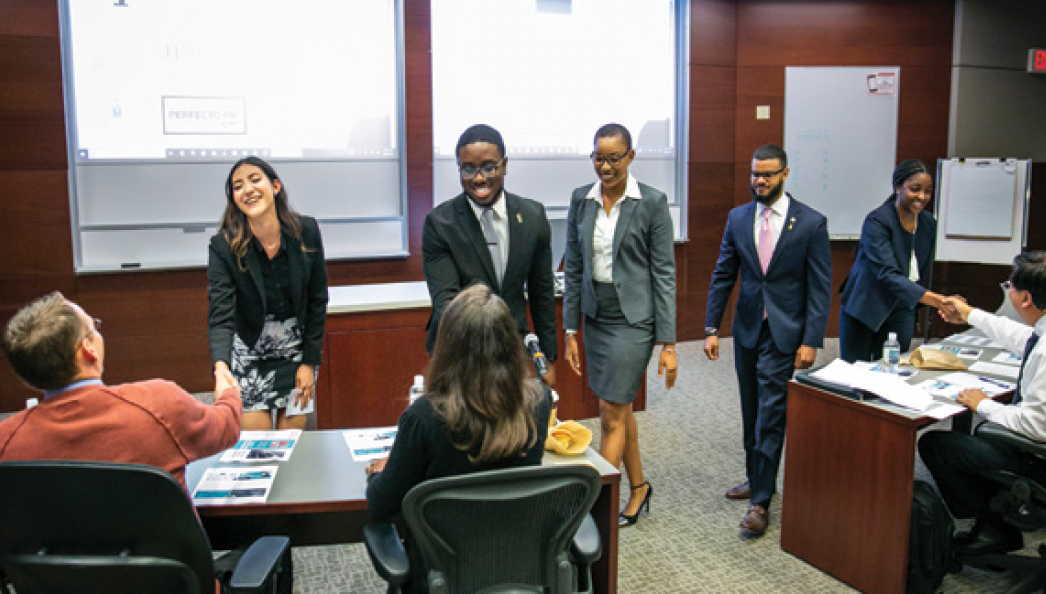 University of California, San Diego
The Belonging Initiative is a collaborative effort between the University of California, San Diego's Rady School of Management, Department of Economics, and Division of Extended Studies to develop immersive and comprehensive preparations for diverse students enrolling in the university's new business economics major. The initiative is designed for socioeconomically disadvantaged and first-generation students enrolled in the major and will provide mentoring, academic support, social activities, and research and networking opportunities. The Business and Economics Mentoring Program (BEMP) is the first program launched under the umbrella of the Belonging Initiative. BEMP welcomed its first cohort of 20 students in fall 2022 and will continue to add 20 more each year until there are cohorts at all class levels.
University of California System
The University of California (UC) Summer Institute for Emerging Managers and Leaders (SIEML) is an all-expenses-paid immersive business and career leadership program for second- and third-year undergraduates from historically Black colleges and universities (HBCUs) and Hispanic-Serving Institutions (HSIs) who have an interest in pursuing a graduate business degree. The systemwide initiative is administered by UC's Office of the President. Each year, up to 50 of these undergraduates participate in an 11-day business leadership experience hosted by UC's six business schools. Among program benefits, students admitted into a UC graduate business program receive, at minimum, a one-year full fee and tuition fellowship. A total of 368 students have participated in SIEML, with representation from 48 HBCUs and 28 HSIs. 
University of Cincinnati
Carl H. Lindner College of Business
Withrow University High School of Business
The University of Cincinnati Carl H. Lindner College of Business (Lindner) partners with Withrow University High School of Business (Withrow), a Cincinnati public high school, to offer college-level business courses and credit for underrepresented students. As part of the Pathway to Lindner Program, high school participants regularly visit Lindner to meet with underrepresented business students and learn about their experiences, majors, co-op employment, and career goals. Members of the Lindner Business Fellows Program, which serves Black, Latino, and Native American students, visit Withrow to mentor students, many of whom are first generation. Withrow participants are also invited to a three-day summer institute, where they stay in residence halls, take mock business courses, connect with Lindner faculty and staff of color, and meet with alums and corporate partners. 
University of Houston
The Stimulating Urban Renewal Through Entrepreneurship (SURE) Program at the University of Houston connects students, local underresourced entrepreneurs, and experts from the Houston business community. Each student consultant is assigned three entrepreneurs from the Houston area and is tasked with helping to develop their business plans. During class, the students and entrepreneurs hear lectures from local experts, participate in discussions, and complete assignments that culminate in the development of business plans for each entrepreneur. As of 2022, the SURE Program has trained more than 400 students and launched or grown over 625 Houston-area businesses by educating more than 1,500 current and aspiring entrepreneurs, 77 percent of whom are Black or Latino.
University of Nebraska Omaha
College of Business Administration
The University of Nebraska at Omaha's (UNO) College of Business Administration Prep Academy is focused on increasing college access and interest in business careers. The Prep Academy provides the academic skills, exposure, and support for all students. Prep Academy camps are held during Omaha Public School spring breaks and in the summer, with a focus on college prep sessions, math skills, career exploration, networking opportunities, overnight dorm experiences, and more. The camps are free, and scholarships are awarded. This fall, UNO anticipates enrollment of the first Prep Academy alumni. Overall program goals are to bolster local and national workforce diversity and break generational cycles of poverty through accessible and equitable higher education opportunities. 
University of Notre Dame
Mendoza College of Business
Alpha Phi Alpha Fraternity Inc. and the University of Notre Dame Mendoza College of Business announced a partnership in October 2021 to support the professional advancement and leadership of African American men through graduate business education. As part of the partnership, Mendoza offers a designated fellowship program, waives application fees to its graduate programs, including the Notre Dame MBA, waives fees for the Graduate Record Examination and the Graduate Management Admission Test, provides test preparation programming, and grants early access to Mendoza Graduate Business Career Development coaching and alumni mentoring. Mendoza also provides coaching throughout the admissions process, which includes a sponsored visit to campus during the Solidarity Summit admissions recruitment event that is focused on elevating inclusive leadership.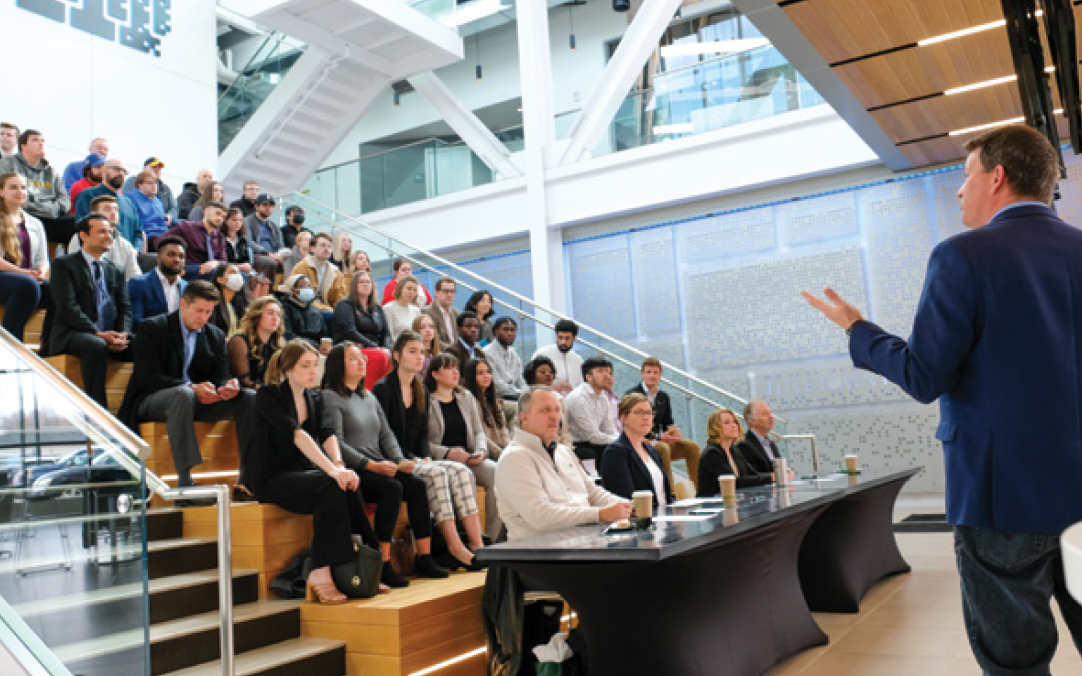 University of Wisconsin-Green Bay
Austin E. Cofrin School of Business
At the University of Wisconsin-Green Bay, a project known as Transcripts to Resumes within the strategic plan of the Austin E. Cofrin School of Business is designed to transition the educational process from a traditional focus on content (transcripts) to a modern focus on accumulated relevant experiences (resumes). Students are assigned a full-time advisor and faculty mentor. Other campus programming supports this initiative, including the Mentoring Project, which pairs first-generation college learners with working professionals, and the Charles Schwab Foundation Center for Financial Wellness, which educates students and the community about financial planning and well-being. 
University of Wisconsin-Madison
Wisconsin School of Business
The University of Wisconsin-Madison Wisconsin School of Business (WSB) has developed a 360 approach to DEI framework to support its goal of making business and business education more representative and equitable. Using the framework, WSB has incorporated DEI initiatives and activities into its curriculum, created pathway programs for underrepresented faculty and staff, designed a DEI advisory committee, launched the Multicultural Center, and developed affinity groups for students to foster community and participate in events. WSB's framework emphasizes the importance of inclusion in its course evaluations and co-curricular opportunities, ensuring that students can grow as leaders who value DEI. Activities include partnerships with corporations and institutions with shared goals, such as the Consortium for Graduate Study in Management, the Forté Foundation, and the PhD Project. 
University of Wisconsin Oshkosh
College of Business
The University of Wisconsin Oshkosh (UWO) College of Business Information Systems mentorship program is in its inaugural year. The program is designed to connect underrepresented students with those in the discipline who share similar traits or backgrounds. The Hmong community is the first focus of the program since it is prominent in UWO's region and a population of students that shows strong interest in the discipline. In addition, Hmong students struggle to land internships, and graduates receive inconsistent and disparate job offers. Participants will receive one-on-one support and gain networking opportunities. The program is expected to expand to other underrepresented communities and students going forward. Success will mean increases in reported self-efficacy, internship placements, and average pay of initial jobs postgraduation.
Virginia Polytechnic Institute and State University
Pamplin College of Business
The Office for Diversity, Equity, Inclusion, and Belonging within the Pamplin College of Business at Virginia Polytechnic Institute and State University (Virginia Tech) launched the Inspiring Possibilities Academy, a residential program designed to introduce underrepresented and underserved high school seniors to business careers. They also spearheaded the new Inspire Excellence Academy, a first-year student enrichment program to support underrepresented college students. Additionally, the office drives efforts to attract and recruit underrepresented and underserved undergraduates. Since hiring an assistant director for outreach, recruitment, and pre-collegiate programs, Pamplin has seen a 4 percent increase in underrepresented business students.●
This article was published in our April 2023 issue.