INSIGHT Into Diversity presents the 2023 Higher Education Excellence in Diversity (HEED) Award Field Guide with examples of strategies and best practices used by HEED Award-winning schools to foster an inclusive campus culture that promotes belonging and equal success opportunities. View the full list of 2023 recipients here.
---
The Bias Education and Support Team at Augustana College was recently restructured to include a broader representation of professionals from various campus departments and offices. With a focus on assistance, education, and guidance, the team strives to support members of the campus community who have been impacted by bias-related incidents utilizing a restorative practices approach.
In collaboration with the departments of counseling psychology, social psychology, and counseling, the Ball State University Graduate School established Wellness Communities as part of the Graduate Student Wellness Initiative. These affinity groups help students connect, support, and learn with peers who share their identities. The program launched last spring with groups for LGBTQ+ students and students with disabilities.
Last spring, the Office for Diversity, Equity, and Inclusive Engagement at Case Western Reserve University hosted its inaugural Envision Weekend — a three-day program designed to provide underrepresented, first-year students with opportunities to network, connect, and build community with other students while gaining tools and resources necessary to succeed in college.
Recognizing the need to close the retention and academic success gaps among its students, Clemson University has hired an associate director for retention initiatives to help expand resources and programs that advance student growth and success.
Drexel University and Peirce College are partnering to expand access for adult learners interested in advancing their education and to help prepare a more diverse talent pipeline for employers in the region. The first of these pilot programs is a Peirce-Drexel pathway program. Adult learners interested in online bachelor's degree programs at Drexel, but who have fewer than 24 college credits, can enroll first at Peirce to earn an online associate degree, with the option of embedding select industry-relevant certifications in the program. Credits earned for the associate degree will transfer to Drexel and can be applied toward select online bachelor's degrees.
East Carolina University's (ECU) Emerging Scholars Symposium is a four-day event for advanced students and recent graduates, including postdoctoral scholars. It aims to bolster ECU's faculty pipeline, focusing on those whose research aligns with the university's innovative mission and strategic plan. Emphasis is placed on promoting an inclusive environment and a culture of care, belonging, and opportunity for all faculty, staff, and learners.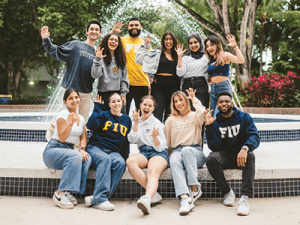 Florida International University (FIU) developed a mentorship program with Big Brothers Big Sisters of Miami to expand college pathways for at-risk high schoolers. Students in grades 10-12 from two local underresourced schools were paired with an FIU employee. Of the program's 21 graduates, 13 chose to attend FIU and were given a full scholarship plus funding for housing. Additionally, five students will transition to FIU after their first two years of community college.
The Transformative Generation Initiative at Indiana University Bloomington serves as an ecosystem that fosters the holistic development — academic, personal, and professional — of low-income African American students from Indianapolis and throughout Indiana. The initiative analyzes student academic and personal development needs as part of the effort and uses the data to produce individualized pathways that provide students with comprehensive resources, programs, and services during critical stages of their college journey. The program is administered through the Office of the Vice President for Diversity, Equity & Inclusion.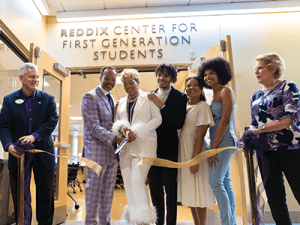 James Madison University, where approximately 12 percent of undergraduate students are first generation, created and launched the Reddix First Generation Center in the fall of 2022. The center serves as a resource hub to support these students along their academic journey and partners with programs across campus to provide even more direct support for historically underrepresented student populations.
The Office of Gender and Sexuality Resources at Johns Hopkins University won a 2023 internal grant to develop a Gender Affirming Closet (GAC) that offers free clothing for all genders and specialty items such as binders to Hopkins students, staff, and faculty members. The GAC held a community clothing drive to supplement its offerings and collected more than 700 items. The GAC was developed to provide support to students who come to Hopkins from unaffirming states and environments and to provide material support for students, staff, and faculty who need free clothing to match their gender identity. In July 2022, JHU expanded its trans-inclusive benefits, and JHU insurance covers a variety of gender-affirming care including voice therapy and gender-affirming facial procedures.
The Advancing Future Faculty Diversity Postdoctoral Scholars program at Lehigh University creates a professional opportunity for scholars with diverse backgrounds, experiences, and perspectives, including those historically underrepresented in the academy, to prepare for future tenure-track appointments. Following a successful postdoctoral experience, scholars can be considered for assistant professor positions at Lehigh and become an integral part of a campus community committed to inclusive excellence.
Metro State University has developed an equity scorecard by which the institution tracks its progress across key performance indicators for DEI strategies and goals, including student success, compositional diversity, employee recruitment and retention, supplier diversity, equity strategy, and campus climate. Development of the tool was made possible due to ongoing partnership and collaboration with the Institutional Effectiveness and Research office as well as with Minnesota State Colleges and Universities system partners.
Through the BRIDGES Undergraduate Research Program at Mississippi State University, the Division of Access, Diversity and Inclusion and the Division of Research creates educational access for scholars from underrepresented backgrounds to engage in the transformative, high-impact practice of undergraduate research. BRIDGES makes it possible for students to explore career directions, participate in real-world experiences, and assist with developing a strong personal connection with a faculty mentor.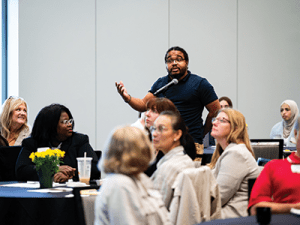 In 2021, Moraine Valley Community College created the Equity Academy to accelerate DEI initiatives, focusing on innovative professional development and action research. The academy offers all employees extensive access to DEI professional development through engaging sessions led by DEI experts. It also features a six-module Canvas course filled with educational content and assessments related to the session topics. Participants in the academy have undertaken research projects focusing on equity issues, such as evaluating outcome discrepancies in academic integrity processes and modernizing language in the library's catalog system.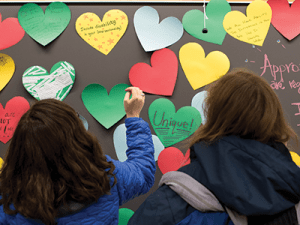 Mount Holyoke College (MHC) is working collectively to realize disability justice. Over the last year, the MHC community has grown in its understanding of and capacity to address systemic ableism through the 2023 Common Read, "Disability Visibility," a text written by people with disabilities and edited by disabled activist and writer Alice Wong, as well as MHC's annual Learning Symposium featuring a series of dynamic sessions on ableism planned by student Disability Service fellows. MHC also recruited Dr. Madeline L. Peters, a DEI practitioner with decades of experience and expertise, to serve as the new Director of Accessible Education and 504 Coordinator and trained its board of trustees in Ableism 101.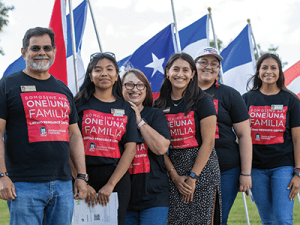 In fall 2023, 70 percent of Northern Illinois University's (NIU) new freshmen were students of color, and 57 percent were first-generation college students. This diversity was promoted by policies like test-free admissions, merit scholarships, the Rockford Promise Program, AIM HIGH Huskie Pledge, and a partnership with Hope Chicago. NIU also provides extensive support for first-generation students, such as the Breaking Barriers group, financial advising, academic resources, and a First-Year Success Series.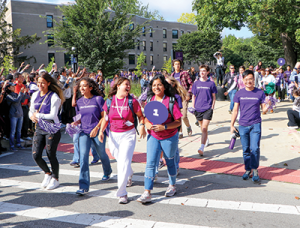 In 2023, Northwestern University's Office of Institutional Diversity and Inclusion, in collaboration with the Registrar's Office and Information Technology, spearheaded a significant update through the Gender Inclusive Initiatives task force. This update enables all students, faculty, and staff to specify their pronouns and preferred names in the university's official systems.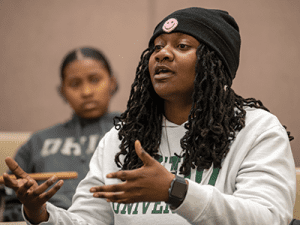 The Diversity Leadership Ambassador Program at Ohio University empowers students to use personal stories to spark discussions, promoting an inclusive campus. Student ambassadors partner with various university departments to raise awareness, nurture dialogue, and strengthen community ties. In addition to fostering inclusivity, the program strengthens leadership skills, enhances employability, and opens career avenues for participating students.
In the past two years, Oklahoma State University's (OSU) Division of Institutional Diversity and OSU Global hosted two French study abroad experiences for approximately a dozen underrepresented, underserved, and marginalized students. Approximately 75 percent of the students in each annual cohort were first-generation students. The program, hosted by the University of Limoges, included a three-hour OSU-accredited course. Multiple funding sources were available to enable low-income students to pursue this transformative experience.
The University of Oklahoma (OU) has created an Inclusion Council to explore policies and procedures to help improve recruitment, retention, and progression for students, faculty, and staff. Members provide feedback and insight into pending concerns or pressing issues that could impact the larger OU community and brainstorm new ways to decrease barriers and strengthen a sense of belonging. The council represents faculty and staff from academic colleges, administrative offices, and departments across the three OU campuses. Inclusion Council members are action-oriented champions of change who help keep communication flowing within their area of influence and with the Division of Diversity, Equity, and Inclusion.
At the Rochester Institute of Technology, collaboration between the Multicultural Center for Academic Success and the Academic Advisors office is a powerful, comprehensive partnership that promotes student access and success. By leveraging their unique expertise, insights, and resources, these teams create an inclusive and supportive environment that empowers multicultural students to thrive academically and achieve their goals.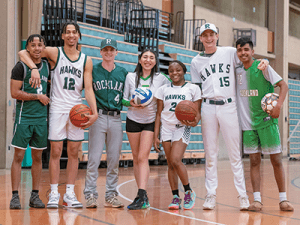 From 2021 to 2023, Rockland Community College's (RCC) Hispanic student retention increased from 61.4 percent to 67.3 percent. As a Hispanic-Serving Institution, RCC obtained three Title V grants since 2019: the first for a Guided Pathways model, the second for workforce development, and the third for Hispanic student support. These efforts have enhanced retention by addressing key service gaps.
Santa Clara University has partnered with The Posse Foundation, a nationwide college access and youth leadership development program, to offer educational opportunities to select students with diverse backgrounds from the Los Angeles area. Over a five-year period, 50 full-tuition scholarships will be awarded, with the first class of 10 students enrolling in fall 2024. SCU is the first Jesuit university to become a Posse partner and the third active university partner in California.
The Wurtele Center for Leadership and the Office for Equity and Inclusion at Smith College jointly manage the LEAD program, an initiative that enables student leaders to collaborate with peers in crafting proactive, equity-focused strategies to promote inclusion.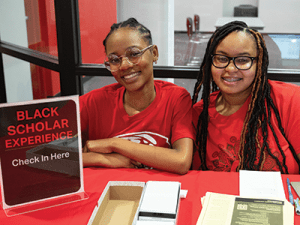 Southern Illinois University Edwardsville actively addresses equity disparities through initiatives like the Black Scholar Experience. This comprehensive program, specially designed for first-year African American students, fosters academic success and community belonging through focused advising and culturally relevant programming. In its debut year, the program played a significant role in boosting the retention of first-year African American students by 10 percentage points.
In spring 2023, Employee Services and the Office of Equity and Inclusion collaborated to develop a new employee pipeline program to encourage talented, recent graduates from State University of New York Oneonta to join the university as employees in various entry-level positions. The goal is to enhance the recruitment and retention of underrepresented staff and support student retention and persistence efforts. Six 2023 graduates now work in positions such as student activities assistant and academic success consultant and will receive mentor support as they transition from students to professionals.
A $56.6 million gift to Stony Brook University from the Simons Foundation helped bolster and improve the pathway to STEM careers for underrepresented students. The Simons STEM Scholars program is a merit-based award offer that covers the full cost of tuition, housing, meal plan, books, research, and study abroad. Upon completion of the undergraduate degree, the program will assist students seeking placement into a fully funded PhD or MD/PhD program.
Suffolk University offers a $3,500 Summer Career Development Stipend to full-time, first year undergraduate students and select transfer students. The funding covers opportunities like an unpaid internship, research with faculty, and volunteer service. The program ensures students won't miss out on professional development opportunities due to a lack of finances or ability to participate.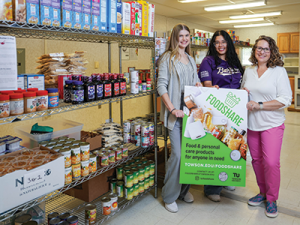 Towson University's Basic Needs Hub offers free food, clothing, and personal care items to students. Evolving from a simple food cabinet, the hub now includes Tiger Threads, offering new undergarments, chest binders, and donated clothing. Additional food lockers are placed throughout campus. Moreover, staff and students from the family studies and community development department assist with queries and help students apply for the Supplemental Nutrition Assistance Program (SNAP).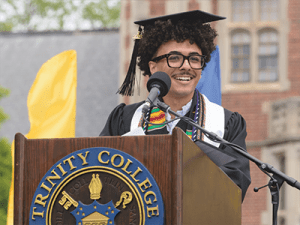 The Task Force on Campus Climate at Trinity College created an Action Plan for Racial Justice, which captured more than 250 actions identified by departments, programs, and groups to move the campus along the path to becoming a more racially and socially just community.
In May 2023, the University of North Carolina at Charlotte announced a historic partnership with Mebane Foundation, a nonprofit focused on literacy. The partnership created an endowment of up to $23 million to establish the Mebane Early Literacy Center, which will further strengthen the Cato College of Education as a national leader in teacher literacy innovation. The partnership aligns with the University's strategic plan, which calls for mobilizing resources to provide opportunities for K-12 students in the region and state.
Participants in the University of Alabama's BRIDGE program cultivate a strong community for undergraduate men of color, who learn to leverage campus resources for their success and form connections to support each other as students and friends.
In 2021, the University of California, Berkeley enhanced its enrollment management process to provide holistic student support from initial outreach to graduation, leading to significant gains in diverse undergraduate applicants. In 2022, 38 percent of applicants were underrepresented California residents, a 2 percent increase from 2021. In contrast, the entire University of California system saw only a 1 percent rise in diverse applicants during this time. The increased representation continued among 2023 first-year applicants.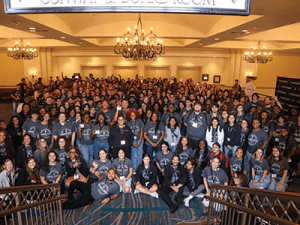 The University of Central Florida unveiled the Ginsburg Center for Inclusion and Community Engagement on July 1, 2022. The center aims to promote change, develop empathetic leaders, and boost individual potential. It houses the Office of Diversity Education and Training, the Office of Civil Discourse and Engagement, and the Department for Access and Academic Excellence. It serves UCF members, the Orlando community, and corporate partners.
A new scholarship fund at the University of Cincinnati (UC) supports education and career development for marginalized, low-income, and first-generation students while also helping to build connections with local business leaders. The Level Up Scholarship Fund was initiated in March of this year through the efforts of UC alumnus JeRod Lindsey and his connection with brothers, Mike and Jim Rodarte, co-founders of Level Up Cincinnati, a nonprofit focused on guiding marginalized students from high school to college and their careers. The scholarship has already benefited 10 students — five first-year and five third-year students. Over eight semesters, the fund provides financial support alongside personal and professional development, one-on-one coaching, and access to a professional launch network, enhancing students' transition from high school to college and into the professional world.
As of fall 2023, nearly 17 percent of students enrolled at the University of Kentucky (UK) are from underrepresented populations, an increase over last year. This continues an upward trend in underrepresented student enrollment that has produced more than 1,400 credentials earned by students of color in 2022-2023, a 251 percent increase since 2010-2011. In addition, nearly 19 percent of UK's first-year students are from underrepresented populations.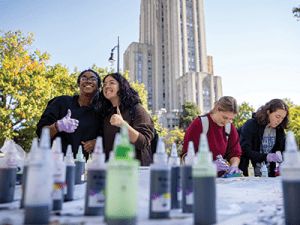 The University of Pittsburgh's "Race & Social Determinants of Equity, Health, and Well-being Initiative," often called the "Race & … Initiative," is a multidisciplinary project committed to addressing racial disparities in equity, health, and well-being at all levels. Its core missions are to attract and retain diverse teaching and research faculty, form interdisciplinary research groups to support faculty, and educate students who are keen on studying race and its effects on equity, health, and well-being.
Accessibility and disability support for students, faculty, staff, and alumni at Virginia Commonwealth University (VCU) have undergone huge changes. Since 2015, VCU's Monroe Park Campus has had a nearly 300 percent increase in students disclosing disabilities and a 900 percent increase in the number of students requesting accommodations each semester. VCU's disability and accessibility initiatives include the Web Accessibility Team which addresses digital accessibility and the Accessibility and Inclusion Working Group which advocates for people with disabilities.
At Virginia Tech, the First-Generation Student Support Office offers the Hokies First Peer Mentoring Program, in which student leaders serve as mentors for first-generation freshmen and sophomores. In addition, the First-Generation Student Boot Camp is a three-day residential program designed to help increase student diversity, promote empowerment, and help students develop a college and career path. A living-learning community for these students is also available, known as GenerationOne, which features a course celebrating the first-generation identity.
The Building a Community of Equity (BaCE) program is a strategic initiative at Washington State University Vancouver (WSU Vancouver) that provides learning enrichment workshops on practical and theoretical framings for equity, intercultural development, belonging, change agency, and love. The initiative has recently expanded to include the BaCE 12-hour certificate program, the BaCE Pedagogy Academy for faculty and staff, and the BaCE Enrichment Series for external groups and company representatives that seek to impact the workplace. BaCE facilitators represent an interdisciplinary core team of WSU Vancouver staff and faculty. Celebrating its five-year milestone in 2023, BaCE is administered by the Office of Equity and Diversity. Approximately 75 percent of WSU Vancouver employees have participated in the program.
The Student Parent Task Force at West Chester University of Pennsylvania collaborates with the Pennsylvania Parent Pathways program to enhance the recruitment and retention of pregnant and parenting students. Initiatives include identifying support resources, creating a listserv for nearly 500 parenting students, and hosting six community events. Students also have provided access to a 24/7 online resource.●
This article was published in our November/December 2023 issue.