The early 2000s was an exciting time for American business as information technology companies began to expand following the dot-com bubble.
Despite the promising growth in the business world, female enrollment in MBA programs was at only 30 percent in 2000, according to a study released that year by the University of Michigan and Catalyst, a global nonprofit research group that focuses on gender equality.
The study's findings sparked an effort between a dozen companies and higher education institutions in 2001 to form the Forté Foundation, a nonprofit organization designed to help women enter and succeed in graduate business school.
"The study was really looking at why more women weren't enrolled in MBA programs and why women weren't advancing in business the way they were in law and medicine," says Elissa Sangster, CEO and co-founder of Forté Foundation.
Nearly 20 years later, Forté Foundation has grown to include 54 MBA programs worldwide. The organization continues its mission to provide women with stepping stones to business education.
Forté provides connections to mentors, networking events, fellowships, leadership training, conferences, career programs, and Graduate Management Admissions Test (GMAT) preparation. The foundation also connects women to corporate boards to help them find         C-suite employment opportunities.
The foundation's efforts have made a difference. Since 2001, female enrollment at Forté partner business schools has increased from 28 to 38 percent. Nearly 8,000 women have earned a total of $180 million in scholarships through Forté since 2003.
Sangster says she hears the most success stories coming from the Forté Fellowship and the MBALaunch program, which includes 10 months of access to a supportive networking system and GMAT preparation.
The financial and networking support offered through these programs is key for women to pursue an MBA, she adds.
The fellowship provides grants to qualifying full-time MBA students. Fellows also gain access to the foundation's online networking group and inclusion in an annual résumé book distributed to partner companies, among other benefits.
MBALaunch helped advance career potential for Akilah Ffriend, director of strategies and operations for Viacom Digital Studios. Ffriend graduated from MBALaunch in 2017 and completed her MBA at Columbia Business School earlier this year. Viacom Digital Studios is a startup company within Viacom that creates a digital landscape for major brands, including MTV.
A few years ago, when she started thinking seriously about attending graduate business school, Ffriend knew she could benefit from programs that would help navigate the MBA process.
"I am a first-generation American and first-generation college student, so I didn't really have much guidance for what it really takes to apply to and [graduate]. I wanted a program that would really help me navigate through that world," Ffriend says.
Advantages such as an online portal that connects applicants to business school admissions staff and discounted GMAT preparation books made the difference in her experience, Ffriend says. The program also connected her to peer groups in her area. "That peer group oftentimes becomes great friends. Three of us who were in that five-person group ended up attending Columbia," she adds.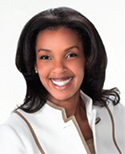 Erika James, PhD, is the dean of the Goizueta Business School at Emory University and a Forté member. She says the foundation has helped increase the number of women graduating with their MBAs.
James was introduced to Forté over a decade ago when she was a faculty member at the University of Virginia's Darden Business School.
"I recall vividly how the classroom dynamics were adversely affected by skewed representation of men and women, and I felt that neither group was able to fully benefit from the learning opportunities," James says. "This was particularly true in the case of discussion-based MBA programs where the student experience played a significant role in the learning outcomes."
For eight years, James has facilitated Forté workshops on learning the intricacies of class participation and developing a voice in the classroom. James says her experience with the workshops has helped her understand incoming MBA students and how she could encourage them.
"Having insight into their strengths, experiences, and concerns foreshadowed what I could expect in the MBA classroom and how I could prepare my classes to capitalize on and showcase the expertise and capability of these women," James says.
In 2018, Goizueta had the highest percentage of women faculty among the top 25 business schools, according to business school news site Poets and Quants. Over the past five years, half of their faculty hires have been female, according to James.
"This doesn't happen by accident, and I am grateful for our partnership with Forté, which continues to beat the drum for women in business," James says.
Without Forté, Ffriend says she's not sure how her business career would have developed.
"Who knows if my goals would've been clearly outlined or if it would've taken more time to get there?" she says. "Within my school setting, I was able to emerge as a point person because I was so clear about what it was that I wanted to do, and I think Forté really helped that."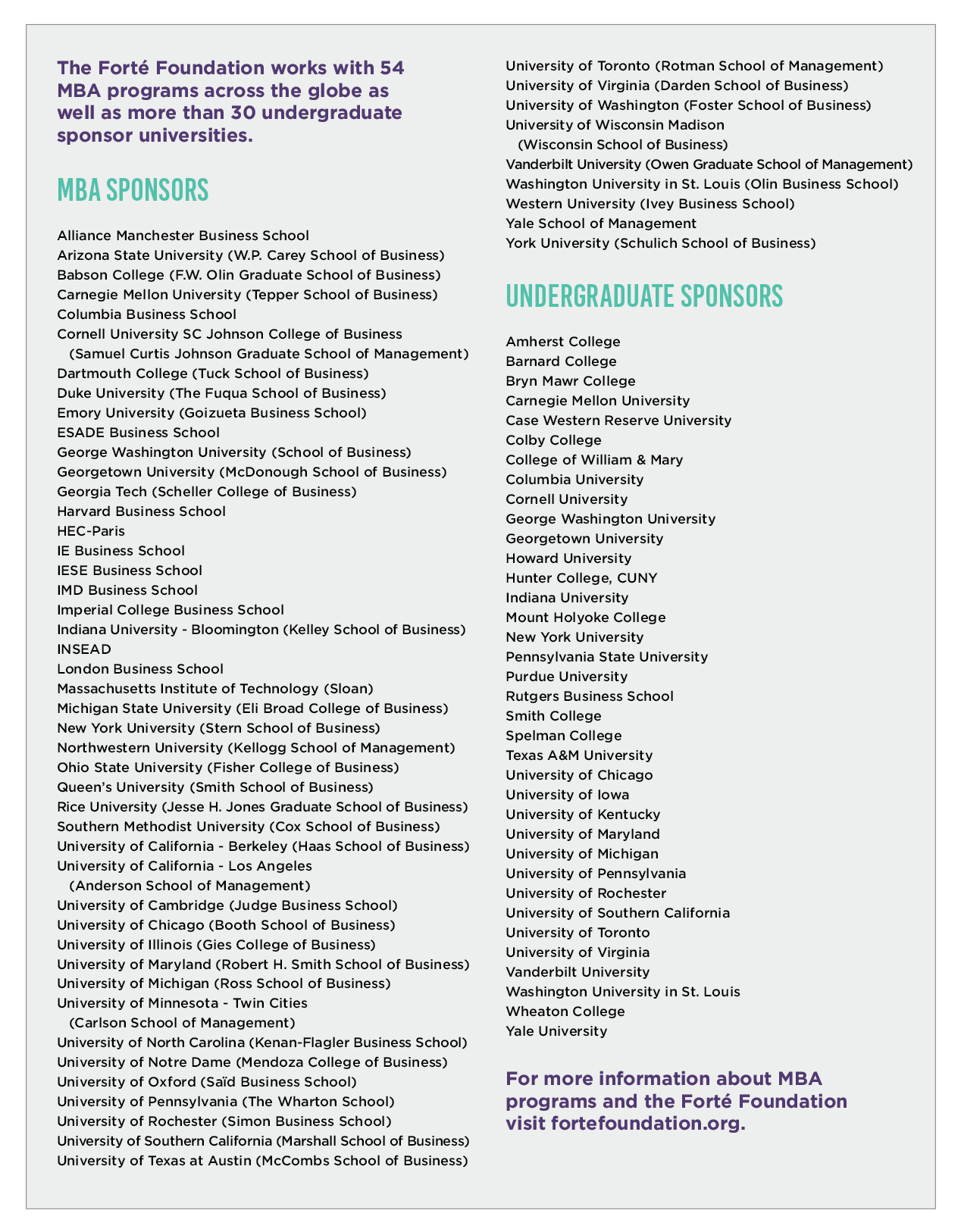 Mariah Stewart is a staff writer for INSIGHT Into Diversity. This article ran in the October 2019 issue.