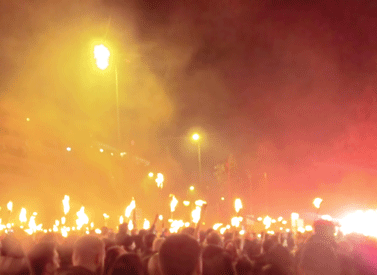 Now is the time to mobilize higher education to do what we do best and employ critical analysis, creative expression, and fundamental discovery to confront extremism as an object of inquiry, a vehicle for teaching and learning, and a focal point of service to the community and to our students.
At University of California, Irvine (UCI), our response to recent extremist incidents was similar to that of other college campuses and universities across the country: We made public statements decrying violence, we called for civility, and we offered counseling services for our campus community.
Although these responses were appropriate, they were not enough. After the public display of racism and violent extremism associated with the "Unite the Right" rally in Charlottesville, Virginia, in 2017, we realized that a new approach was needed. It is one thing for a student organization to sponsor a visitor who makes offensive — though constitutionally protected.— statements; it is quite another to tolerate the threat of retaliation for striving to build and sustain an inclusive campus community.
Two years and a month after the racist extremism in Charlottesville, UCI launched the Confronting Extremism initiative.
The purpose of the initiative was to channel our research, teaching, and service mission to better understand extremism and to use these insights to inform how to respond as individuals and as a community.
The initiative has served as a forum to engage with difficult extremist topics. It offered faculty, students, staff, and the community an opportunity to participate through three pillars: research, public programming, and collaboration with community partners. We learned some things over the past two-year journey that I share to encourage other universities to join this effort.
We learned how to activate our mission to understand some of the most difficult topics and situations that we face as a society. We also found that a broad range of research and scholarship is required for understanding extremism. The three pillars yielded projects and programming that addressed the rejection of expertise and the denial of our common humanity while it augmented critical thinking.
These projects supported the development of online courses that equip students with the skills they need to navigate the digital toolkit of the "alt-right" and to explore the philosophical foundations of skepticism. Still others tested interventions to promote civic engagement among students and piloted partnerships with area high schools to enhance their capacity for empathy.
We also uncovered a tremendous capacity for community partnerships. Public programing offered an avenue for the campus community to understand how bias, bigotry, and prejudice affect families, communities, workplaces, and religious organizations. Rather than emphasize the standard co-existence of town and gown, community events build bridges based on common concerns and shared values in equity, diversity, and inclusion.
I will be the first to admit that we have not solved extremism. As Rev. Jesse Jackson Jr. forecast, at a UCI campus event, Charlottesville was not an exception, but "a defining moment for America."
Mass shootings — many motivated by White nationalism, White supremacy, and White power among other extremist ideologies — have affected far too many communities over the past two years. The venues may differ, but the carnage and trauma are all too familiar: a shopping center in El Paso, Texas; an entertainment district in Dayton, Ohio; a food festival in Gilroy, California; and synagogues in Poway, California, and Pittsburgh, Pennsylvania. These horrific incidents capture only a small fraction of crimes against people and property, acts of intimidation, and the proliferation of online efforts to promote these ideologies and to recruit and mobilize individuals to use terror.
Even as mass shootings and other acts of hate continued, our campus leaned in as part of our core institutional mission. By engaging the academic enterprise, this initiative has promoted a greater sense of resilience and made steps toward aspirations of inclusive excellence.
It is for these reasons that the program has evolved into a dedicated campus resource, as this imperative has only grown more pressing over time. The Confronting Extremism program aims to fortify our resilience as a campus community while advancing our commitment to inclusive excellence in three broad areas, including the following: 
● Understanding extremism — harness our research and teaching mission through funded research activity, course development, and community engagement
● Tools for Change — an online catalog of recorded lectures and presentations as well as on-demand courses
● Research updates and news — scheduled updates on faculty research and aggregated reports from a range of news sources
This academic year will include a host of programs and events, including a call for proposals on understanding domestic terrorism, a conversational debate with The New York Times columnists Michelle Goldberg and Bret Stephens on the relationship of anti-Semitism to anti-Zionism, and Confronting Extremism presentations by faculty researchers.
Each day thousands of faculty, students, and staff come to UCI with the aspiration of creating and sustaining a campus community where all expect equity, support diversity, practice inclusion, and honor free speech. My aspiration is that our campus principles of inclusive excellence can provide a source of resilience and affirmation.
Hyperpolarized politics, misinformation campaigns, and voter suppression undermine confidence in our democratic processes. The sheer scale and scope of extremism has spurred a demand for understanding this phenomenon and arming people to respond without succumbing to fear or violence or our democratic values, and with respecting our civic institutions and our diverse society.
The spectacle of hate crimes has increased concerns of personal security and community vulnerability. At the same time, the scale and scope of extremism poses a threat to our civic institutions, our democratic values, and our multicultural society.
What I have learned is that it is not enough to expect equity individually without defending it for others. It is not enough to support diversity without understanding and engaging with our diverse communities. It is not enough to practice inclusion if others are excluded. It is not enough to defend free speech without using it to advance inclusion for all people. We encourage other academic institutions to join us in activating our collective power of teaching and inquiry to confront extremism.
To learn more about UCI's Confronting Extremism initiative, visit inclusion.uci.edu/confronting-extremism.
Douglas M. Haynes, PhD, is the vice chancellor for equity, diversity, and inclusion at the University of California, Irvine. This article ran in the November 2019 issue.