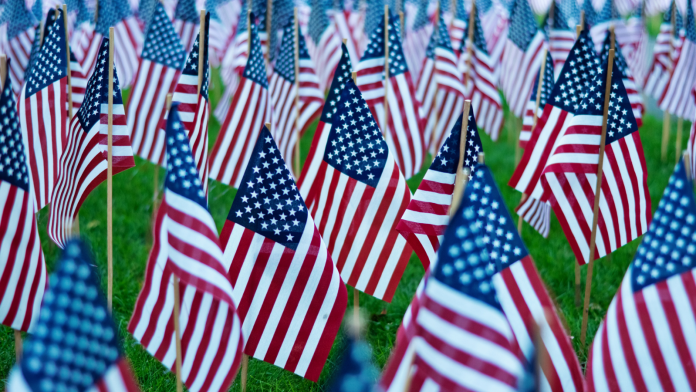 During the 20th anniversary of the September 11 attacks, a student at Washington University in St. Louis (WashU) was captured in a viral video removing nearly 3,000 American flags from a 9/11 tribute on campus.
On September 10, members of the College Republican organization placed the 2,977 flags on Mudd Field, the university's grassy common area, to memorialize the lives lost in the 2001 terror attack.
In the viral video, student Fadel Alkilani is confronted by a peer about removing the flags. Alkilani allegedly fled the scene before campus police arrived.
"The removal of the flags impeded the ability of individuals to commemorate the lives lost on 9/11 and to process the trauma of that day," WashU Chancellor Andrew Martin remarked on the incident. He also announced the school would follow standard protocols toward investigating the incident.
"As we move forward, we will also ensure that the student involved has access to campus resources that are regularly available to students as he navigates the consequences of his actions, both on campus and beyond," Martin said.
In a social media post, Alkilani claims he "had no intention of removing the flags from the Mudd Field area." Instead, he alleged he was attempting to highlight the toll that 9/11 and its aftermath has had on human lives.
"[M]y full protest did not have the chance to be actualized," Alkilani stated. "My planned protest was to place the bags of flags on Mudd Field, along with various statistics explaining the human cost of 9/11 in the past 20 years."
Since the incident, critics of Alkilani's actions have been vocal on Twitter, demanding that he be expelled from the school.