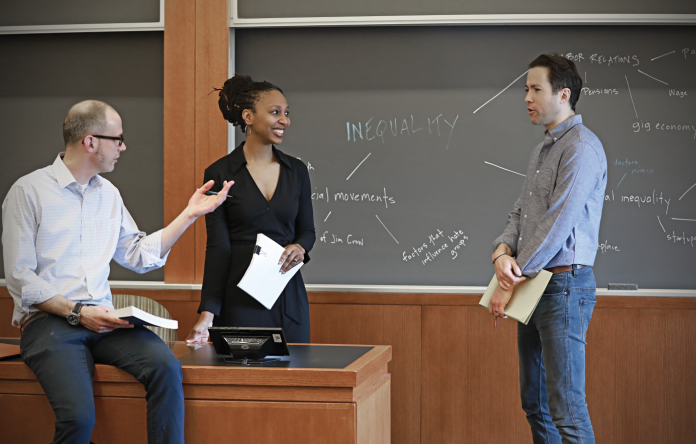 As a field dedicated to understanding human differences.— and how we treat others based on those differences.— sociology is a crucial academic discipline for comprehending the history of racism. As in all disciplines, however, cultivating diversity in sociology faculty is imperative if the field is to accurately represent the societies that it studies.
The Department of Sociology at Washington University in St. Louis (WashU) is one example of diverse faculty coming together to implement real, visible change. Formed in 2015, it is one of the most racially diverse in the country, with nearly half of its full-time faculty members identifying as people of color. This level of diversity is due to the intentional and collaborative efforts of departmental and university leadership, especially that of Adia Harvey Wingfield, PhD, the department's associate dean for faculty development and the Mary Tileston Hemenway Professor of Arts & Sciences.
To understand how WashU was able to establish a DEI-centered department from the ground up, it is important to understand the history of sociology at the university. Noted professor Roger Baldwin, who later founded the American Civil Liberties Union, began teaching the first sociology classes at WashU in 1906. The department developed a prestigious reputation in the early twentieth century as it appointed more preeminent scholars in the field, including two professors who went on to serve as presidents for the American Sociological Association. However, the department's ascent to eminence hit a blockade when conflicts between faculty and university administrators arose in the late 1960s, eventually leading to a number of professors taking their leave. It eventually fell into decline and was disbanded in 1991.
It was not until 2014 that WashU announced it would rebuild with a new focus on diversity to reflect the demographics of St. Louis, which at the time had a population that was more than 50 percent people of color. In addition, the area had just been the site of massive Black Lives Matter protests following the police shooting of Black teenager Michael Brown in the nearby city of Ferguson. The outcry in response to Brown's murder was still fresh on the minds of university leaders.
"I think that underscored for the university that it was really a critical lack to not have a sociology department of people who could think about the societal implications of what happened," Wingfield, who is Black, says of the shooting and its aftermath.
WashU brought on Wingfield and two other founding faculty members, both of whom were White men, to oversee the department's formation. During her first year, Wingfield set out to ensure future appointments would include more people of color. Fortunately, she says, her colleagues were just as eager about meeting this goal as she was.
This support from White colleagues was critical to the success of the department's diversification efforts, according to Wingfield, who published a book in 2019 titled Flatlining: Race, Work, and Health Care in the New Economy that examined "racial outsourcing," or the practice of organizations placing the sole burden of DEI efforts on racially underrepresented employees.
Racial outsourcing usually occurs when organizations claim they want to diversify but do not commit the resources to make that a reality, Wingfield explains. WashU, however, supported the sociology department's DEI goals by providing tenure funding, competitive retention packages, and other financial resources to attract highly qualified faculty of color.
In addition, the department chose to post open positions outside of typical advertisement avenues that would most likely result in predominantly White applicants. Instead, Wingfield and her colleagues took a proactive approach and contacted candidates of color directly to encourage them to apply. They also reached out to professional associations and organizations that have large numbers of racially and ethnically underrepresented members.
Although these methods resulted in plenty of candidates, convincing people to join such a young department was a challenge.
"We have done a lot of work to highlight for people how not having a long history is actually an opportunity in a lot of ways to not be bound by many of the constraints that a long historical precedent can offer," Wingfield says. She also emphasized to new hires that each of them would have an integral role in shaping the new department. Establishing this culture of collaboration has proven crucial to not only bringing on new faculty but retaining them as well.
"One of the things that we've also been really intentional about is making sure that we are a department that's collegial, where everyone's voice is welcome, and where everybody has an opportunity to be part of department functions and decisions," says Wingfield.
When every person is able to weigh in when it comes to decision making, faculty of color are more likely to feel seen and represented, she explains.
The department has also prioritized inclusive course content, research, seminars, and other events that focus on the experiences of people of color and further amplify their voices. In addition, it offers a variety of classes dedicated to social justice issues, such as "The Roots of Ferguson," which examines the relationship between race and the criminal justice system in the U.S. Wingfield and her colleagues work to ensure that the work of notable sociologists of color, such as W.E.B. DuBois and Anna Julia Cooper, are included in the curricula.
Through these various efforts, WashU's sociology department has been able to hire a new faculty member of color every year since it began rebuilding six years ago.
Sociologists at other schools, including the University of Massachusetts at Amherst and the University of Toronto, have taken notice. Employees at these institutions have contacted Wingfield and her colleagues to learn more about their success.
When responding to such inquiries, Wingfield emphasizes how crucial it is to have the support of university leaders and one's own colleagues. She also highlights the importance of institutional culture and the DEI messages that are conveyed in classes, research, and extracurricular activities.
By deliberately including content that touches on important racial issues in all facets of a department's curricula, leaders can promote being "color-conscious" as opposed to being colorblind.
Wingfield says she hopes to see more universities and colleges prioritize racial issues and diversity in their sociology departments.
"If we don't have departments, universities, organizations, and workspaces that reflect [diversity]," she says, "then we aren't really equipped to serve the communities that we engage very effectively."●
Lisa O'Malley is the assistant editor of INSIGHT Into Diversity.
This article was published in our June 2021 issue.