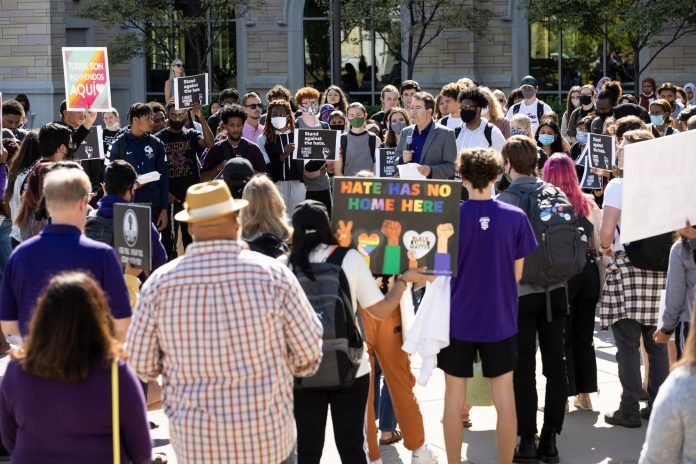 Nearly 200 University of St. Thomas (UST) students, faculty, and staff gathered on campus September 28 to rally against racism and White supremacy, with many of them holding signs that read "Stand against the hate." Several of the university's multicultural student organizations assembled the peaceful rally at the Monahan Plaza outside of the Anderson Student Center after more than two dozen posters and stickers referencing Patriot Front, a White nationalist hate group, were found on the St. Paul, Minnesota, campus the day before.
"This group has been known to engage in racist acts across the nation and here in our broader Minnesota community," a university news release stated. "We understand these acts are hurtful and are intended to instill fear and division."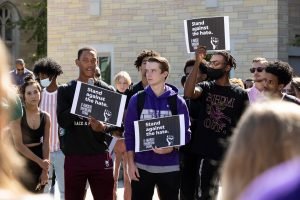 The student organizers invited numerous speakers, including alumni, other students, UST President Julie Sullivan, and campus diversity leaders, all of whom urged students to support each other and bring about change through accountability. Yohuru Williams, founding director of the university's Racial Justice Initiative, said the rally was important to reclaim the space that had been tainted by hateful messages.
"We write the end of this story. It begins today, it ends when you graduate. You are seeds, but you will be seeds of humanity. You will be seeds of justice. You will be seeds of change," Williams, who is also a distinguished university chair and history professor, said at the rally. "A cold front blew through here the other day with a message of hate, but the warm front's here now, and it's a message of change." 
At the time of the rally, the White supremacist imagery had been removed and UST's Diversity Action Response Team, Public Safety, and the St. Paul police had launched an investigation into the incident.●
This article was published in our November 2021 issue.