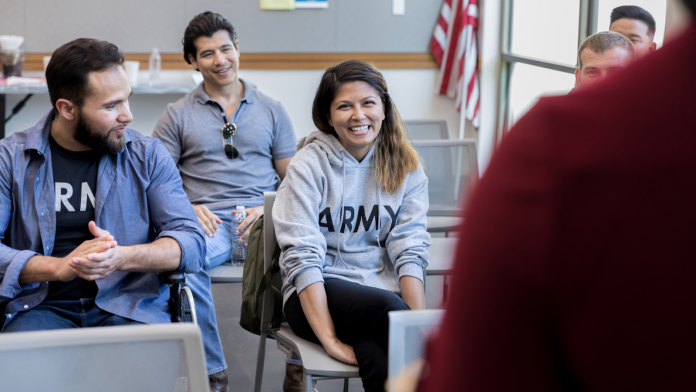 In June, the University of San Diego (USD) announced that it is expanding its Yellow Ribbon Program to provide more financial support to military-affiliated students, essentially eliminating tuition for service members and their spouses. 
Through the program, a provision of the Post-9/11 Veterans Educational Assistance Act of 2008, USD contributes up to 50 percent of the cost of tuition and fees that are unmet by the Post-9/11 GI Bill. The U.S. Department of Veterans Affairs (VA) matches the other half. Until now, funds were available only to student veterans and capped for undergraduate, graduate, doctoral, and law students. In the fall, the program will expand to include active-duty service members and military spouses, and all caps will be lifted. 
"We are committed to serving our military-connected students in ways that empower them to stay on the leading edge of learning and to uncover new and innovative ways to contribute to positive changes as they pursue their education and careers," Nelson Chase, director of USD's Military and Veterans Program, said in a press release.
Eligible students will not need to apply for the funding as it will already be considered in their financial aid calculations. 
"This additional investment in the Yellow Ribbon Program deepens our commitment to our active-duty military, veterans, and other military-connected students," Charlotte Johnson, vice president for student affairs, said in a press release. "USD honors the sacrifice of these students and their families and I am so pleased we are able to support their education in this way."
There are approximately 800 military-connected students enrolled at USD, which accounts for nearly 9 percent of the university's total student population, including undergraduate, graduate, paralegal, and law students. 
In addition to the Yellow Ribbon Program, USD supports military-affiliated students through its robust Military and Veterans Program, an on-campus center that provides networking opportunities and comprehensive information about VA benefits.●
This article was published in our July/August 2022 issue.