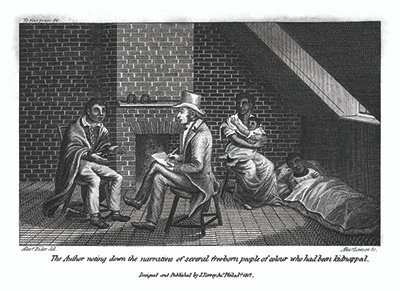 The University of Nebraska-Lincoln (UNL) recently published an interactive online database that features records from over 500 court cases involving American enslaved persons who filed "freedom suits" — lawsuits in pursuit of freedom.
The project, called "O Say Can You See: Early Washington, D.C., Law & Family," was produced by the Center for Digital Research in the Humanities (CDRH) at UNL. It can be found at earlywashingtondc.org.
[Above: An illustration by Alexander Rider of Jesse Torrey, author of A Portraiture of Domestic Slavery (1817), listening to the stories of free people who had been kidnapped into slavery (via "O Say Can You See: Early Washington, D.C., Law & Family")]
The database "documents the challenge to slavery and the quest for freedom in early Washington, D.C., by collecting, digitizing, making accessible, and analyzing freedom suits filed between 1800 and 1862, as well as tracing the multigenerational family networks they reveal," according to the website. Freedom suits were an important legal challenge to slavery and slaveholders and were common across both the North and South.
Viewers can download family guides that track freedom suits in multiple jurisdictions and use an interactive map to explore the early neighborhoods of Washington, D.C.
Users can also learn about key figures of the past, such as Ann Williams, who survived a fall from a three-story tavern in an attempt to escape a slaveholder who wanted to sell her to the South during her lengthy trial. Attorney Francis Scott Key — author of the poem that would later be used as lyrics for the national anthem — represented Williams.
The CDRH works with Minority-Serving Institutions to advance Digital Ethnic Studies by holding forums, offering internships for recent graduates, and seeking funding to offer workshops for faculty, according to UNL's website.
Mariah Stewart is a staff writer for INSIGHT Into Diversity. This article ran in the October 2019 issue.