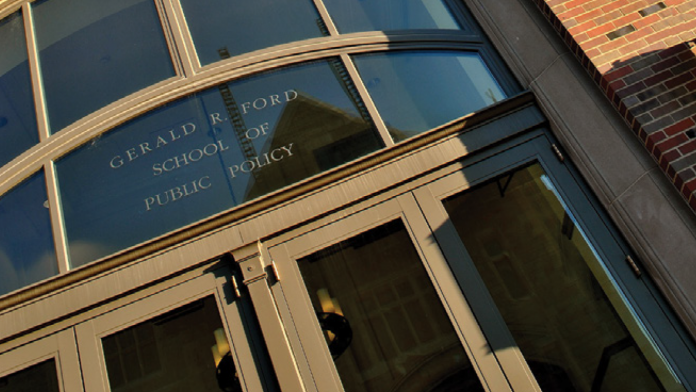 Education and community engagement are perhaps the most crucial keys to addressing the issues of systemic racism and social injustice within the world of public policy. Recognizing this, the University of Michigan Gerald R. Ford School of Public Policy (Ford School) has created numerous programs and initiatives with the goals of teaching its students about the realities of racial injustice, communicating effectively across cultural and ideological differences, and using their voices to affect societal change. Most notably, the school launched the Center for Racial Justice in September 2021, which aims to address inequities through events focusing on activism and racism in public policy and by hosting a fellowship program. 
"We are thinking about social justice more broadly," Celeste Watkins-Hayes, associate dean for academic affairs at the Ford School and founding director of the center, told The Michigan Daily. "We're thinking about gender and sexuality and religion and class and immigration status because we know that none of us are one thing, and systems don't operate on just one dimension of inequity."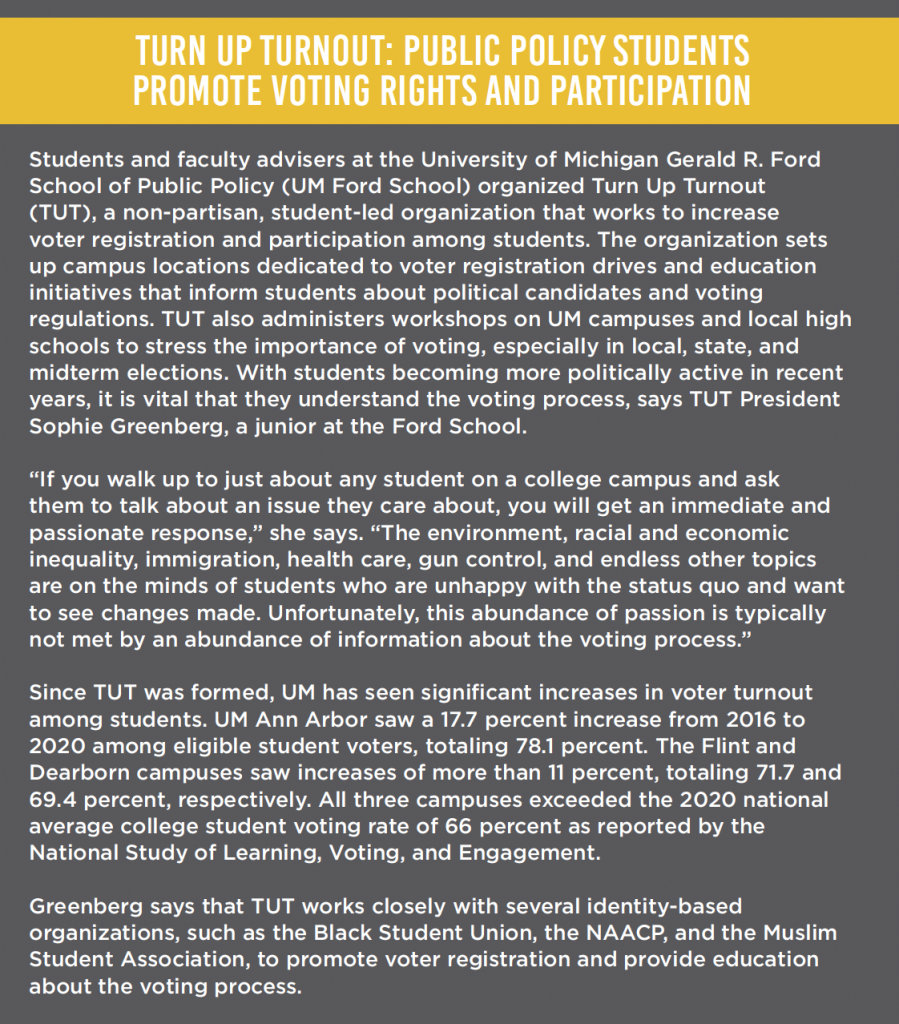 The Center for Racial Justice hopes to attract visiting fellows from various disciplines to produce "catalyst projects" focused on racial justice and equity that influence scholarly research, public debate, and policy. Events hosted by the center have included the Masterclass in Activism series, in which Watkins-Hayes speaks with notable activists and policy influencers, and the Racial Foundations of Public Policy series, which examines the historical impacts of race on social policy.  
Student engagement is key to the center, as is evident through the creation of a student advisory board and the racial justice student initiative and policy research funds. The advisory board includes undergraduates and graduates who design racial justice programming for Ford students, including a Race and Public Policy Student Conference planned for fall 2022. The funding initiatives, the latter of which is geared toward advanced master's and PhD students, provide financial support to student-led racial justice advocacy, policy engagement, and research projects. 
In October 2020, the school launched its Public Policy and Institutional Discrimination series, which features in-depth discussion sessions focused on various policy issues tied to institutional racism and discrimination and ways to break down social barriers. Recent sessions include those on economic empowerment of underrepresented communities, immigration reform, environmental justice, prison reform, and more. 
Bill Bynum, a visiting faculty member at the Ford School and chief executive officer of the Hope Enterprise Corporation, a nonprofit credit union that serves Black communities, hosted a session in January 2022 on economic empowerment. He highlighted the important role that colleges can play in closing the racial wealth gap by working with minority-owned businesses, investing in local infrastructure, and providing financial advice to economically disadvantaged communities. The hope is that students and faculty will internalize the messages from the session and others in the series and work to better incorporate racial equity into public policy, says Stephanie Sanders, PhD, a lecturer and diversity, equity, and inclusion officer at the Ford School. 
"This series is designed to foster dialogue that contributes to a deeper understanding of the ways in which discrimination manifests itself within institutions," she says. 
The school has also established the Conversations Across Differences initiative, which includes an event series, co-curricular programming, and curriculum and leadership development. The series invites notable speakers in the realm of public policy to bridge cultural and political differences through constructive debate on local, national, and global policy issues. The co-curricular programming and leadership development elements of the initiative are meant to build teamwork, critical thinking, and communication skills through debate, trust building, and problem solving across numerous differences through discussions and various exercises. The goal of the series is to ensure that Ford School students, who will go on to be leaders in public policy, can effectively craft inclusive policies and laws with people who come from a wide range of backgrounds and have differing viewpoints, especially during a time of extreme political division.
"We foster a generous sense of belonging among our students in the classroom and in our community more broadly," the Ford School's website states, "working to create an inclusive, accepting environment in which students can navigate and learn through issues of disagreement and painful topics."●
Erik Cliburn is a senior staff writer for INSIGHT Into Diversity.
This article was published in our March 2022 issue.