Diversity Champions exemplify an unyielding commitment to diversity and inclusion throughout their campus communities, across academic programs, and at the highest administrative levels. INSIGHT Into Diversity selected institutions that rank in the top tier of Higher Education Excellence in Diversity (HEED) Award recipients.
In July 2020, University of Louisville (UofL) announced that it was undertaking an ambitious goal: to become a premier anti-racist metropolitan research university.
Now, nearly a year-and-a-half later, the school has made amazing strides in advancing its Cardinal Anti-Racism Agenda. It has developed multiple initiatives, new staff roles, and other efforts dedicated to diversity, equity, and inclusion (DEI). These new endeavors build upon existing programs and offerings that have long supported the diverse campus community and surrounding city of Louisville, Kentucky. 
The university's dedication to DEI is shared by the entire UofL community, including its law and medical campuses. This collective vision allows for collaboration, mutual support, and building ever-greater goals in the quest to provide a truly equitable higher education environment.  
Anti-Racist Medical

 

School Curriculum
In March 2020, Breonna Taylor was killed by police officers in her home in Louisville just miles from the UofL campus. Her murder, along with those of George Floyd and other Black Americans, spurred the UofL School of Medicine (ULSOM) community to action. Hundreds of physicians and students participated in a White Coats for Black Lives rally and other demonstrations. School leadership formed an anti-racism task force to determine how the medical college could take a proactive, leading role in combating racial injustice.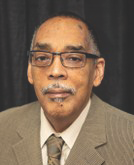 One of the task force's decisions was the creation of a director position to oversee the dissemination of an anti-racist curriculum and other efforts aimed at "undoing race-based medicine," according to a February 2021 press release. John Chenault, PhD, a longtime UofL faculty member, was chosen for the role as the ULSOM Office of Undergraduate Medical Education's (UME) director of anti-racism initiatives.  
Introducing these efforts to aspiring physicians and faculty is crucial to not only combating health disparities but to combating the existence of racism itself, Chenault says. As a former medical librarian in the UofL Kornhauser Health Sciences Library and faculty member in the UofL Pan African Studies department, Chenault is an expert on the history of discrimination against African Americans under the guise of medical science. Understanding this legacy and being acutely aware of the longstanding biases in health care should be central to physician education, he says. 
"Our approach is one that emphasizes a historical perspective and competency," explains Chenault, "because if you do not understand medical history, then you cannot understand the current problems with health disparities and why some people have better health outcomes than others."
Since assuming his role in February 2021, Chenault and the UME have focused on integrating this content into the school's curriculum and adding course sessions dedicated to anti-racism. They have also audited existing course content for evidence of systemic racism. Chenault evaluates lecture materials, problem-based learning, standardized patient cases, and more for problematic language or other issues. 
"We encourage faculty to remove those problem items and find alternatives," he says. "We just make suggestions about how to go about doing that in terms of providing guidelines for the use of language [and similar issues] and what to look for."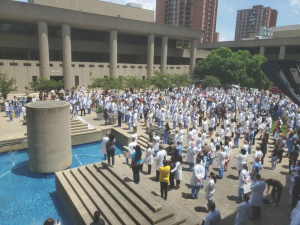 Chenault notes that ULSOM's objective is to address curricular content, not to scrutinize faculty members or question their motives. The goal is to create an atmosphere of mutual support as the entire campus community becomes leaders in the fight against racism and health disparities. 
"We have emphasized the fact that in moving from race-based medicine to post-racial medicine, we're entering a brand-new territory because the entire history of medicine has been based on race," Chenault says. "There will be errors in this process, and we recognize there will be roadblocks, but we intend [to use them] as opportunities for growth and improvement."
The university's progressiveness in this area has garnered the attention of others in higher education and health care. As governing bodies and major organizations such as the National Institutes of Health have issued statements of solidarity and calls for action, many groups have begun reaching out to ULSOM for guidance, according to Chenault. 
UofL Law School's Central High School Partnership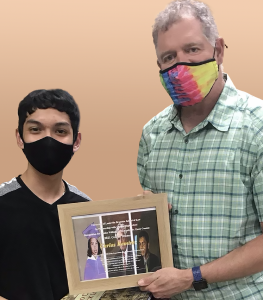 In its two decades of existence, the Central High School Partnership with the UofL Louis D. Brandeis School of Law (Brandeis Law) has provided rigorous legal education to hundreds of underserved youths. 
Through the partnership, Brandeis Law students visit the school several times each week to teach special courses for sophomores, juniors, and seniors in the Central Law and Government Magnet Program. The high schoolers spend three years learning about complex legal issues ranging from juvenile justice to workplace rights to civil liberties, all before enrolling in college. 
Program alums have gone on to become attorneys, earn PhDs, and enter careers in public service. Almost all have "outperformed predictors" for students attending urban, low-income high schools, says partnership co-founder Laura Rothstein, JD, a professor and distinguished scholar at Brandeis Law. 

"My goal when we started the program was never that [the students] all become lawyers — it was that they all become active citizens," says Rothstein, who oversees the program with Central High teacher Joe Gutmann. "I really believe that's become true. They care about voting, they are aware of civic matters, and they get involved."
The program includes special campus visits, an essay contest, and three courses for the law and government magnet program. 
Street Law, for Central High's sophomores, is based on a national curriculum that teaches teenagers about legal issues, such as immigration law, that affect their lives and communities. Juniors in the program take a Writing Skills and Mentorship course that focuses on developing writing, vocabulary, and other competencies. The Marshall-Brennan Civil Liberties course, for seniors, focuses on constitutional literacy and legal rights. 
The law students who teach these courses earn public service hours or academic credit; the greatest reward, however, is the experience itself. "I do an end-of-year survey of [participants] and so many of them say this program was the best thing they did in law school," Rothstein says. "It's an eye-opening experience. They go into an urban school and see the world through the eyes of these students." 
Most of the Brandeis Law students who participate in the program are White and do not come from economically or educationally disadvantaged backgrounds, according to Rothstein. By comparison, Central High School is primarily non-White and low-income. The opportunity to serve the community while learning diverse perspectives is invaluable, she says. 
Counseling Center's Race-Based Trauma Therapy
The UofL Counseling Center staff are a diverse group of mental health professionals who offer a wide array of support services for student and employee well-being. In summer 2021, they added race-based trauma therapy to their areas of expertise. 
The decision to have every staff member trained in this innovative form of mental health support is indicative of the center's dedication to meeting the unique needs of each member of the multicultural UofL community, says Aesha L. Uqdah, PsyD, the center's director and UofL's assistant vice president for student affairs and student well-being. 
"There's a fairly diverse student body here, and they deserve to have people who are trained to help them with whatever they might be going through," Uqdah says. 
The center employs practitioners who represent a variety of sociocultural identities, and its website offers thorough introductions and videos of each staff member so that students can feel comfortable requesting a specific counselor if they so choose. However, Uqdah explains, it may not always be possible for a student of color to be paired with a counselor of color; nor does she believe that staff members of color should be the only ones responsible for supporting these students when they confront race-based trauma.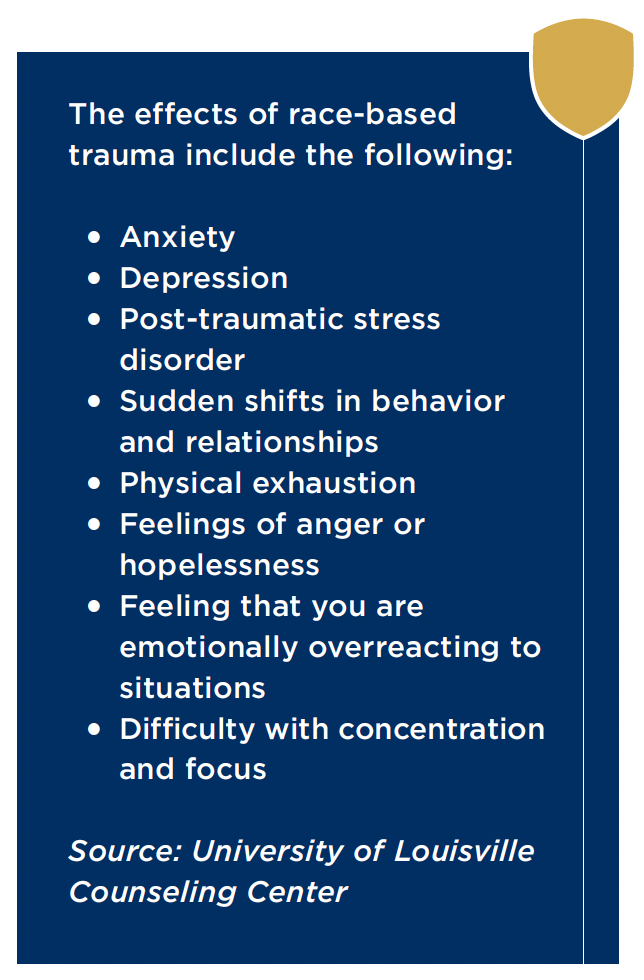 "We want to make sure that we can say to students with confidence that whoever they see is going to be able to help them, even if the issue they want help with is race-based or identity-based and their clinician doesn't share that identity," Uqdah says. "We don't want to be the reason why a student doesn't get help because they feel like there is no one who looks like them or identifies with them."  
According to the UofL Counseling Center website, race-based trauma is caused by firsthand experiences with discrimination and social injustice. It is also possible to experience vicarious trauma from "witnessing or hearing about violence against those within a group with which we identify," the site states. As stories of racial injustice and police-based violence against African Americans have gained more media attention in recent years, awareness of this trauma and its detrimental effects has grown. 
The university's counseling staff participated in a 10-hour training designed by one of the nation's leading experts on race-based trauma therapy, Steven Kniffley, a psychology scholar at nearby Spalding University. In addition to the training, UofL's counselors participate in ongoing consultation sessions with Kniffley. In a YouTube video titled "Treating Race-based Stress and Trauma," Kniffley explains that this unique form of therapy provides space to process racism, develop racial identity, and cultivate coping skills, such as learning to challenge microaggressions. 
Uqdah notes that creating a truly supportive environment for those experiencing race-based trauma is the responsibility of the entire campus community, not just counseling staff. After the death of Breonna Taylor, for example, the university offered resources and support sessions for individuals struggling to cope with the news. 
"[UofL] had support sessions for students and employees, and we made sure that we had clinicians there to help," explains Uqdah. "That is one way that we let our students know we are here for them, and this training is another way of showing up for our students."●
Mariah Bohanon is the senior editor of INSIGHT Into Diversity. The University of Louisville is a 2020 and 2021 INSIGHT Into Diversity Diversity Champion and a 2014-2021 recipient of the INSIGHT Into Diversity Higher Education Excellence in Diversity (HEED) Award.
This article was published in our January/February 2022 issue.