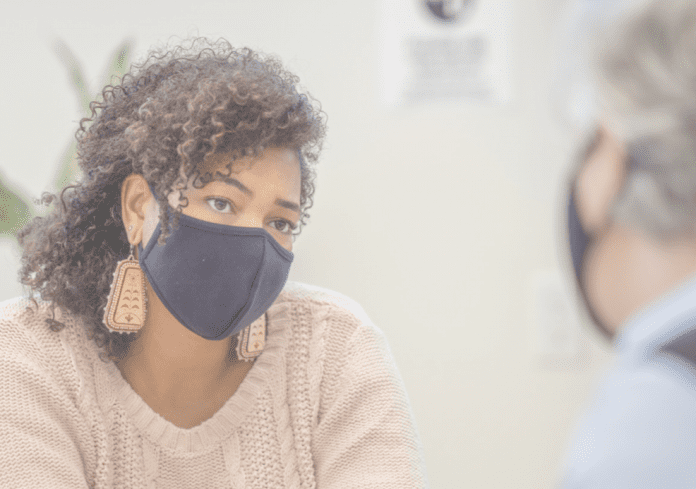 When colleges and universities closed their doors last spring amid rising COVID-19 cases, many vulnerable student populations were left without critical campus resources.
Being unable to access assistive technologies, Wi-Fi, or even basic essentials like food and housing have made it difficult for some underserved groups to continue on the path to a college degree. Many are in situations that can exacerbate mental health issues. Military and veteran students have reported feeling more isolated, while LGBTQ students have struggled with being forced back into sometimes unwelcoming households.
It is no wonder, then, that students of every background have been experiencing increased psychological distress during the pandemic. Even those who did not have preexisting symptoms of mental illness have found themselves feeling more depressed and anxious, according to a study by the University of California, San Francisco (UCSF). 
Many higher education institutions have created programs and services to help students navigate the socioemotional challenges brought on by the pandemic. For some especially vulnerable populations — including military and veteran students, those who have disabilities, and those who are LGBTQ — unique services tailored to their specific needs can be crucial in ensuring academic and personal well-being during this difficult time.
Military and Veteran Students
In August, The University of Texas at San Antonio (UTSA) launched a campaign called Operation Buddy Check to personally contact military and veteran students. The campaign's goal was to reinforce a connection to the campus community and ensure that these students had access to counseling services and other important resources.
Operation Buddy Check was staffed by volunteers from across the UTSA community, including faculty, staff, and students. The Rowdy-Warrior Military Veterans Alliance, an affinity group for UTSA community members who have served in the armed forces, and student groups like the campus PEACE Center, which advocates for the prevention of sexual violence, also volunteered to help.  Campaign participants called each of the university's 1,600 military members and veterans. In addition to mental health services, they helped these students connect with emergency housing, food pantries, and other vital services.  
"Veterans as a group tend to be hesitant to reach out and initiate calls for support. They are kind of conditioned to tough it out on their own, which can lead to increased isolation," explains Michael Logan, PhD, associate director of the UTSA Office of Veteran and Military Affairs.
Maintaining a connection to the campus community during times of social distancing can be crucial for this population, many of whom are especially prone to mental health issues when isolated, according to research by Sandra Morissette, a UTSA clinical psychologist and professor. After being commissioned by the U.S. Veterans Administration to study the mental health effects of the pandemic, Morissette found that veterans who exhibit severe symptoms of post-traumatic stress disorder and have low levels of social support experience higher levels of suicidal ideation. When they have higher perceived social support, suicidal thoughts diminish.  
Logan says military members and veteran students often form tight-knit communities, despite the common perception that they are detached from campus life.
"Our own research has shown us that vets are very engaged, traditionally," he explains, adding that many are nontraditional students with work and family obligations. "They're employed, but veterans are very engaged, usually through online modalities."
Because many military and veteran students have lost access to these groups during the pandemic, now more than ever is the time to reach out, says Logan. "It's very important that we maintain contact on a semester basis so that we're … making sure nobody falls through any gap and that they all [understand] that there is a very strong veteran community at UTSA," he says.
Operation Buddy Check was successful in contacting all 1,600 students connected to the armed forces and feedback has been "overwhelmingly appreciative." The university plans to continue the program into the Spring 2021 semester.
Students with Disabilities
For students with disabilities, life under coronavirus restrictions has created numerous challenges. According to a study published by the Student Experience in the Research University Consortium, these students have experienced higher rates of food and housing insecurity during the pandemic and are also more likely to report experiencing symptoms of depression and anxiety.
In addition to providing traditional counseling services for this vulnerable population, some colleges and universities have taken extra steps to ensure they have the necessary tools and support to continue with their studies and are tailored to fit the specific needs of a wide range of disabilities, whether they be physical, learning, emotional, or developmental. 
At The University of North Carolina at Chapel Hill, the Digital Accessibility Office created an online portal for faculty and students with a multitude of resources related to accessible remote learning. These include tools, consultations, and training for faculty members transitioning their course materials online. The portal also helps students with disabilities discover and learn how to use assistive technologies and provides free software and online tools.
Colleges and universities can also help students with disabilities by finding ways to increase their sense of stability and structure during uncertain times. These students generally fare better when their routines and environments, including educational settings, remain consistent according to researchers at the University of New Jersey.
The SUCCEED program at the University of Missouri–St. Louis, which educates young people with intellectual and developmental disabilities, helped its students keep a sense of structure by maintaining existing class schedules while transitioning to remote learning. 
Tonya Haynes, the parent of an autistic student enrolled in SUCCEED, told AustimSpeaks.org that this was the most important factor in helping her child adjust to life during the pandemic.
SUCCEED staff also acted quickly in teaching students how to use Zoom for online classes and for socializing, Haynes told the website in an August interview. They made personal phone calls to families, held virtual meetings for parents, and distributed a digital newsletter to help everyone stay aware of current and anticipated changes to the program. Having this level of support and open communication has been crucial for her child's success, according to Haynes. 
LGBTQ Students
Researchers have discovered that LGBTQ students are another population disproportionately affected by the loss of academic resources and campus community.
"For some youth, college is an experience where they get to live on their own and be sort of their true selves, possibly for the first time ever," says Kimberly Nelson, PhD, an assistant professor of community health sciences at Boston University. "Then, to have that very rapidly removed from them, and to have to return to a space where they may feel unsafe or unwelcomed … has a substantial mental health burden." 
Nelson is currently studying the impact of COVID-19 on LGBTQ youth through a grant from the National Institutes of Mental Health. Providing these students with affirming social support will be critical to mitigating the psychological detriments of the pandemic, she says. 
Colleges and universities can provide this affirmation and support even from a distance. Duke University's Center for Sexual and Gender Diversity created a webpage for LGBTQ students that discusses financial aid, accessible counseling, and other basic resources. It also provides information on topics specific to LGBTQ youth, such as whether chest binding is safe for transgender people amid the pandemic. Students can also request a "virtual coffee chat" with a staff member.
Having this type of inclusive support from professionals who are well-versed in LGBTQ issues can be critical for students who are hesitant to reach out for help because of negative experiences in the past, according to Annesa Flentje, PhD, associate professor at the UCSF School of Nursing.
"If you have a bad experience with a therapist because they don't understand what it is to be trans, or they misgender you, or they don't show interest or sensitivity — which happens all the time — that can be a roadblock to getting the care you need," Flentje says.
Higher education institutions can also help families learn how to support their LGTBQ students during this especially challenging period. The Family Acceptance Project (FAP) at San Francisco State University focuses on providing parents and other relatives with guidance in this area. Although created prior to the pandemic, its evidence-based model helps promote wellness, prevention, and care.
Developed in collaboration with San Francisco General Hospital and UCSF, the model helps "ethnically, racially, and religiously diverse families to decrease rejection and increase support to prevent risk and promote their LGBTQ children's well-being," according to the FAP website.
The project also provides multilingual resources to help young people and their families understand how to support mental and socioemotional wellness, even if the parents or caregivers believe that being gay or transgender is wrong.
Flentje encourages colleges and universities to consider how vitally important it is for students to know that these resources exist. 
"One of the things that higher education institutions can do is really be proactive about making sure their students know how to access mental health resources and know how to access care," she says, adding that the efficacy of programs and services tailored to vulnerable student populations depends on awareness.
Mariah Stewart is a senior staff writer for and Lisa O'Malley is the assistant editor of INSIGHT Into Diversity.