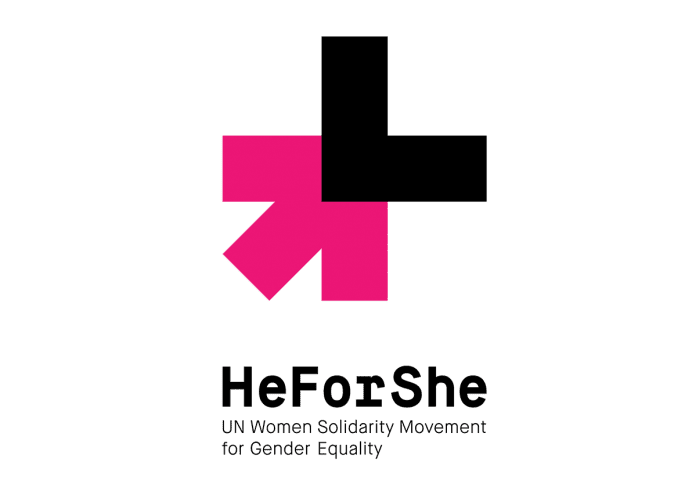 Nearly five years ago, actress Emma Watson — well-known for her portrayal of a strong female character in the popular Harry Potter movies — helped launch a gender equity movement. In a speech at the United Nations (UN) that quickly went viral, the UN Women goodwill ambassador and self-proclaimed feminist extended a formal invitation to men to embrace gender equality through the HeForShe Campaign. 
"I want men to take up this mantle so their daughters, sisters, and mothers can be free from prejudice, but also so that their sons have permission to be vulnerable and human too," Watson said.
Founded by Elizabeth Nyamayaro, global head of the HeForShe initiative and senior adviser to the undersecretary general of UN Women, the HeForShe campaign uniquely enlists men to help achieve its mission to end gender inequality by 2030. The campaign strives to eliminate inequities in education, health (maternal healthcare and beyond), the workplace, and politics. It also focuses on stemming gender stereotypes and violence against women, including harassment and domestic assault. 
Today, HeForShe boasts commitments from more than 1 million male supporters around the world.
University Champions
To drive meaningful change, the HeForShe campaign created the IMPACT 10x10x10 initiative to engage key leaders in government, industry, and higher education. Through the initiative, these "IMPACT Champions" prioritize gender equality from the top down by developing bold commitments at their organizations and delivering on those using a detailed HeForShe campaign framework.  
The framework offers guidelines, criteria, and suggested implementation activities for IMPACT Champions in all areas. For example, a university might "offer gender-equality resource modules for faculty and other university staff" or could "develop a campus-wide HeForShe-branded public social change campaign," according to the HeForShe University Framework document. 
The initial group of 10 university IMPACT champions includes leaders from campuses in Hong Kong, the U.K., Brazil, France, Canada, and South Africa. Two U.S. university champions were also designated: John DeGioia, PhD, president of Georgetown University in Washington, D.C., and Samuel Stanley, MD, president of Stony Brook University in New York. 
"Achieving gender equity is vital to students' success and well-being," says Stanley. He notes that his deep commitment to gender equality is rooted in knowledge of the obstacles his wife faced in her career and those that his two daughters now encounter as they progress in theirs. "Gender equity is also a personal cause for many of our students, faculty, and staff," Stanley adds.  
A 2017 Pew Research Center report echoes that notion. It found that in the U.S., personal experiences have a significant impact on how men and women feel about gender equality. Additionally, nearly 60 percent of women said that the U.S. has not done enough to eliminate inequities, while slightly over 40 percent of men agreed that more needs to be done to ensure that women have equal rights.
IMPACT Champions and HeForShe advocates believe that correcting these imbalances will bring greater opportunity and success for both women and men.
Deep Commitments
As part of DeGioia's pledge, Georgetown has implemented several gender equality programs and initiatives, including its 2018 Task Force for Gender Equity. 
"We have a deep commitment to recruiting the very best and most talented students, faculty, and staff and ensuring that our faculty and senior administrators reflect the diversity of our community," DeGioia said in a press release announcing the creation of the task force.
According to Jane Aiken, JD, a professor at Georgetown Law and chair of the task force, the group will study and recommend ways to strengthen the university's capacity to support and advance gender equity among faculty and senior leadership, which she says will have an impact on the campus. "Promoting gender equity doesn't just ensure better outcomes for women," Aiken says, "it ensures better outcomes for the students we teach and the research we produce." 
Various data and studies show that correcting gender bias and inequalities — from stereotypes and unequal pay to gender-related violence — can have positive societal effects on everything from the labor force, education, and literacy to criminal and social justice and government.
In terms of research, Georgetown's Institute for Women, Peace, and Security partners each year with the Peace Research Institute of Oslo to release the Women, Peace, and Security Index. Aiken says this tool gathers and analyzes data from 153 countries and offers a comprehensive measure of women's well-being and empowerment. Specifically, the index assesses and compares national progress against international goals with regard to dimensions of well-being among women.  Those dimensions include economic, social, and political inclusion; justice — meaning formal laws and information discrimination; and family, community, and social security. 
In addition, for the past three years, Georgetown's Gender+ Justice Initiative has invited faculty and students to collaborate on important issues around sex, gender, sexuality, feminism, inequity, and inequality. 
For its part, Stanley says that Stony Brook "uses the HeForShe Campaign to explore examples of persistent systemic inequality and what we all can do to address it." All incoming students attend an hour-long HeForShe session at the beginning of the fall semester, followed by their general 101 seminars; one unit of this course is focused on encouraging students to think about and discuss gender and gender identity. 
"The sessions focus on how gender has impacted students' lives and gender equality," Stanley explains.
Stony Brook has also hosted a student-run "Ideathon" where students worked together in groups to develop solutions to gender-based violence and presented their solutions to a panel of judges composed of other students and faculty. Some of the ideas involved awareness campaigns, buddy safety systems, and mobile applications.
Also, in an effort to prevent gender violence, Stony Brook partners with its athletics department and Greek organizations to educate students about gender equality, consent, and making positive choices. 
"Our HeForShe student chapter has a strong campus presence, with programming throughout the academic year that helps normalize gender equality for our community," Stanley says.
Achieving True Equality
Where men are concerned, Stanley believes there are daily gender-equity issues to be addressed. For example, he says, "How can men become involved in the prevention of violence against women? How do we combat sexual assault and gender-based violence, and how do we promote healthy behaviors?"
He believes that "the answers to these questions are fundamental to how we treat one another, how we work together to improve the human condition, and how we endeavor to achieve true equality."
Stony Brook sees the HeForShe Campaign as a positive vehicle to help address and answer these and other related questions. For Stanley, efforts to advance gender equity specifically and diversity and inclusion broadly are inseparable. 
"Overall, we recognize the importance of emphasizing diversity, equity, and inclusion in our curriculum as we educate our students to become culturally competent global citizens and leaders," he says. 
DeGioia agrees. In a press release, he said that Georgetown is proud to stand with HeForShe and its work to empower women and girls worldwide. "Many in our community, and especially women, are faced with significant challenges to the basic right to social justice and to the conditions that allow for human flourishing," he said. "We share a responsibility — as members of a global family — to promote justice, equity, and dignity for women around the world."
Kelley Taylor is a contributing writer for INSIGHT Into Diversity. For more information, visit heforshe.org. This article ran in the September 2019 issue.