Progressive universities recognize they must go above and beyond what the law requires to include students with disabilities on campus. Simply providing accommodations according to the Americans with Disabilities Acts can still leave these individuals feeling isolated and unwelcome.
[Above: Students with disabilities have found support through the University of Michigan's Ross School of Business.]
Two institutions have taken steps to ensure that serving students with disabilities is included as a part of their diversity and inclusion strategies and efforts. The University of Texas, Austin (UT) and the University of Michigan, Ann Arbor (UM) recognize disabilities as an identity and a community rather than as a healthcare issue or legal responsibility.
University of Texas, Austin
Emeline Lakrout is an incoming senior studying marketing at UT, where the Services for Students with Disabilities (SSD) department recently received additional funding to boost its staff. She enrolled in SSD's services as a visually impaired student and is now the disABILITY Advocacy Student Coalition president.
"UT recognizes that it's important to not only have a positive campus experience, but they recognize when a student doesn't feel their best, they can't perform their best," says Lakrout, who is working this summer as an intern for Unilever in New York City.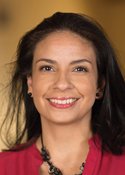 In 2011, the department had roughly 1,600 students enrolled. This past year, about 3,000 had enrolled, says Kelli Bradley, SSD director. "I don't see it slowing down at all," she says.
Bradley attributes the growth to better awareness among the campus community and an increase of high schoolers who need accommodations and are willing to self-identify in college. The division's leadership recognized the expansion and took a request for more employees to the president's office, which agreed to add five additional full-time staffers.— growing from 10 to 15.
"As the staff increased, the caseloads [per person] have gone down, meaning there's more individualized attention to the students and more time to spend with them, as well as [on] planning and outreach initiatives," Bradley says.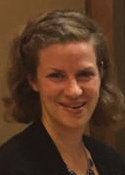 Growth is only one important aspect of SSD, says Emily Shryock, assistant director. The department falls under the Division of Diversity and Community Engagement, which is somewhat unusual in higher education. Typically, disabilities services are housed within counseling or healthcare departments, Shryock says.
"Traditionally, disability has been left out of the conversation when it comes to diversity," Shryock says. "It sends an important message about how disability is viewed and valued and treated. … It shifts the focus to viewing disability as an identity or as a culture rather than a health problem, and it sends a message about what our attitude toward disability is."
Lakrout says UT's disABILITY Advocacy Student Coalition plays a key role in making the campus a welcoming place. She says every university should have a similar organization for students. The coalition's goal is to raise awareness about disability and accessibility on campus, but it offers other benefits, Lakrout adds.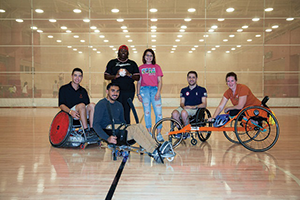 "I myself went from being so shy about my disability. I felt awkward, didn't know where I fit in," she says, "but when I joined the organization, my confidence bloomed. Now people in the club are my friends, and it has allowed me to be proud of [my disability] and value the way I am. … If you have a coalition of disabled students, the rest will follow because the students know what needs to be targeted."
Other SSD programs cultivate identity, Shryock says, including events in October for Disability Awareness Month, adapted sports nights, and neurodiversity support groups. A faculty and student advisory committee also meets once a month to share ideas and feedback about potential campus improvements.
Additionally, SSD spearheaded disability advocate training in 2011, Shryock says. The training provides education for students, faculty, and staff on how to advocate for students with disabilities.
Despite these advancements, Lakrout says there's still plenty of room for improvement at American universities. "I think it's important to recognize the bar right now is pretty low in terms of campus accessibility. A good university is one that's not terrible right now," she says.
Universities should commit to a higher standard of accessibility to online materials, especially for visually impaired students. Similarly, Lakrout says institutional leaders should comply with the voluntary accessibility guidelines outlined in the AIM High Act, which lists standards for electronic instructional materials. It should also be easier to cut through red tape to make simple improvements on campus, such as ensuring staircases have handrails.
"Progress is what stands out, and the fact that UT is making progress is a great thing," Lakrout says.
That progress is all the more important because it enriches the campus culture, she adds. "It's the same thing as racial diversity and cultural diversity. The way disabled students think and interact is very different than everybody else. If you've been disabled all your life, … you've learned to explain your life to people who do not understand it at all. You've learned to problem solve all your life."
University of Michigan, Ann Arbor
Students with disabilities at UM make up approximately 6 percent of the overall university enrollment, according to Alfred Kellam, PhD, interim director and coordinator of Services for Students with Disabilities (SSD).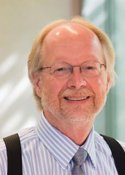 By the end of the 2019-2020 academic year, roughly 3,500 students will be enrolled in the office's services — more than four times the enrollment 12 years ago. Inclusion for students with disabilities is written into the institution's diversity, equity, and inclusion strategic plan, Kellam says.
"Because that initiative has been so powerful, it really has allowed us to get the full support for the division of student life," Kellam says.
An "Idea Board" is one of SSD's newest initiatives. Composed of students, faculty, and staff, the board is a group working to develop recommendations that will go to UM leadership to improve the campus climate for people with disabilities.
This fall, those recommendations will go directly to the chief diversity officer and vice provost for diversity, equity, and inclusion. The provost's office will then review and potentially apply suggestions in the following areas:
● Pedagogy
● Accessible physical spaces
● Safety and security
● Intentional recruitment and job placement
● Disability culture and community climate
● Certification in a disabilities program
Funding for a new SSD data management system will be "a central component" of the list, Kellam says. A new platform would provide more confidential services by giving instructors a portal where they could see what accommodations each student qualifies for, eliminating a paper exchange.
UM also strives to promote the disability identity, Kellam says. Each year, SSD sponsors the SpeakABLE presentation, which gives students the opportunity to increase awareness about what it's like to live with a disability. SSD also supports the Council for Disability Concerns, a group composed of students, faculty, and staff who meet monthly to address disability issues at UM and in the community.
SSD promotes this identity through the following programs and initiatives: 
● An empowerment and self-defense class
● Training for female students with disabilities and their allies
● Coalition for Disability Access in Health Science and Medical Education
● Wheelchair and adaptive tennis
● Service Dog Central
● Autism Spectrum Self-Advocacy Group
"This aspect of diversity really adds a new perspective … that otherwise students wouldn't have," Kellam says, "I think it's an enlightening sort of situation to see and hear how our climate is promoting students to be more vocal."
Kelsey Landis is the editor-in-chief of INSIGHT Into Diversity. University of Texas, Austin is a 2018 HEED Award recipient. University of Michigan, Ann Arbor is a 2018 HEED Award recipient. This article ran in the September 2019 issue.