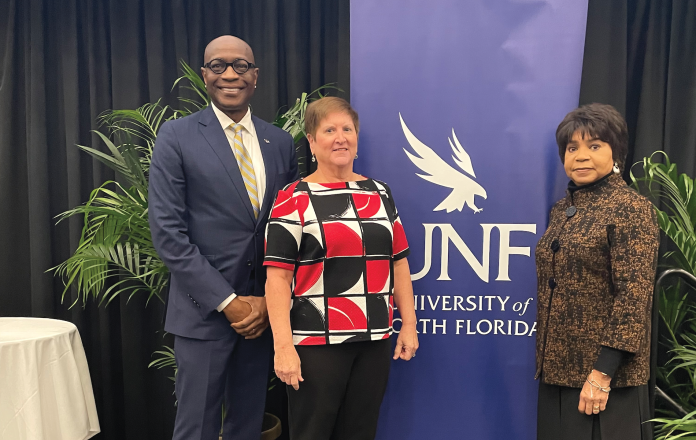 Each February, the University of North Florida (UNF) honors the legacy of Dr. Martin Luther King Jr. with a scholarship luncheon. In conjunction with the event, the institution was presented with its eighth INSIGHT Into Diversity Higher Education Excellence in Diversity (HEED) Award and its sixth Diversity Champion Award. 
The honor is awarded annually to a select number of colleges and universities that go above and beyond to exemplify "unyielding commitment to diversity and inclusion throughout their campus communities, across academic programs, and at the highest administrative levels." The recognition was presented to UNF by Lenore Pearlstein, co-publisher of INSIGHT.
The keynote speaker for the luncheon was Cheryl Brown Henderson, founding president of the Brown Foundation for Educational Equity, Excellence and Research, and owner of Brown & Associates, an educational consulting firm. She is one of three daughters of the late Oliver L. Brown, who is named in the influential Brown v. the Board of Education Supreme Court case.
Proceeds from the luncheon provide for annual scholarships awarded to undergraduate students. The Dr. Martin Luther King Jr. Scholarship serves to recognize the academic and service achievements of actively engaged students who best exemplify his teachings through service and action.●
This article was published in our March 2023 issue.