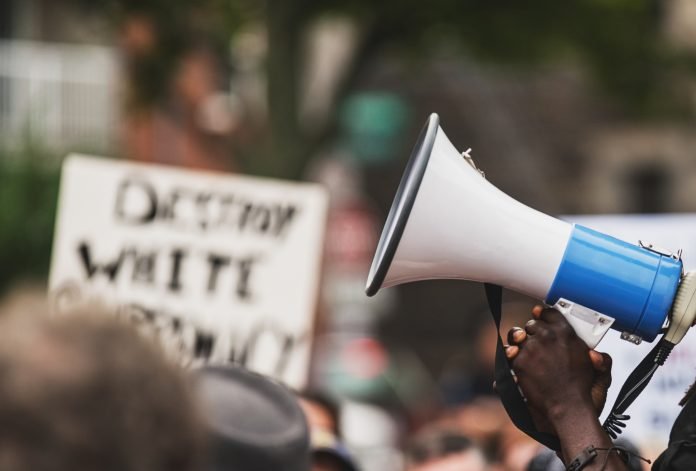 University of North Carolina at Chapel Hill (UNC Chapel Hill) students protested Monday over recent racial equity and campus policing controversies.
Hosted by the UNC NAACP, the protest came after far-right activists led a demonstration on campus Saturday at the Unsung Founders Memorial, a monument to the enslaved laborers that built the university.
When asked why he would display the Conf. Battle Flag at the monument, Thomas May (who participated in 1/6 insurrection at the Capitol) said it was to let people know "who's the boss," then laughed about his desire to enslave people himself and made a whipping motion. pic.twitter.com/N9kKsFrfRS

— UNC Anti-Racist Alerts (@UNC_Alerts) July 11, 2021
In a series of videos uploaded by a Twitter account named "UNC Anti-Racist Alerts," two of the activists can be seen holding Confederate flags and making racially insensitive comments.
"White supremacists feel safer on this campus than Black students," Julia Clark, vice president of the UNC Black Student Movement group, said during Monday's protest.
The speakers also highlighted an earlier incident of police mistreating Black students during a university board of trustees meeting on June 30 that was captured on video and uploaded to Twitter.
Protesters were shoved out of the room at UNC's BOT meeting ahead of a closed session to discuss Nikole Hannah-Jones' tenure. Video from @laurenemeier pic.twitter.com/K0HRxAWzlH

— Tyler Fleming (@tyler_fleming96) June 30, 2021
In the video, students are seen protesting the trustees' decision to reject tenure for journalist Nikole Hannah-Jones when acting UNC Police Chief Rahsheem Holland and other officers begin shoving them out of the room.
In response to the incident, UNC Chancellor Kevin Guskiewicz said he would conduct an external review of the officers' body-camera footage and assemble a task force to address racial equity concerns.
However, student activists believe the efforts aren't enough and are pushing the university to dismiss Holland.
"These apologies and these statements that university officials give mean nothing to us because we have yet to see any action at all," Clark said at the protest. "We have presented our demands to them for more than two weeks and have not seen one action step being taken."
The university has not yet responded to the protest, but Guskiewicz did issue a statement Monday condemning the actions of the far-right demonstrators. He also said the university would erect a fence and increase police presence at the memorial.
"These words and actions threaten the sense of belonging that we are working to cultivate on our campus and do not represent our values," he said. "I unequivocally condemn this abhorrent behavior."