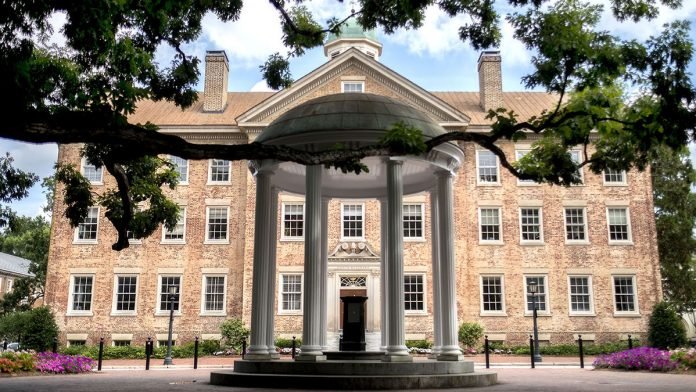 The University of North Carolina at Chapel Hill (UNC Chapel Hill) recently removed the names of White supremacists from two campus buildings and renamed them in honor of diverse campus figures.
Hortense McClinton, the university's first Black professor, replaced the name of Charles Brantley Aycock, a Democratic North Carolina governor who supported the "separate but equal" school system, passed laws to disenfranchise Black voters, and played an influential role in the 1898 Wilmington Massacre.
McClinton taught at UNC Chapel Hill's School of Social Work for 18 years before retiring in 1984, according to the university's press statement.
"She's now 103 years old and when I called her three weeks ago to share this news, she was both ecstatic and humbled," Guskiewicz said of McClinton.
UNC Chapel Hill also renamed the student affairs building after Henry Owl, the school's first Native American student. The building was previously named after Julian Shakespeare Carr, a member of the KKK. Carr helped erect Confederate monuments, including one known as Silent Sam that stood on the Chapel Hill campus, according to WUNC.
"The naming of Hortense McClinton Hall and the Henry Owl Building comes after years of advocacy by students, faculty, staff and alumni who have called for recognition of those who represent the values that define the University," UNC Chapel Hill Chancellor Kevin Guskiewicz said in a statement to the school community.
On Friday, #UNC honored two Tar Heel trailblazers by naming buildings after each of them. Learn more about Hortense McClinton and Henry Owl, two pioneers who embody the values of Carolina https://t.co/BLZsO0HICP pic.twitter.com/xJHS60CGPE

— UNC-Chapel Hill (@UNC) December 5, 2021
In recent years, the push to remove racist imagery and namesakes by student and employee advocates from higher education institutions has increased. Most recently, Dickinson College, a private liberal arts school in Pennsylvania, renamed a residence hall to honor formerly enslaved people.
"Hortense McClinton and Henry Owl were trailblazing pioneers who left an indelible legacy at Carolina," Guskiewicz stated. "They embody the values that define our University, and naming these buildings after them marks an important step in building a campus community where everyone feels that they belong and can thrive."