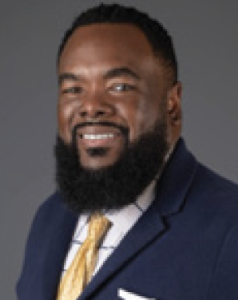 The University of Kentucky (UK) College of Education's PhD in studies in higher education with a specialization in diversity, equity, and inclusion (DEI) has presented its inaugural INSIGHT Into Diversity Champion Award to Chaka Cummings. 
Awarded to a student who is actively engaged in DEI-centric scholarly efforts or is a practitioner, this honor recognizes an individual whose work aligns with the college's justice, equity, diversity, inclusion, and internalization values and makes a significant contribution in these areas. The winner receives a $2,500 stipend to supplement their work. 
In December, Cummings also earned a senior diversity officer certificate from the university's College of Arts and Sciences. 
"I humbly and excitedly accept this award on behalf of my fellow PhD students at UK. We are poised to make our impact in DEI," Cummings says.
His advisor in the program, Kayla Johnson, PhD, assistant professor in the Department of Educational Policy Studies and Evaluation, says Cummings is the "epitome of a champion."
"Chaka is steadfastly committed to students. Improving education, specifically for marginalized students, is his passion. The quality of his work in our program has been stellar — an exemplar of what doctoral students are capable of when they lead with passion," Johnson says. 
The UK PhD program with a specialization in DEI is the first of its kind and was developed in collaboration with INSIGHT Into Diversity for aspiring chief diversity officers (CDOs) and others interested in pursuing a career in DEI.
"We congratulate Chaka Cummings on his award as well as his hard work and dedication. As the role of the senior diversity officer in higher education becomes more elevated and complex, we are thrilled that a program of this caliber is providing outstanding students like Chaka with the skills necessary to be effective and innovative leaders in DEI," says Lenore Pearlstein, co-publisher of  INSIGHT Into Diversity magazine, which sponsors the award.
In his professional role as the executive director for the Association for Teaching Black History in Kentucky, Cummings supports educators who strive to weave the perspective of Black Kentuckians into their curriculum. With the added framework learned in his PhD studies, Cummings is confident his work is making a difference. 
But he didn't always feel that way.
Over the past two decades, Cummings has worked primarily in K-12 schools, from classroom teacher to athletic director to principal and other roles in between. In each of these positions — which were exclusively in private and independent schools — he was one of few people of color.
"Even before I was consciously thinking about diversity, equity, and inclusion, I [was aware] of those realities from my perspective as well as the student perspective," he says. "And I'd been asked to do work in DEI throughout my time at these different schools — very likely because there weren't that many Black faces to do that work, but also because I expressed interest in some instances in leading work to affirm identities for our students."
As a result, he led affinity groups and served on committees regarding diversity best practices and policies as well as chaperoned student groups to a major diversity conference. 
"And then you get to the summer of 2020 and the racial reckoning that happened in the United States and the personal reckoning. I think a lot of folks were dealing with a multitude of pandemics," Cumming says. 
Like many Americans, Cummings reflected on how he might bring more meaning to his work. 
"I felt like there had to be opportunity for me to have greater impact, specifically thinking about diversity, equity, and inclusion, and how to create more equitable spaces for generations beyond my own. And that's when I began professionally looking for opportunities that would affirm the work that I wanted to do," he says.
Around that time, he heard about the PhD program at the University of Kentucky offering a specialization in DEI. It seemed tailor made for him.
The curriculum covers strategy, structure, policies, and practice in senior diversity officer leadership, and offers experiential learning opportunities. As part of his program, Cummings worked with the chief diversity officer at the University of Missouri on their Inclusive Excellence campuswide plan. He also served as senior manager for diversity at IMG Academy in Bradenton, Florida. 
"This program has thoroughly prepared me to bring the latest in theory and frameworks to leading within DEI, whether that is at the K-12 level or in higher education," he says. 
Following completion of his dissertation, Cummings anticipates a May 2024 graduation.● 
For more information about the UK College of Education's PhD in studies in higher education with a specialization in diversity, equity, and inclusion, visit education.uky.edu/epe-programs/phd-spec-diversity.
This article was published in our May 2023 issue.