University of Arkansas for Medical Sciences is a 2022 INSIGHT Into Diversity Diversity Champion, one of a select group of higher education institutions that rank in the top tier of our Higher Education Excellence in Diversity (HEED) Award recipients. We invite Diversity Champions to share their success strategies and best practices as a way to inspire other colleges and universities to set a new standard for diversity, equity, inclusion, and belonging within their own campus environments.
On a late-June afternoon at the University of Arkansas for Medical Sciences (UAMS), Lakyiah Moore described her plans to pursue a career as an OB-GYN.
"I know there are a lot of inequities in how women of color are treated in health care settings, and I want to be a part of bridging that gap," says Moore, a student who recently completed her first year at the University of Arizona and whose parents live in Arkansas. 
Moore's interest in the medical field brought her to Little Rock for a monthlong program as part of Health Career University, an initiative run by the UAMS Division for Diversity, Equity and Inclusion (DDEI). Health Career University encompasses a variety of long-existing and newly formed programs that were put under a single umbrella to help students from underrepresented backgrounds gain exposure to health careers. 

"Our mission is to increase diversity in our health care workforce because that is a critical factor in achieving health equity," said Gloria Richard-Davis, MD, DDEI executive director.
Some of the programs in Health Career University operated for years under the auspices of other divisions at UAMS, said Renisha Ward, MEd, director of outreach programs. But those efforts created a patchwork that didn't fully focus UAMS' resources, she says.

The COVID-19 pandemic forced these programs to get creative as they shifted to virtual or socially distanced instruction, but it also led UAMS to reconsider the way it delivered its outreach efforts. The result was an initiative that seeks to lay the groundwork for students to pursue careers in health care.
"We wanted to bring these programs into alignment with one focus and one goal," Ward says.
Health Career University features programming for students who have already chosen their future careers and for those who are undecided. DDEI collaborates with many of UAMS' colleges and medical programs, ensuring students receive instruction from leading experts in a variety of clinical and research fields. 
"There are a lot of opportunities for students that they're not necessarily aware of," Richard-Davis says. "They all know what doctors and nurses do, but this program is designed to show them there are so many more options for careers in health care."

Jacob Pham, a recent high school graduate from the small town of White Hall, Ark., took part in Health Career University's Summer Research Internship, a program that allows students in their last two years of high school or first two years of college to expand their understanding of health careers by conducting science-based research. Participants spend five days a week in laboratories on the UAMS campus, working with mentors and learning how to conduct research and write academic papers. 
"You hear about students doing internships, doing research and networking, but for students like me who do not have connections or money to afford paid programs, where would that lead us?" he asks. 
Pham, who aspires to have a career in the allergy and immunology field, used data from the Centers for Disease Control and Prevention to examine how training courses for asthma patients affect their rate of emergency room visits.
"My experience in the Summer Research Internship has been fantastic," he says. "This program can open doors for students who want to achieve higher learning but just need access."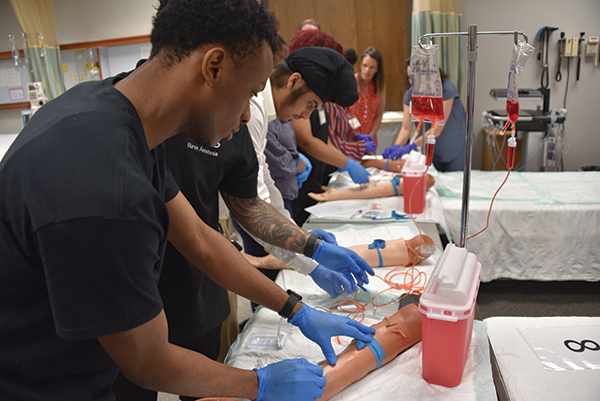 Two of Health Career University's programs aim to open those doors by providing students with the tools they need to gain acceptance into medical or nursing school. The Pre-Medical Summer Scholars program and the Pre-Nursing Summer Scholars program explain admissions requirements and teach test-preparation strategies to help with entrance examinations.
At a closing ceremony for this year's Pre-Nursing Summer Scholars program, Ward told the students that their participation marked an important first step toward a career in health care.  
"Please know that you are needed," she said. "You have a place at UAMS, and we want to support and encourage you along your path."
This support extends beyond the students' time in summer programs. Richard-Davis says DDEI staff members stay in touch with Health Career University participants and find opportunities to invite them back for on-campus events. 
Students also have the ability to utilize UAMS' diversity mentoring platform, an online tool that helps match mentors and mentees. Within the platform, Health Career University has created groups that allow them to network with one another even after they complete their programs.
"We're working to build and maintain connections with these students, giving them avenues to reach out to us as they navigate their undergraduate experiences," Richard-Davis says.
Health Career University operates programs in four Arkansas cities and hopes to extend its reach in the coming years, particularly to rural areas that are medically underserved. It also partners with two historically Black colleges and universities — the University of Arkansas at Pine Bluff and Philander Smith College — on programs that teach students about research and train them for jobs as anesthesia technicians. 
"One of the things I really subscribe to is that if you can't see yourself being represented in the medical profession, then it's hard to pursue those careers," Ward said. "I want students to really start believing that they can be here."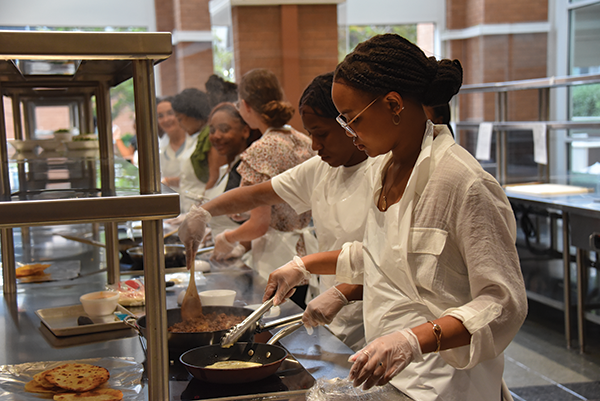 Moore says this summer helped solidify her desire to be a health care professional. She was among more than two dozen people taking part in the Pre-Health Summer Scholars program, which provides college freshman and sophomores with an introduction to cutting-edge medical treatments and technology as well as the chance to collaborate with leaders in the health care industry.
During an afternoon in the UAMS Culinary Medicine kitchen, the students cooked healthy meals and learned about how nutrition plays a vital role in maintaining many of the body's functions. Moore says this experience highlighted the importance of Health Career University in helping students see parts of the medical field that they'd never previously considered.
"We're still young and trying to find our way in the world, and this program is the perfect balance of being able to have fun while also deepening our knowledge of health careers," she says. "We can come together as one, even though we're from different fields of life, because we can all relate to one thing — our love of medicine."●
This article was published in our September 2023 issue.