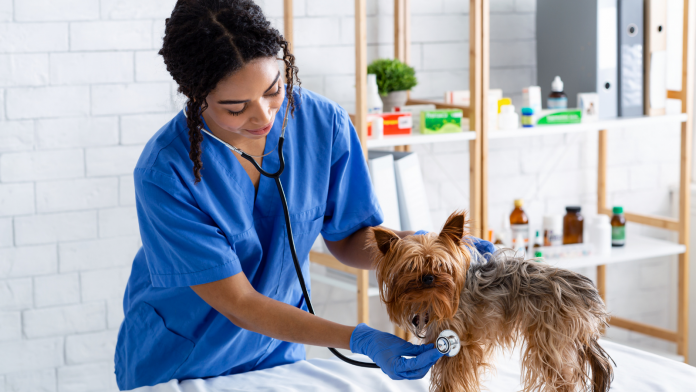 Tuskegee University College of Veterinary Medicine (TUCVM), a historically Black institution, has announced the first recipients of its inaugural scholarship program with IDEXX Laboratories, a corporation that develops, manufactures, and distributes veterinary diagnostic and software products.
The three first-year students selected as IDEXX-Tuskegee University College of Veterinary Medicine Scholars are Brittany Howard, Justin Hodrick, and Sydney Johnson. The college will name six additional recipients from the entering 2022 and 2023 classes.
The college's partnership with IDEXX is part of a six-year, $3.6 million initiative to diversify the veterinary field. In addition to establishing nine full scholarships, the collaboration will also provide funding to support students' mental health, develop an emergency fund, and upgrade facilities. IDEXX identified these specific needs after meeting with TUCVM leaders, according to a news release.
"Having been inspired by these scholars' stories and ambitions, we are confident that they will have an immensely positive impact on veterinary medicine for decades to come," IDEXX President and Chief Executive Officer Jay Mazelsky said in the release. "We worked closely with our partners at [TUCVM] to support an initiative that helps students thrive by going beyond full academic scholarships to include the complete student experience."
First-year veterinary students who attend in-state colleges typically face up to $44,000 in tuition and fees annually, according to the Association of American Veterinary Medical Colleges (AAVMC). Furthermore, AAVMC data shows that 100 percent of TUCVM alums graduate with debt, at an average of $82,966 per student.
"With IDEXX as a committed partner, we can continue to advance diversity and equity in veterinary medicine, which are hallmarks in the history of TUCVM," said Ruby L. Perry, the college's dean.
Tuskegee is the only historically Black university in the U.S. with a veterinary college. According to the college, over its 75-year history, TUCVM has educated more than 70 percent of the country's Black veterinarians.●
This article was published in our May 2022 issue.